Kathmandu, April 5
Nepali Congress leader Ramchandra Paudel and party President Sher Bahadur Deuba have registered their candidacies for the post of NC parliamentary party leader, a day before the crucial poll for the vital position.
The position has been lying vacant after the demise of then party President and Congress PP leader Sushil Koirala.
The election for the key position is taking place at the Congress parliamentary party office in Singha Durbar at 11 am on Wednesday. Both Deuba and Paudel visited the office with their supporters on Tuesday to register their candidatures and show their strength.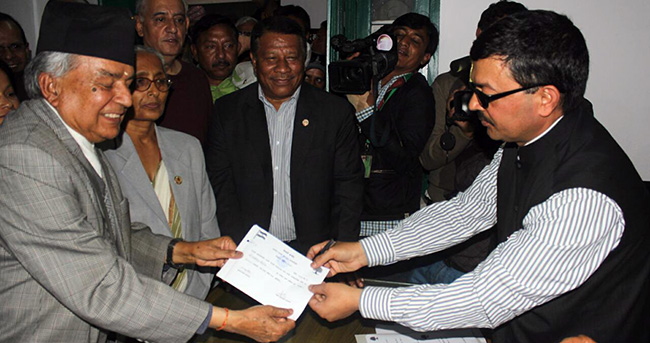 Farmullah Mansoor proposed Deuba's candidature, while Padma Narayan Chaudhary seconded it. NC leader Prakash Man Singh proposed Paudel's candidature and party General Secretary Shashak supported it.
During the recent election for the post of NC president, Deuba had defeated Paudel in the second round.
Deuba and Paudel both said they registered their candidatures for PP leadership in a bid to strengthen democracy and Congress unity. Paudel hoped that party President Deuba will take steps for judicious division of responsibilities within the party.