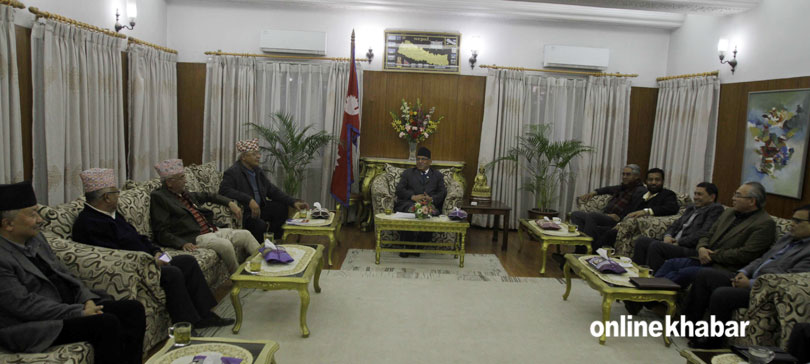 Kathmandu, February 15
Three political bigwigs gathered at Prime Minister's Official Residence in Baluwatar on Wednesday morning to talk about polls.
Interestingly, the bigwigs — CPN-UML Chair KP Sharma Oli, Nepali Congress President Sher Bahadur Deuba and Prime Minister cum CPN-Maoist Centre Chair Prachanda — had not visited Singhadurbar to discuss local, provincial and federal elections, despite the government's repeated commitments to conducting three-tier elections 'on schedule'. At the fora, they discussed possible postponement of Free Student Union elections, scheduled for February 26.
The three leaders joined Tribhuvan University officials as well as student leaders associated with the three parties in the discussion aimed at postponing FSU poll date, a source said.
It should be noted that the Biplav-led CPN-Maoist has padlocked colleges, saying it will also take part in FSU elections, provided authorities conduct the same after its general convention, underway in Thawang of Rolpa.
The government believes that in some colleges, even the NC-aligned Nepal Student Union and the UML-aligned ANNFSU have supported this padlocking.
PM has been saying that FSU elections should take place on February 26 itself. At the same time, he has concluded that they may have to reschedule the polls because of Biplav Maoists.
Prakash Dahal, personal secretary of PM Prachanda, informed that the meeting between top political leaders, student leaders and TU officials was meant to defer the polls.
The source said homework is on to postpone the polls by a week. The Congress-aligned NSU has been protesting the maximum age limit for FSU poll candidates (28 years), whereas the Biplav-led student union, ANNISU-R, has padlocked different campuses, thereby creating pressure for postponement of the polls.