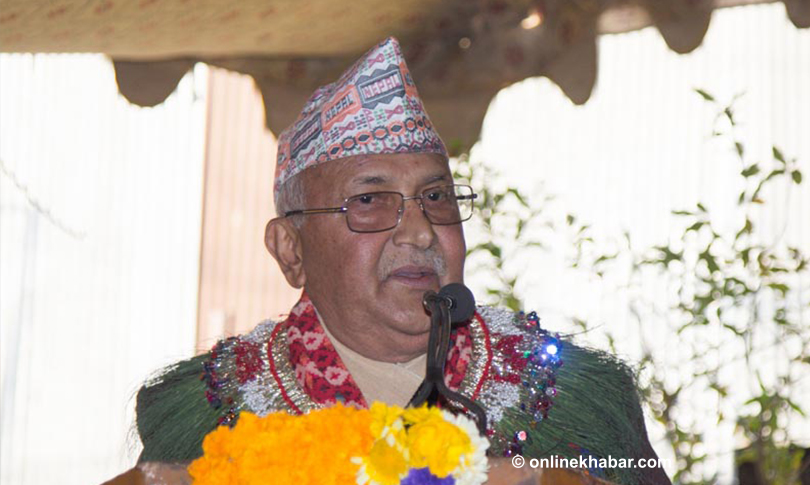 Kathmandu, February 17
CPN-UML Chair KP Sharma Oli said on Friday that Rastriya Prajatantra Party should emerge as a new force. At the same time, Oli said, RPP can bring all other parties to size save the UML.
There are complexities in the RPP, he observed, adding: One should carry the burden of history, but this does not mean shouldering anything and everything from history. Referring to the king credited with the creation of modern Nepal, Oli said: Just because we have high regard for Prithvi Narayan Shah does not mean we should have respect for all of his progenies also, pointing at instances of drug abuse in the family.
In an oblique manner, Oli, while addressing the unity convention of the RPP, asked the party not to have (reinstatement of) monarchy as an agenda. He said RPP should emerge as a new force. It should be noted that Oli, while speaking at a programme to announce the birth of Naya Shakti Nepal, had wished for emergence of the Baburam Bhattarai-led Naya Shakti as the new force. While wishing well for the RPP, Oli said referring to his earlier wishes: I had made the same wishes at an assembly of a party. But that party adopted a wrong policy.
Now, RPP can impact other parties, Oli said, in an oblique reference to Nepali Congress President Sher Bahadur Deuba, who was at the podium. He added: I am not making any impertinent remarks against any party. I have just advised caution.
Bijaya Kumar Gachchadar, president of the Madheshi Janadhikar Forum (Democratic), said Oli has secured his place in history. He said RPP should emerge as the largest party by defeating Oli's UML in the elections.