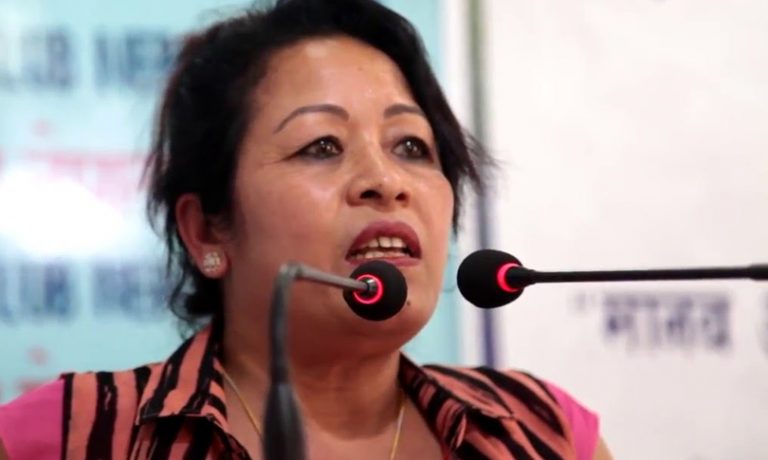 Kathmandu, May 29
Sabitri Shrestha, the sister of Ujjain Kumar Shrestha, who killed by a group of people, including then Maoist leader Balkrishna Dhungel during the conflict era, says she will only accept the final verdict of Supreme Court on the government's decision to shorten Dhungel's sentence.
Talking to Onlinekhabar following the release of Dhungel this morning, Shrestha said, "The case has reached the Supreme Court and I will only accept the court's verdict."
"My brother's murderer should be punished as per the court's verdict. I am fighting for the same, I am fighting for justice," she said adding, "Dhungel had been challenging the verdict and threatening the Chief Justice, lawyers, journalists and me ever since his sentencing."
The government recently decided to grant presidential pardon to Dhungel, who has served around 40 per cent of his jail term, on the occasion of Republic Day. While a petition has been filed against his release, the government has already set him free.
"Dhungel has 15 more days to serve 40 percent of his jail term. The Supreme Court has asked the government to submit original file mentioning the reason for releasing a murder convict. We are unsafe and the government should notice this," she stated .
Ujjain was killed near Likhu Khola during the conflict-era in during the 1990s. A a case against then Maoist leaders Bal Krishna Dhungel and Pushkar Gautam was filed for killing Ujjain. After lodging the complaint, the leaders also killed Ujjain's elder brother, Ganesh.
Pushkar Gautam has been in jail doing his four-year term.