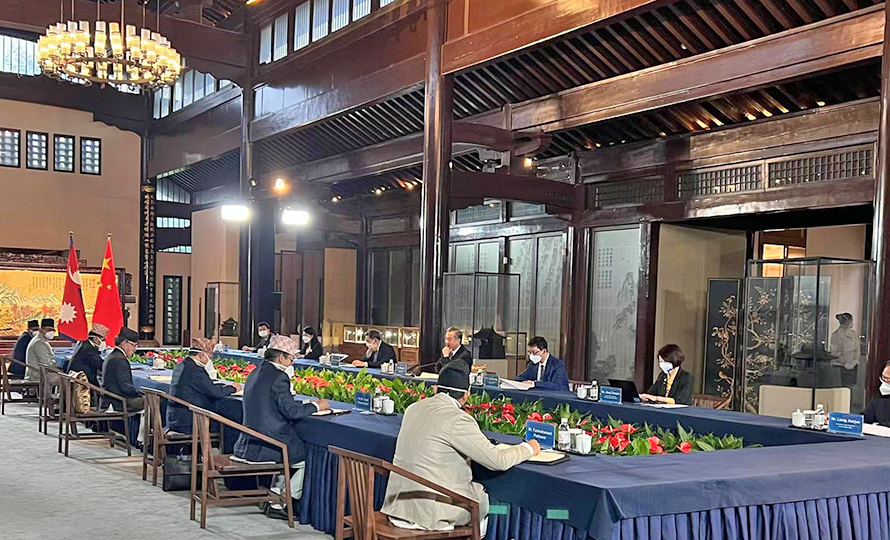 Kathmandu, August 11
China has announced to provide a grant to commission a feasibility study of Kerung-Kathmandu railway.
The grant to study the possibility of Kerung-Kathmandu railway was announced by the Chinese Minister for Foreign Affairs Wang Yi when he met Minister for Foreign Affairs Narayan Khadka in China on Wednesday.
During the talks, the two sides made a comprehensive review of Nepal-China relations and bilateral cooperation and also agreed to further extend assistance in the areas of trade, connectivity, investment, health, tourism, poverty alleviation, agriculture, disaster risk reduction, education and culture, among others, stated a press release.
Khadka is on a three-day visit to China.
On the occasion, Minister Khadka reiterated Nepal's unswerving stance on the one-China policy, noting Nepal would not allow the use of its territory for any activity against China.
Foreign Minister Yang also talked about China's continued and unconditional support and solidarity for Nepal's sovereignty, independence and territorial integrity and assured to provide assistance in Nepal's development efforts as per the Nepal government priorities.
Expressing commitment to the timely implementation of the deals signed during the high-level state visits in the past, both the ministers agreed to expedite the implementation of the projects being operated with China's assistance in Nepal.
The Chinese side has also assured the Nepali delegation to immediately begin the second round of construction of the Kathmandu Ring Road Improvement Project.
Minister Wang also announced to provide Nepal with a financial package of Rs 15.01 billion (800 million RNB) in 2022.
China has also assured to provide Nepal with chemical fertilisers and consider commissioning a feasibility study on the establishment of a chemical fertiliser factory in Nepal. Likewise, Beijing has also agreed to boost China's assistance to further develop Nepal's agriculture sector to encourage Chinese investment to increase Nepal's agro productivity and enhance assistance in the export of Nepali tea and traditional herbal products.