Kathmandu, March 27
Chinese Foreign Affairs Wang Yi has completed all his formal engagements during his official visit to Nepal on Sunday afternoon.
Wang had arrived in Kathmandu on Friday late afternoon and is returning to Beijing this afternoon.
Here are key things that you need to know about his formal engagements here:
1. Neither MCC nor BRI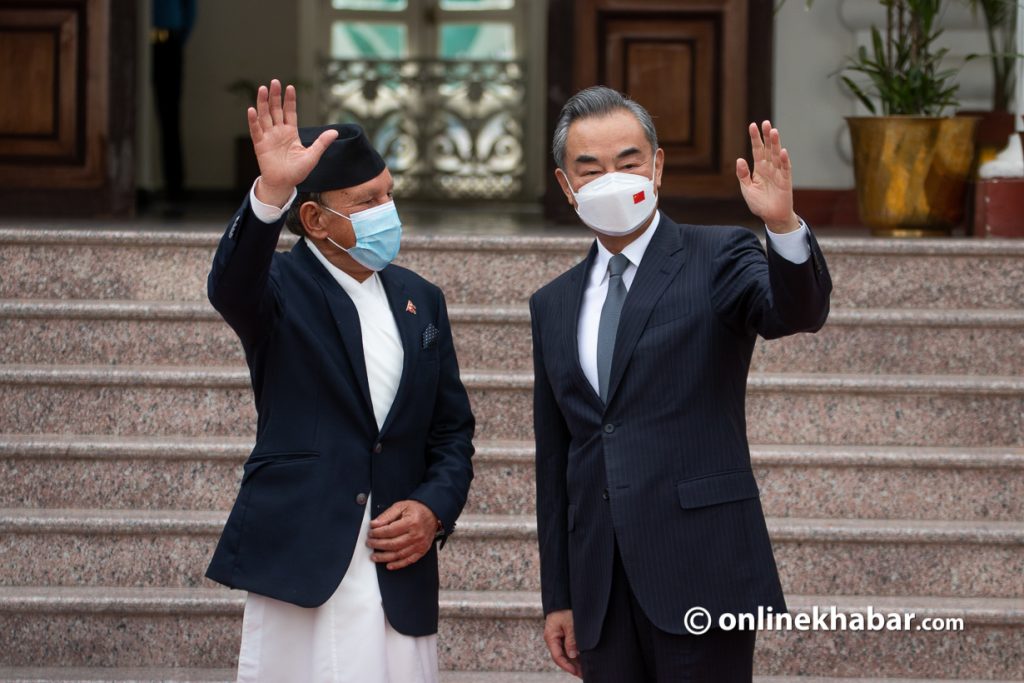 Observers in Nepal have kept an eye on the trip as China has been repeatedly objecting to Nepal's endorsement of the US government's Millennium Challenge Corporation deal recently. There were, hence, fears that the MCC issue would keep aside Nepal's genuine development concerns that should have been raised with China. However, as per the information made available by officials, Wang Yi did not talk much about the American grant project.
But, interestingly, there was also not a formal discussion on the development projects in Nepal that have been listed under China's Belt and Road Initiative either. Without any discussion, there was no agreement signed about any BRI project.
CPN-UML Chairman KP Sharma Oli in his meeting with the guest on Sunday, however, urged the Chinese side to expedite the BRI projects in Nepal, informs UML leader Rajan Bhattarai who was present at the meeting.
Likewise, CPN-Maoist Centre Chairman Pushpa Kamal Dahal also made a similar request, according to the Maoist leader Shakti Basnet.
2. Bilateral discussion
Wang held a bilateral meeting with his Nepali counterpart Narayan Khadka on Saturday afternoon. The Ministry of Foreign Affairs says, "Two ministers discussed all important aspects of Nepal-China relations and cooperation. They underscored the importance of the exchange of high-level visits on a regular basis in order to strengthen mutual trust and confidence and to further consolidate Nepal-China relations."
During the meeting, the Chinese minister assured that China would be providing development assistance committed to Nepal by President Xi Jinping during his state visit to Nepal in October 2019.
3. Bilateral deals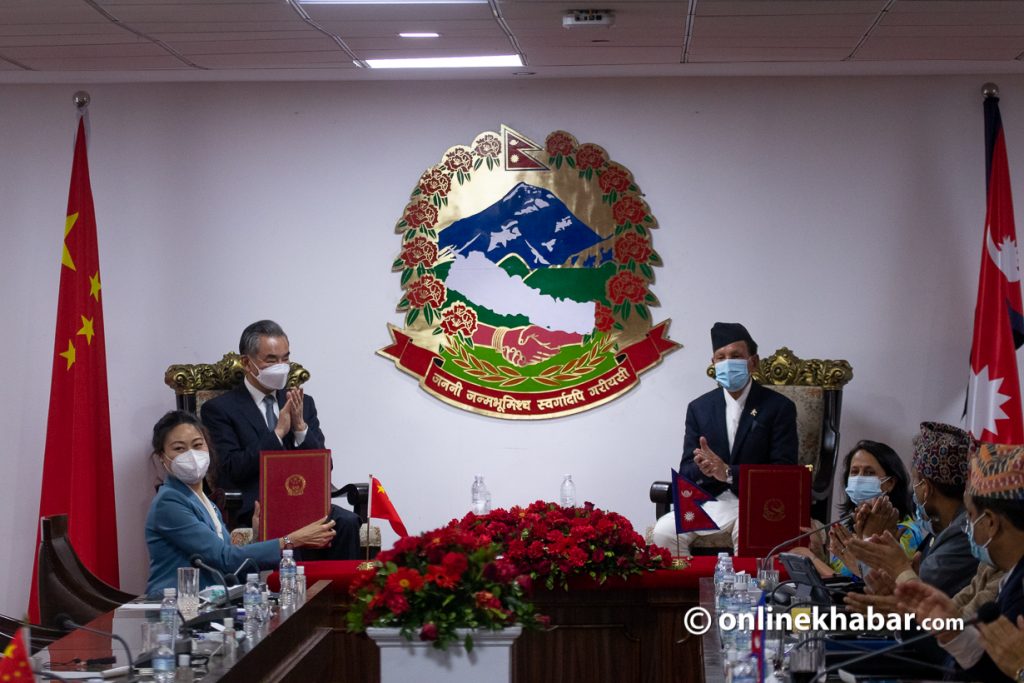 Coinciding with the much-hyped trip, officials of Nepal and China signed nine agreements, and Wang Yi and his Nepali counterpart witnessed the signing and exchange.
The Ministry of Foreign Affairs says the following deals have been signed and exchanged between the two countries:
Agreement on Economic and Technical Cooperation
Technical Assistance Scheme for China-Aid Feasibility Study of China-Nepal Cross-Border Railway Project
Cooperation Agreement on the Feasibility Study of Nepal-China Power Grid Interconnection
Protocol on the Safety and Health Conditions for the Export of Haylage from Nepal to China
Exchange of letters on duty-free treatment to be provided by China to goods of Nepali origin covering 98% tariff lines
Handover Certificate of Araniko Highway Maintenance Project (Phase III)
Minutes of the Seventh Meeting between Nepal and China on Enhancing Cooperation in Railway Sector
Protocol on Sending a Chinese Medical Team to Work in Nepal at B.P. Koirala Memorial Cancer Hospital
Delivery And Acceptance Certificate of China Aid Covid-19 Vaccine to Nepal (Fifth and Sixth Batches) of four million Vero cell vaccines
4. Meetings with political parties
Besides his bilateral meeting with his counterpart Narayan Khadka, Wang Yi met the following people on Saturday and Sunday, separately:
President Bidya Devi Bhandari
Prime Minister Sher Bahadur Deuba
CPN-UML Chairman KP Sharma Oli
CPN-Maoist Centre Chairman Pushpa Kamal Dahal