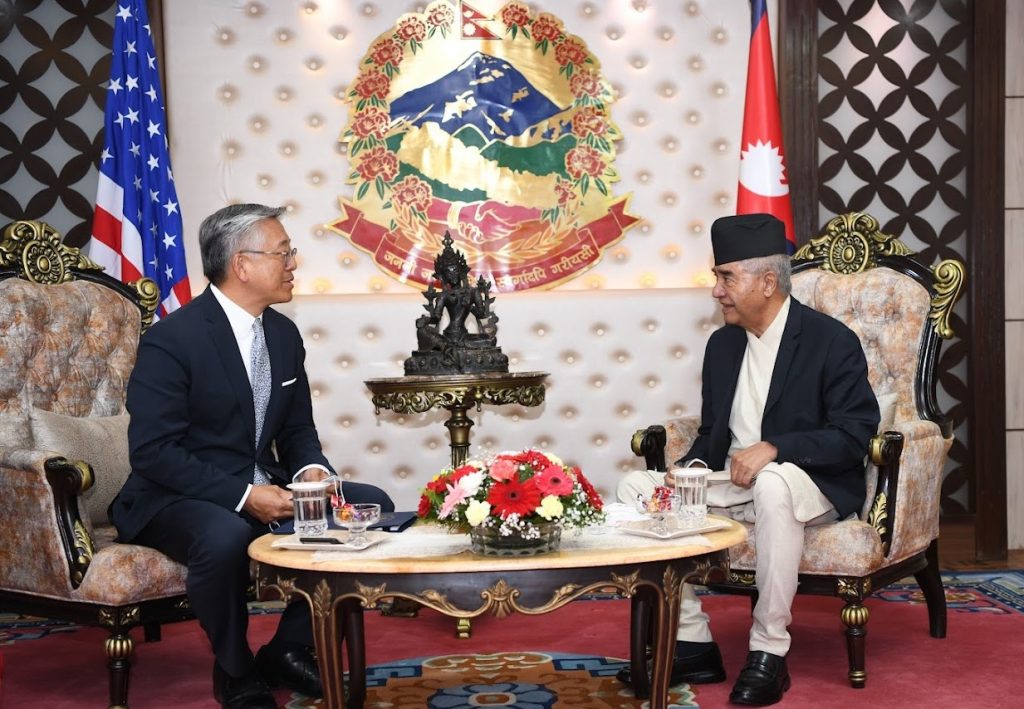 Kathmandu, July 29
Donald Lu, the United States assistant secretary of state for South and Central Asian affairs, has met Prime Minister Sher Bahadur Deuba and Foreign Affairs Minister Narayan Khadka.
Lu met Deuba and Khadka separately at their offices in Kathmandu this afternoon.
In a somewhat surprising visit to Kathmandu, Lu arrived in Kathmandu on Thursday without any side officially making any statement about the visit.
The US Embassy in Kathmandu, which had commented that his Kathmandu visit was a regular affair, says Donald Lu discussed a range of issues including 75 years of US-Nepal partnership and people-to-people ties.
Today @State_SCA Asst. Sec. Don Lu met with Rt. Hon. Prime Minister & Hon. Minister of Foreign Affairs to discuss a range of issues including our 75 years of U.S.-Nepal partnership and our strong people-to-people ties. pic.twitter.com/2qsolzVS81

— U.S. Embassy Nepal (@USEmbassyNepal) July 29, 2022
Lu was in Kathmandu in November last year on an official visit, and he is said to be a key person behind convincing Nepal to endorse the controversial Millennium Challenge Corporation deal.
Donald Lu is visiting Nepal weeks after the government has decided not to be a part of the US government's State Partnership Program. Hence, observers have kept an eye on his engagements here.
Just this afternoon, Minister Khadka informed the parliament that Nepal wrote to the US government about the withdrawal from the controversial project.