It was only in 2003 that the Chinese government gave its first official view on the armed conflict that started in Nepal in 1996. "A group in Nepal are defaming our respected leader Mao Zedong," their statement read.
Pushpa Kamal Dahal, taking in Mao Zedong's ideology, formed the Maoist party and declared war against the state. As the war affected a lot of people in Nepal, it was talked about everywhere in the world.
Even though China condemned the Maoist party, Dahal was merely following what Mao did in China in the early 1900s – using the people of the country to start a revolution.
As this was happening, many forces around the world were even speculating if Dahal was being deployed by China to take a stand against the US and India. But, China said it had nothing to do with this.
The person who wrote the statement was Liu Jianchao, a Chinese politician known for silent diplomacy.
Liu Jianchao is now the head of the International Liaison Department of the Chinese Communist Party. Earlier this week, he was in Nepal on a four-day visit.
His visit comes at an interesting time. Nepal is now preparing for the provincial and federal elections. It is likely that the Maoist Centre will continue its coalition with the Nepali Congress for the elections. But, many are suspecting that the Chinese politician was here to try and convince the communist parties to merge again and contest the elections as they did during the 2017 elections.
Even though the Nepal Communist Party did not last for long, China did its very best to make sure Nepal's two major communist parties, the CPN-UML and Maoist Centre, did not split. But, it was not successful.
So, what was the message that Liu Jianchao brought to Nepal?
A visit amid the geopolitical mess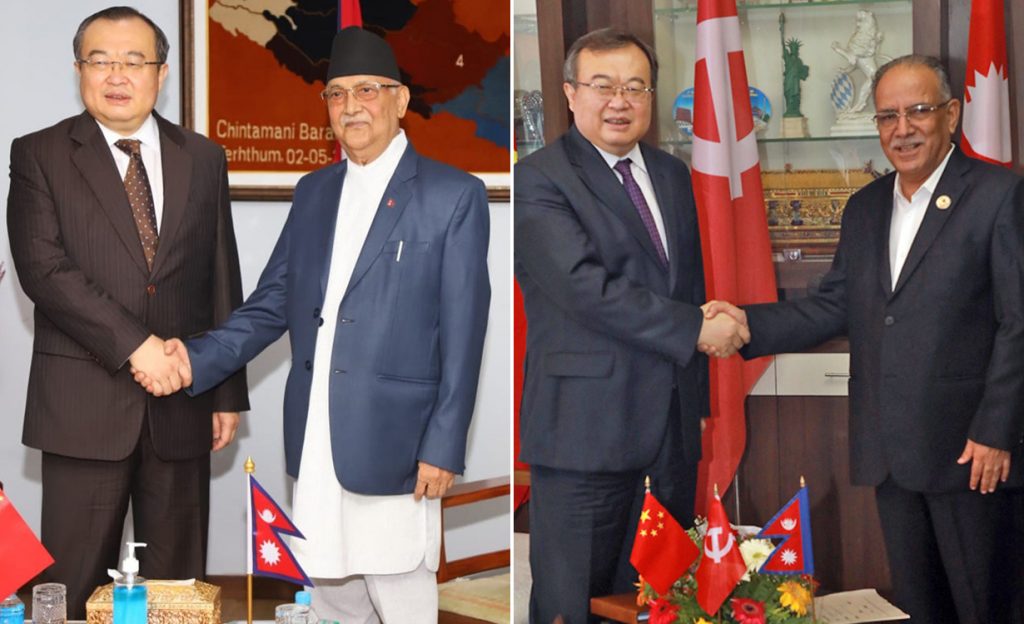 Nepal has been at a crossroads between China and the United States. After a lot of controversy, Nepal's parliament ratified the US-led Millenium Challenge Corporation (MCC). But, after much criticism, Nepal decided not to take part in the State Partnership Program (SPP). Prime Minister Sher Bahadur Deuba has also been accused of trying to be distant from China.
This is why everyone was looking at how the government would take the visit of a Chinese official coming to Nepal.
Liu Jianchao met almost all the prominent leaders in Nepal. He met Prime Minister Deuba, President Bidya Devi Bhandari, opposition leader KP Sharma Oli, and ruling coalition partners Madhav Nepal and Pushpa Kamal Dahal among others.
In these meetings, he is believed to have told Nepali leaders that China will not interfere in Nepali politics and will accept what Nepali leaders choose.
Sources said that Liu was the freest when he was speaking to President Bhandari. He spent nearly an hour with Bhandari telling her his intentions to visit Nepal.
"China wants to have good relations with all countries. We want to be good neighbours and help Nepal in development works," Liu told Bhandari according to a source at the President's Office.
Liu Jianchao also told her he came to Nepal to understand what the leaders wanted for the country and told Bhandari he found Nepali leaders were positive towards Nepal.
In reply, Bhandari thanked China for the help it provided to Nepal in recent years, especially during the coronavirus pandemic.
Wooing Nepali Congress
There is a feeling among people that China also wants to improve its relationships with the Nepali Congress. Late NC leader BP Koirala had some good ties with China. He played an integral role in admitting China into the United Nations.
Liu Jianchao has used Koirala's name to get close to Congress leaders, sources say. He first met leaders of the party and kept on bringing up BP Koirala's name during the discussion and stated how China and Nepali Congress have had a good relationship in the past. He even mentioned how Koirala's surname was famous in China.
He even went to the BP Koirala Museum in Sundarijal where he showed a lot of interest in learning about the late leader. Liu repeatedly told the leaders how BP Koirala stood up to the world when China was excluded from the United Nations.
"It looks like China wants to improve its relationship with Congress because I think China finally feels Nepali Congress is an important party here," says a source who attended the meeting.
Around 2018, China's relations with Nepali Congress had been limited to mere formality as its main focus was to strengthen the erstwhile Nepal Communist Party.
When Congress lawmaker Jeevan Bahadur Shahi talked about how China was encroaching Nepali land in the north, China was not pleased. When Chinese President Xi Jinping visited Nepal, there was doubt if he would meet Congress President Deuba. Xi did meet Deuba, but it was a mere formality.
After Xi's visit, one Chinese media even dubbed Nepali Congress a pro-India party while the Chinese Embassy in Kathmandu wrote to Nepali Congress asking it to control its members from giving out irresponsible opinions. Nepali Congress then dubbed the embassy's letter baseless stating its members had done nothing wrong.
But, things are different now. The NCP does not exist and the Nepali Congress has partnered with two communist parties to form the government. And, since this coalition looks likely to stay put for a while, China has seen the need to convince Nepali Congress that it is its friend.
"Visits like Liu Jianchao's have meaning especially if it comes before an election. Seems like China is doing its best to send a message to Nepal that it is with the country no matter who is in power," says a CPN-UML leader.
Nepali Congress leaders also feel the same. They understand how important China is.
Wishing for a communist coalition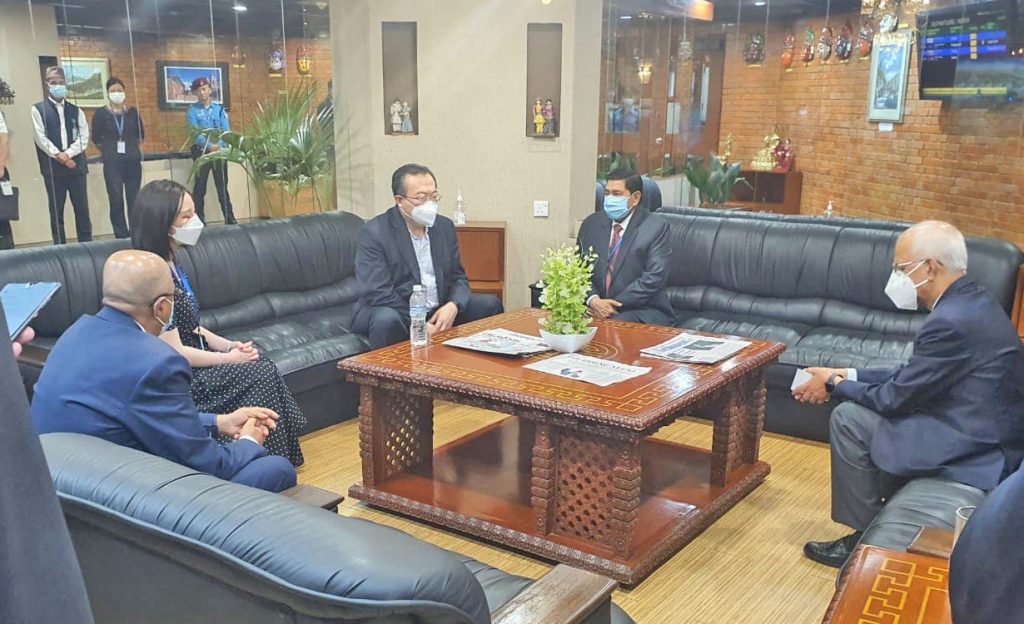 But, China still wants the communist coalition. During this visit, Liu Jianchao could not hide it as he tried to see if there was a future possibility that the communist parties would come together. It wants communists in power for its own benefit. It wants to remain safe from all sides.
"They feel that if there are leftists in power, it will be better for them," says a CPN-UML leader.
That is why it wants parties with the same ideology in power and has been trying to see if there is a possibility.
"Liu Jianchao told us that it would have been better if parties with the same ideology should be together; that's all. He didn't ask us to merge," says CPN-Unified Socialist Chairman Madhav Kumar Nepal.
---
This story was translated from the original Nepali version and edited for clarity and length.