Nepali Hindu women and girls have just got done with Teej, often deemed as the greatest festival of Hindu women. As they celebrated the festival, temples, roads, rooftops, and courtyards turned red with most of the revellers clad in glittery and stylish red attires such as saris, kurtas, and lehengas. As time is moving, there, of course, are some colour variations and blending of traditional clothes with modern designs.
Like the physical world, the virtual world of social media pages is also flooded with photos and videos of Nepali women and girls dressed up in beautiful outfits and dancing, visiting temples, worshipping, and enjoying Teej. It seems the festival is not an occasion of expressing religious devotion as perceived traditionally but just a fashion opportunity.
And, true it is. For many of the young generation, what matters to them more every Teej is the kind of attires they get in the market instead of the devotion they offer to Lord Shiva. (And, it is not wrong, anyway–don't rush to your judgements.)
In recent times, when fashion has taken over the minds of many Nepali people, many fashion enthusiasts see Teej as a fashion opportunity to showcase their love and interest in clothing, giving a significant boom to the market momentum. Meanwhile, some are concerned that it has been so for only those who have money.
A different reason to celebrate the festival
Bindu Adhikari, 24, a native of Bara, currently lives in Tasmania, Australia with her husband. Adhikari, who describes herself as someone who loves dressing up and wearing makeup, shares, "I love dressing and makeover myself even it's not any festival or party. Hence, Teej is a great occasion for me to showcase my love and interest in dressing and makeovers."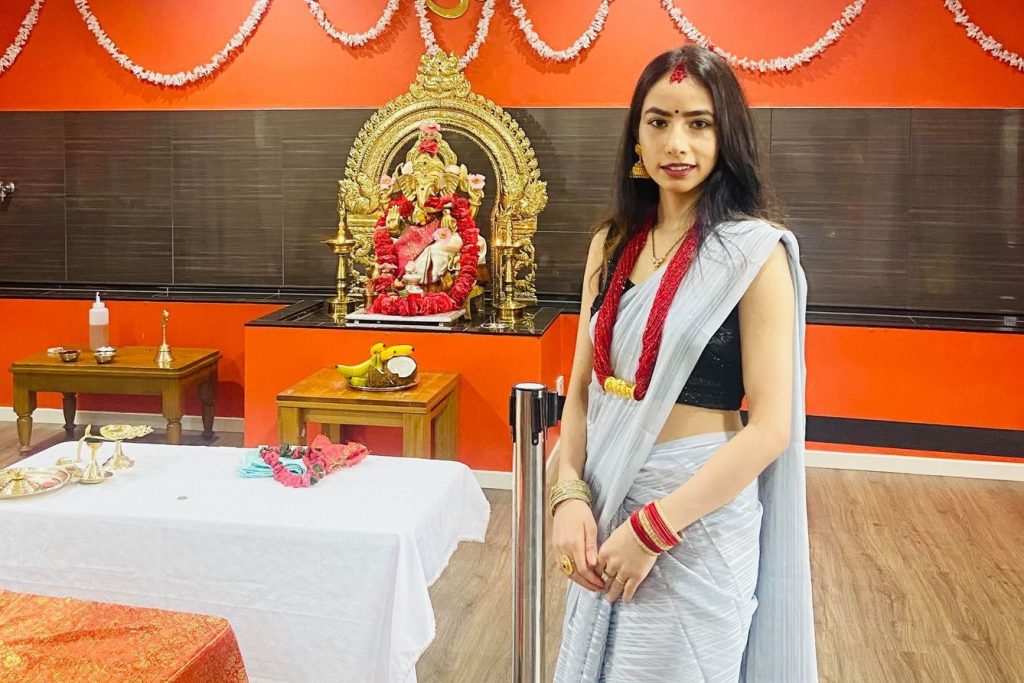 She further adds, "Besides, it is a great opportunity for having parties and get-togethers with family and friends although I have never fasted on Teej. I think people have different reasons to celebrate the festival."
Prajita Rajbanshi, 20, from Kathmandu, also shares similar feelings. Rajbanshi says, "I have been celebrating Teej since I had had my first period. I do fast on this day and enjoy this festival religiously and culturally. But, Teej has also been a great time and has given a reason for me to wear beautiful outfits and do makeup and shine."
Sushila Kandel from Baglung agrees, "My family has three women. Although none of us fasts on Teej, we do enjoy other aspects such as friends and family gathering, dancing, and most of all wearing beautiful traditional wear with some modern twist, jewellery, makeup, and being beautiful."
The market momentum
As per Kandel, she spent around Rs 15,000 for her, her mother, and her sister's overall dresses, jewellery, and makeup for this Teej. She says, "This Teej, we three wore identical saris and matching jewellery. It feels good as we rarely repeat Teej outfits."
Likewise, Adhikari also mentions, "I wore a sari this Teej day because I love traditional wear, especially sari. While choosing saris, I do somehow follow trends keeping my own style intact."
Stating that she has spent approximately AUD 2,000 on her clothing and accessories this Teej, she adds, "Usually, I don't repeat clothes during Teej. And this year too, I didn't repeat at all. But, I repeated some accessories."
Money matters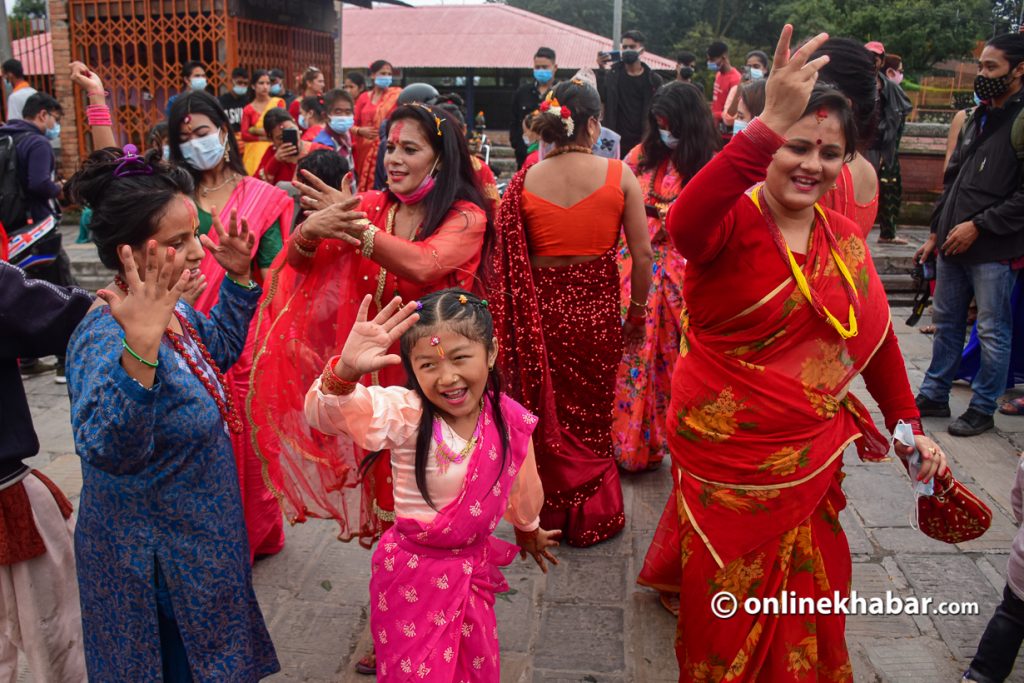 On the other hand, Bibhuti Regmi, 20, from Bhaktapur has never celebrated Teej and has neither taken fast. She thinks, "Teej is a religious occasion, but the way we are celebrating it has destroyed its essence. These days, it feels like a fashion show where the people having money show off and those who can't afford such dresses feel ashamed."
Adding to this, Sandhya Thapa Chhetri, 36, from Butwal thinks, "It is all about individual choice. Teej might be a fashion occasion for those having money. Those who don't have money will wear their simple daily wear and worship."
She further continues, "Teej is a simple day for me. To date, I have not even bought a single bangle for Teej, let alone buying clothes for Teej only. Although I don't do puja every day, I do Teej puja at home; I'm not a ritualistic person, but I like to keep fasting in Teej for my husband and family."
Manisha Gyawali, from Kathmandu, also started celebrated Teej in her childhood, following her mother. She shares, "I always celebrate Teej fasting, and wearing my mummy's red sari, mehendi, red bindi, bangles, and dhago. I never buy any outfits for Teej."
She is not happy that many have forgotten to enjoy the originality of this festival and are more concerned about following the fashion trends.