In her school, Mukta Shrestha (now 48) was a bright student. But, she was more interested in learning homemaking than in other "academic" subjects.
"I was very good at home science, especially stitching and sewing practicals", shares Shrestha. But, little did she know she would make a name for herself in the very field in the future.
Shrestha, as the youngest child and the only girl in the family, was much pampered by her family. Her father had dreamt of making her a doctor. But, her interest was otherwise, designing, a very less known career option in Nepal at that time. Years down the line, Shrestha has established herself as a prominent name in the Nepali fashion industry.
Yet, she has made herself different from other fashion designers as she highlights Nepaliness in her designs. Today, after working for about two decades in the industry, she has come up with her own fashion label, Muku, with a special focus on promoting traditional Nepali Dhaka fabric in national as well as international fashion markets by blending them into contemporary and modern designs.
Here is her journey to the fashion world so far and where she has to go to with the idea of blending Nepaliness in modern fashion designing.
The road not taken
Born and brought up in Baneshwar of Kathmandu, Shrestha completed her schooling at the Mahendra Bhawan School and an intermediate diploma in science at the Kathmandu Valley Campus (which later turned into the Kathmandu University).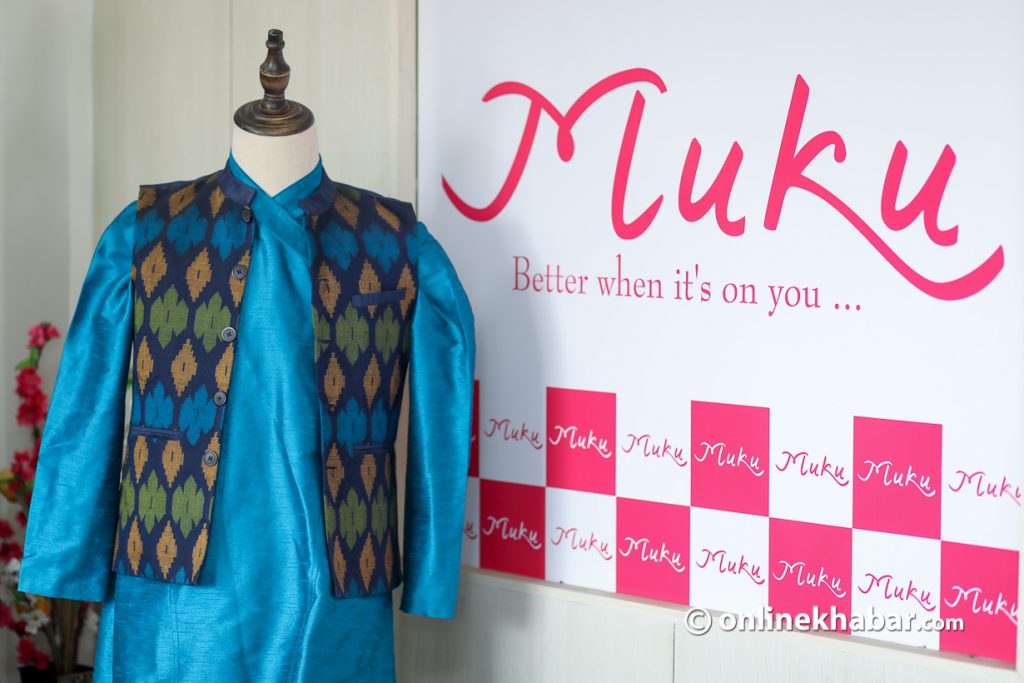 After completing her ISc, she joined BSc at the Tri Chandra Campus in the early 1990s. "But, while studying there, I knew this was not my cup of tea and meanwhile, I also got to know that students go to India to study travel and tourism, interior designing, and fashion designing as there were no such institutions offering such subjects in Nepal."
Then, Shrestha also began researching a better fit for her and found a university in Delhi that offered fashion designing courses. As there were only a few boutiques in the Kathmandu valley, she decided to join this course. She was hopeful that she could develop a career in the sector.
As she joined the new course in Delhi, she did not leave BSc either.
"My father was a banker and both my brothers were in the commerce field. And, when I shared with them that I wanted to study fashion designing, surprisingly and fortunately, my family supported me and my choice," she narrates, "I didn't have to struggle to convince my family for this even though they wanted me to be a doctor and fashion designing was kind of out of the career options then."
She completed both BSc and the fashion designing course and started working as a fashion designer in 1994 in Nepal. As some close friends opened a boutique, she also supported them.
After that, she worked in a company for only about two months. Then, in 1995, she got married and started working in another boutique as a head designer for about five years. "There, I had to do everything as a designer and a manager also."
Then, she had her first baby. "Also, the situation in my home turned uncomfortable as my father-in-law was hospitalised, and after a while, he passed away. I had a small baby to look after. So, it was almost like I left my job. I took a break from designing for about eight months."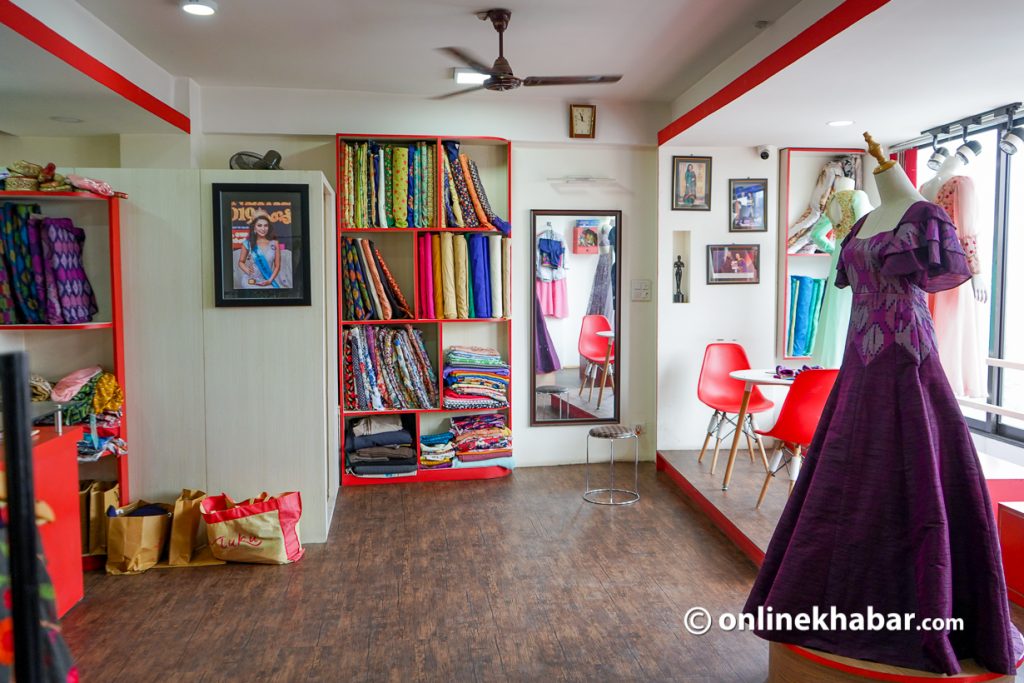 Then, she joined a company named Adam and Eve Boutique that would supply outfits to American boutiques, shares Shrestha. She worked there for about 11 years. "But, in the 11th year, lost my father. I was very close with my father and after his demise, it felt like the end of the world for me. I left my work."
Focus on Nepaliness
Seeing her condition, her husband and her daughters, especially her elder daughter Anushka, pushed her to get back to work. But, she says she was very close to having depression.
"Then came such a situation when my husband 'put' me into a project run by a handicraft association. This opportunity started my second life in designing. It was there that I got to play with so many Nepal fabrics including Dhaka. And, I decided that if I will do something of my own, I will be with Nepali fabric."
By then, it had already been two decades since she had been involved in this field. Also, both her daughters had grown enough.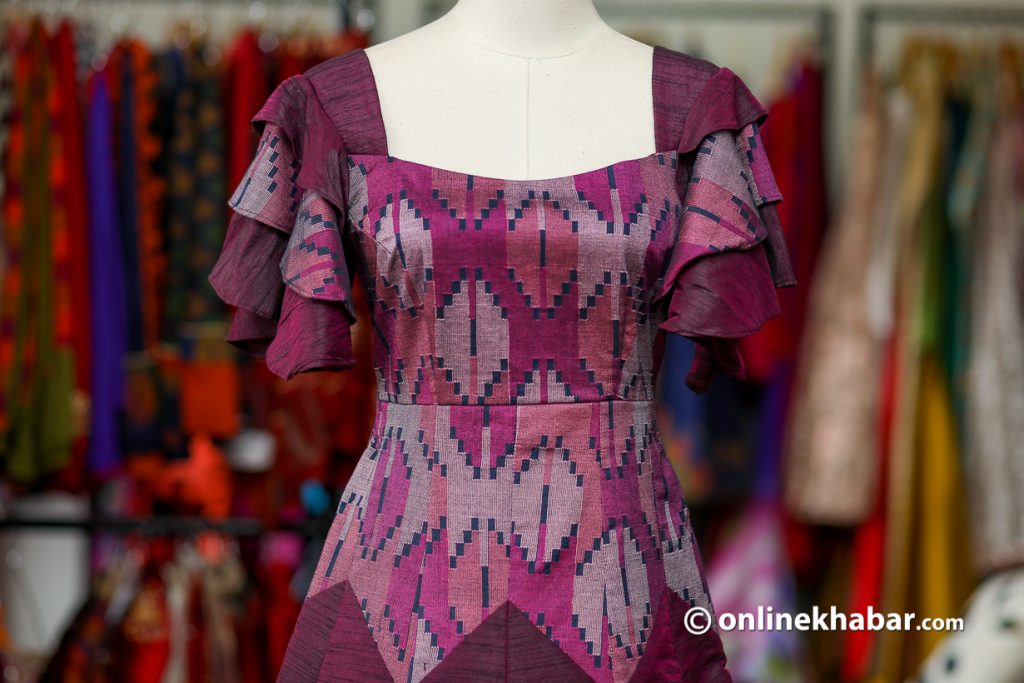 And, in 2016, Shrestha started her own label, Muku, keeping Nepali Dhaka in the mainstream. She chose the name, Muku, in memory of her father as the dad would call her by this name.
"I thought that I can give something back to society from Muku, therefore I chose Nepali Dhaka as the main fabric for my brand." She chose so also because the boutiques were booming at the time and she wanted to have a unique identity of her label.
She says her first customers were her mother and mother-in-law. "I started my business with the blessing from my mothers, with a name given by my father and with support from my husband and daughters."
Blending tradition in the contemporary
But, why is Shrestha interested in the Dhaka fabric that is traditionally supposed to be Nepal's identity is still an interesting question.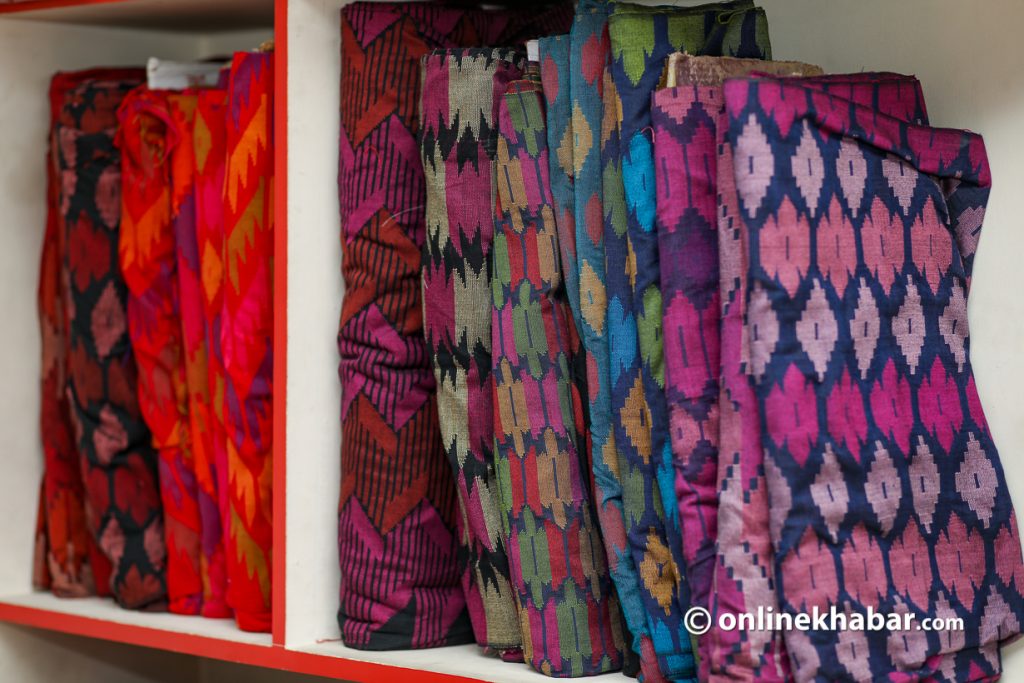 "The colour patterns of Dhaka intrigued me and also Dhaka fabric is much associated with the identity of being Nepali and Nepaliness. I used Dhaka fabrics that are hand-woven by the local weavers of Nepal in my designs," Shrestha answers.
"We blend traditional handwoven Nepali Dhaka with many other fabrics such as silk, georgette, and many other fabrics in a modern sense." Many Nepali students from abroad wear Muku at their graduation as it showcases their Nepali identity. Also, Muku's pasni family set is also very famous.
Muku, with its designer collections, has been successful enough to attract both local and international clients over these years including those from Australia, the UK, Hong Kong, Singapore, the USA, Canada, and others.
According to Shrestha, starting your own business has some rewards and challenges. She describes, "While working in other's company, I was only responsible for my work, but now I am responsible for everything, my team, assistant designers, helpers, masters, weavers, tailors, customers, and all the finances."
Also, she shares, "The Dhaka patterns and designs we make after months of brainstorming, and hard work is instantly copied by others in this business. This makes me feel so sad and this is the toughest part."
Shrestha sits with the weavers and produces unique Dhaka designs and patterns that are exclusive. Started with three weavers, now there are 12 working for Muku.
In the future, Shrestha aims at incorporating skills and uniqueness that she has earned through years of experience while working in others' companies in her designs.
Photos by Shankar Giri