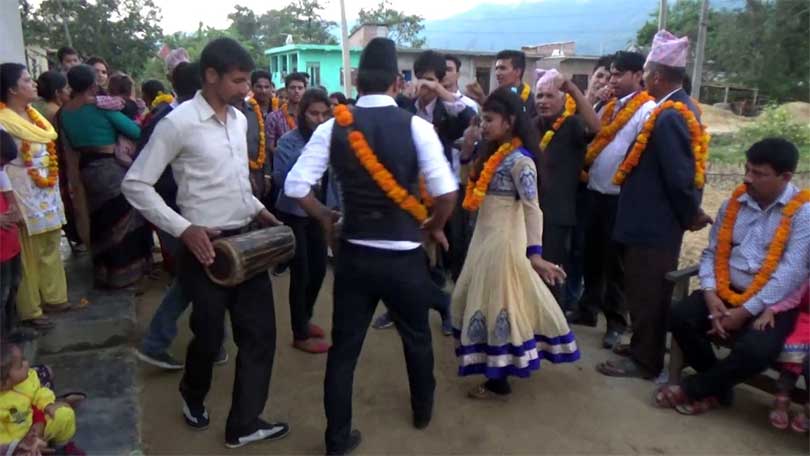 Playing Deusi-Bhailo during Tihar holds great significance in Nepali culture. This folk tradition is an integral part of Tihar, arguably the second biggest festival for Nepalis, as Deusi-Bhailo songs revibrate the celebration of victory over evil.  
With the changing time, the method to play Deusi-Bhailo has also changed. Earlier, the revellers used to sing specific Deusi-Bhailo songs. But, nowadays, other songs are even more popular. It seems the Deusi-Bhailo programme has also become a platform for youngsters to show their talent.
Marking this change, Onlinekhabar has brought a list of songs that can be performed during your Deusi-Bhailo programme this Tihar.
1. Rato Rani Phulejhai Sanjhama
Rato Rani Phulejhai Sanjhama is one of the most popular Nepali folk songs. Late actor Danny Denzongpa is the original singer of the song. It is performed in almost all Nepali family picnics and family gatherings. Anyone can pick its beats, and definitely, performing this song can add vibrancy to your Deusi-Bhailo programme.
2. Mohani Lagla Hai
It is also another popular Nepali folk song that can be very appropriate for your Deusi-Bhailo programme. This song is originally from the movie Chino released in 1991. Narayan Gopal and Asha Bhosle are the singers of this song. In yesteryear, the song composed by Ranjit Gajmer used to be famous among the boys who wanted to impress the girls.
3. Maski Maski
Maski Maski is a rock song, but it equally sounds good to sing at every celebration. Many Deusi-Bhailo teams are also found singing this song in urban Nepal. This is one of the greatest hits of the band Mt 8848. The song narrates the singer's reaction to a woman who impressed him. The intro of the song that is accompanied by a flute is its signature note.
4. Dashain Tihar
This Dashain song by Sugam Pokharel is something that vividly creates festive vibes. Unless you listen to this song with over 24 million views, it feels like Dashain has not arrived. The song has covered different aspects of the festival. Mostly, the ones who are abroad and cannot attend the festival in their homeland can relate to this song.
5. Kalkatte Kainyo
Kalkatte Kainyo is another best song to play during festival times. The song has a very joyous composition and lyrics. The song would sound vibrant even if it is sung accompanied by madal only. Jaya Nanda Lama is the original singer of this song. 
6. Aakashaima Chil Udyo
Most probably, this is one of the few modern songs that has been heard by almost everyone in Nepal currently. The song by the band Gloomy Guys gives extra energy to the performer and audience as well. So, it can be the best song to add to your Deusi-Bhailo playlist.
7. Resham
Resham is an all-time hit number by Nepathya. Probably, there would not be anyone else who has not heard this song. The song was released in 2001 as a part of an album of the same name. The lyrics compilation and melody collection of the song are done by Durga Bahadur Thapa and Laxmi Joshi respectively.