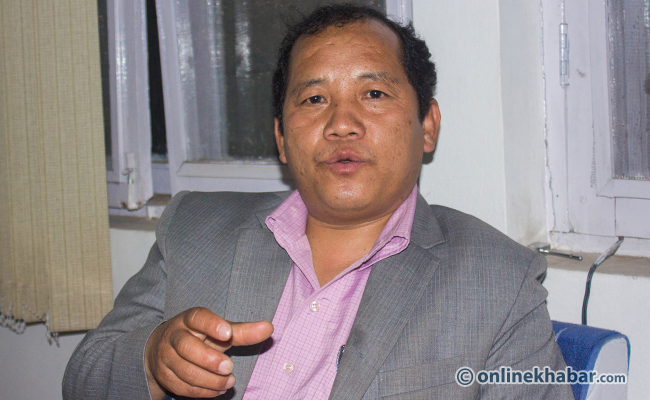 Minister for Supplies Ganesh Man Pun is not part of the high-level team that is accompanying Prime Minister Oli in China
Talking to Onlinekhabar, Minister Pun indicated the much-hyped oil deal may not happen during PM Oli's visit
Reportedly, the Nepali officialdom has not done adequate homework for bringing in oil from China
Kathmandu, March 19
There are indications that the much-hyped oil import deal may not materialise during Prime Minister KP Sharma Oli's weeklong visit to China, that is beginning on March 21. The non-inclusion of Minister for Supplies, Ganesh Man Pun, in the prime ministerial entourage indicates that the deal may remain on paper.
The oil import deal was one of the agendas of the visit and Minister Pun had said earlier that a trade and transit treaty and the oil import deal will definitely happen during the high-level China visit. Instead of Pun, the team includes Giri Raj Mani Pokharel, another UCPN-Maoist minister in the Oli cabinet.
The entourage also includes Minister for Foreign Affairs Kamal Thapa, Finance Minister Bishnu Poudel and Minister for Commerce Dipak Bohora.
Minister Pun claimed that his non-inclusion in the high team will not make much of a difference because the Ministry of Commerce looks after matters of bilateral trade, while his ministry looks after supply aspects.
Nonetheless, Pun indicated to Onlinekhabar that the oil import deal may not take place during PM Oli's China visit. "Talks related to oil will take place," is what he said.
After India imposed a blockade, Nepal had reached an understanding with China to import of 33 per cent of oil that it requires from China. But Nepal and China are yet to sign a deal facilitating oil import.
With oil consignments arriving to Nepal from India these days, bringing in oil from China has ceased to be a priority, it appears. Reportedly, the Nepali officialdom has not done 'homework' required to sign an oil import deal with China.