Travelling during the winter has its own charm. The skies are mostly clear, the sun's warmth is comforting and if lucky, you might even see some snow. Snow is something that appeals to Nepal's urban crowd. Their love is evident during the wintertime when most of them flood places like Chandragiri and Phulchoki in Kathmandu and Ghandruk and Sikles outside Pokhara.
Besides these usual places, where else can you see snow? Today, we bring you a list of places where you can go to watch the snow and make snowmen and snow angels.
1. Pathibhara, Taplejung
A place that acts both as a tourist destination and a pilgrimage site, Pathibhara is located at an altitude of almost 3,800 metres and becomes clad in white during the winter. It is quite majestic as the temple located atop a hill offers some magnificent views of the mountains like Kanchenjunga. It is quite a journey to get there, but if you do not have time but have money, helicopter companies provide deals to get you to and back from Pathibhara. 
2. Khumbu, Solukhumbhu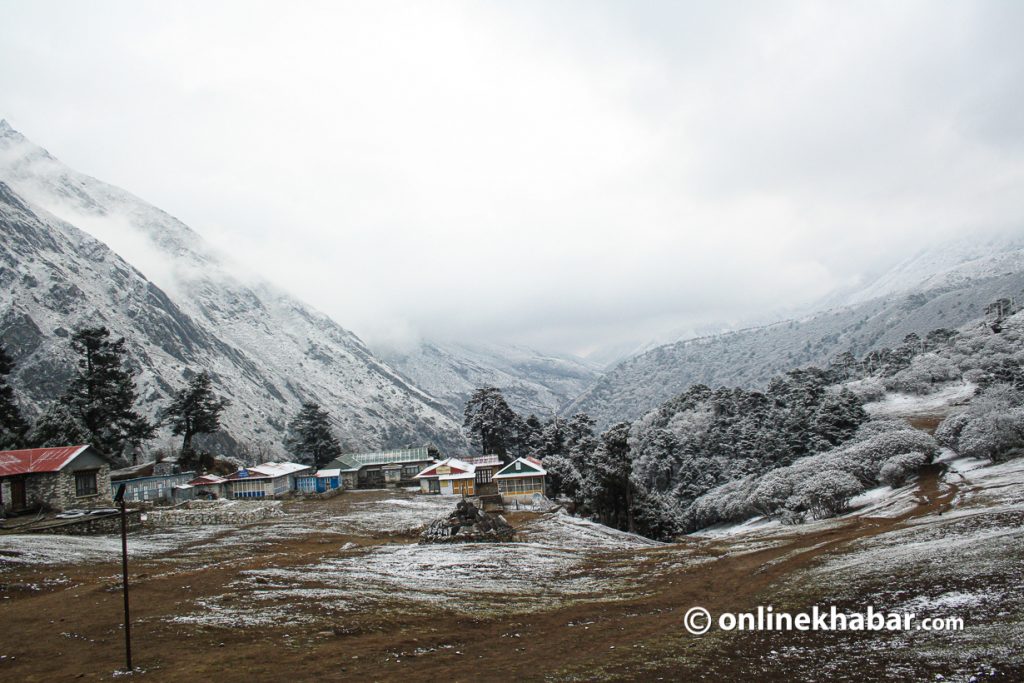 If you have plenty of time, the Everest region should be your go-to destination. You do not have to go to the Everest base camp. You can just hike up to Tengboche to see snow and the snowy peaks that are barren during the autumn and spring seasons. The hike is easy and quite pleasant. While it does not snow as much down low, it does in areas like Namche, Kunde, Khumjung and Tengboche. The view of snow Khumbu from the Everest View Hotel in Syanboche will leave you wanting more.
3. Kalinchok, Dolakha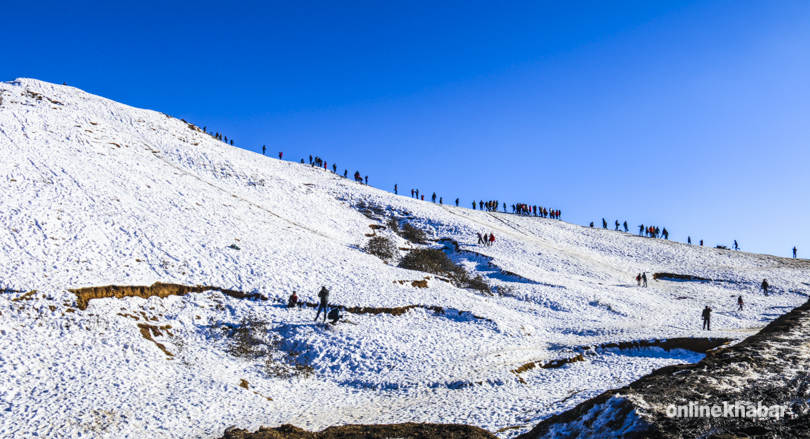 A day's drive from Kathmandu, Kalinchok offers a lot. With snowing, pilgrimage, a cable car ride and if lucky, a chance to ski in the valley's slopes, Kalinchok should be a place on your bucket list if you want to travel to a place with snow this winter. The time to visit this little paradise if you want to see snow is during December and February. This time, you might also be lucky enough to walk through some rhododendron forests along with a view of the Himalayas.
4. Sailung, Dolakha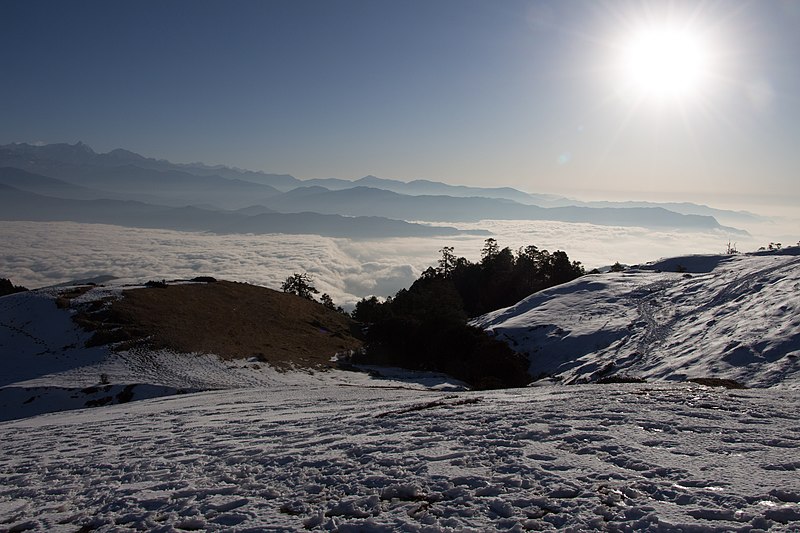 Another place in Dolakha, on the border of Ramechhap, Sailung is ideal for people who want to experience snow. Closer than Kalinchok, Sailung offers an amazing view of the snowy peaks. With hills over 3000 metres, most of the district is blanketed in snow as soon as temperatures drop. The view from some places in the area is quite majestic when there is snowfall as one can see over 100 hills from the area. Definitely, a must-visit if you have not visited earlier. If you have time, you can do both Sailung and Kalinchok.
5. Ama Yangri, Sindhupalcok
An underrated gem, Ama Yangri in Helambu is the place to be. A part of the Helambu circuit, the place is white with snow during the winters. The view, which is quite majestic, is secondary. Along with the Langtang range, you also see Panchpokhari from Ama Yangri. What makes it better is the view along the top. You will see yaks and yaks, and meadows covered in snow. A place to go if you have not already…
6. Bethanchok, Kavre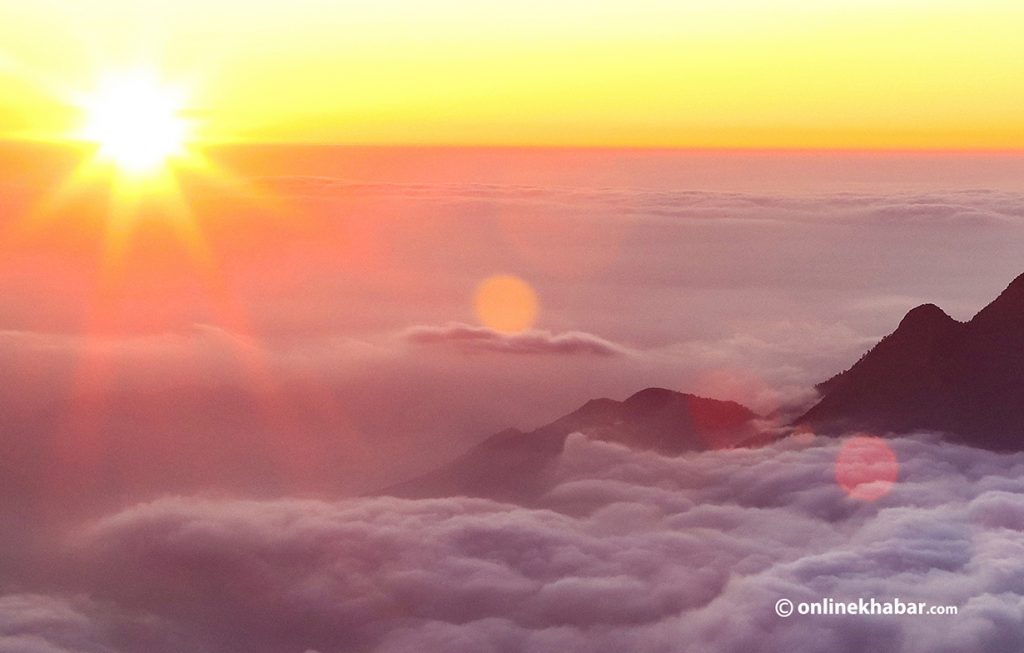 Bethanchok might be the closest place people from Kathmandu can enjoy snowfall. At an altitude of 3,00 metres, the place offers a unique view of not just the mountains to the north, but also of the endless hills. Even though there are places to stay, it is ideal that you camp in the place to get a holistic experience. The sunrise and sunset from the place are magical.
7. Daman, Makawanpur
Snowfall in Daman is a common affair. Close to Kathmandu, this hill station is an ideal destination for people to go play with snow. Apart from that, the place offers a panoramic view of the greatest mountains of Nepal from Everest to Manaslu to the Annapurnas. Sunrise and sunset from the hill station are also quite magical. Given the place is just three hours drive from Kathmandu, the place can be your ideal place to visit this winter if you do not have time.
8. Sikles, Kaski
Sikles is the closest place that people from Pokhara can go to witness snow. Only four hours drive from Pokhara, the Gurung village is a fun place. The viewpoint from the village is full of snow during the winter as you can see Annapurna II and Annapurna IV along with Lamjung Himal. The people of Sikles are lovely and you are sure to have a wonderful time in the village.
9. Poonhill, Myagdi

While those mentioned above were ideal for people from Kathmandu and eastern Nepal, Poonhill is ideal for those from Pokhara and parts of western Nepal. It is one of the prettiest places to experience snow. Surrounded by mountains, Poonhil along with Ghorepani has to be on your bucket list if you have not been. It is best to go there during the spring, but for a different experience, travelling there during the winter might be quite an experience.