Life in Kathmandu, the hustling and bustling capital of Nepal, can oftentimes be overwhelming. Everyone is looking for a quick escape from a rather monotonous lifestyle, but travelling afar is not quite practical either. The solution to it is travel destinations that one can travel in a day.
But, believe it or not, Kathmandu and its neighbouring towns are filled with various travelling destinations, enough to keep people entertained. What is more amazing is to know that you can visit those amazing places, and return to your residence in Kathmandu on the same day. Here are some of the wonderful places for one-day travel destinations for you if and when you are in Kathmandu:
1. Chandragiri hill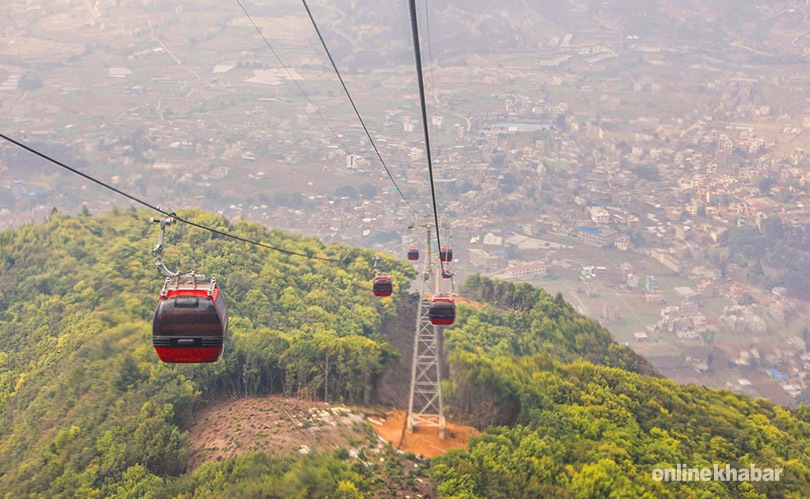 Some 2,551 metres above sea level, Chandragiri hill is a beautiful place located 16 km southwest of central Kathmandu. There are various ways through which one can reach the top of the hill: using the cable car, driving or hiking.
Taking a cable car takes you to Chandragiri in just about 10 to 15 minutes. But, you will get the best of experience if you choose to hike. And, you can reach there in two hours or less. This makes Chandragiri one of the top one-day travel destinations for Kathmanduities.
At the top of the hill, one can visit the Bhaleshwar Mahadev temple and enjoy the panoramic views of the Kathmandu valley, surrounding green hills and mountain ranges from Annapurna to Everest.
2. Bungamati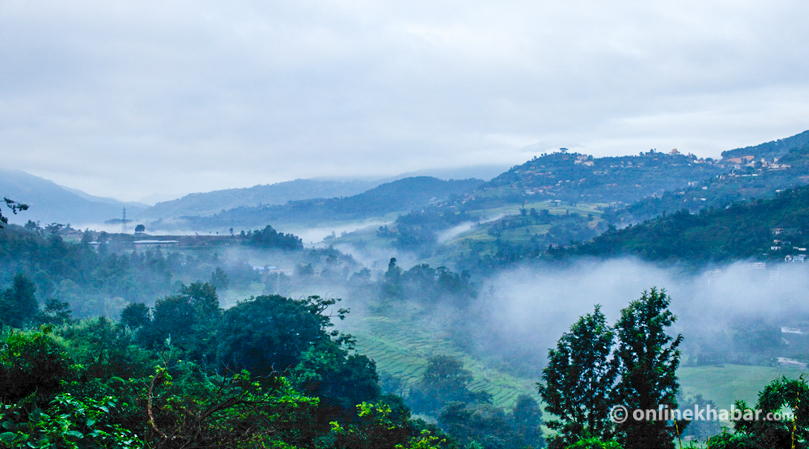 If you are into the culture more than nature, Bungamati, which is around 10 km or 45 minutes drive away from Kathmandu, is your one-day travel destination. You can enjoy a simple, traditional Newa village-town untouched by modernisation.
Reaching Bungamati gives you a special opportunity to learn about the culture, traditions of rural and indigenous people in the Kathmandu valley. Bungamati village has become an attractive place with a number of ancient temples which overlook the Bagmati river in the backdrop of mountains. Bungamati is also said to be the birthplace of Rato Machhindranath, the patron god of Kathmandu valley.
3. Khokana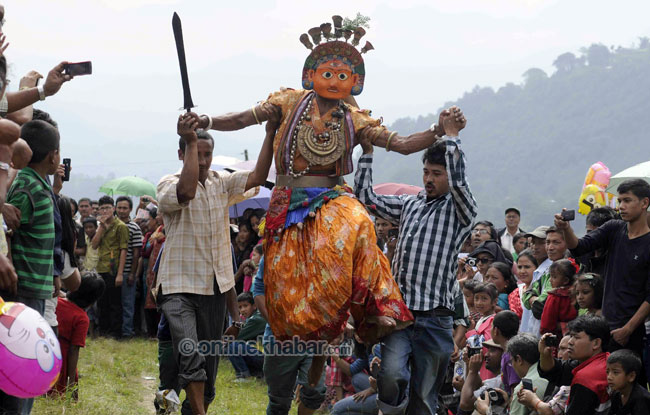 Khokhana is another ancient Newa village-town that you can visit on your one-day travel. Though it is a bit smaller than Bungamati, the two villages consist of various features of traditional and cultural importance and are filled with pleasant natural resources.
In the heart of Khokana, one can engage with friendly villagers, observe their traditional, religious practices and also visit their famous Shikali temple. If you go there during October, you might get a chance to see their Khokana festival, where masked dancers liven the streets to honour the goddess Shikali.
4. Shivapuri


The Shivapuri Nagarjun National Park is the closest national park to Kathmandu. It is located only 12 km away from central Kathmandu making it a great option among all the travel destinations. The Shivapuri hill stands tall at an altitude of 2,563 metres and is said to be the second-highest hill near Kathmandu. The national park spreads over 159 square kilometres, consisting of various species of birds, butterflies, animals, and mushrooms.
One can take a private or public vehicle up to Budhanilakantha, the gateways to the park. It is a 15 km hike to the peak that can take you around six hours to complete. But depending on your preference, you can hike to other stops along the hill; Bishnudwar and Baghdwar are particularly famous and you can enjoy various waterfalls and beautiful scenery.
5. Dhulikhel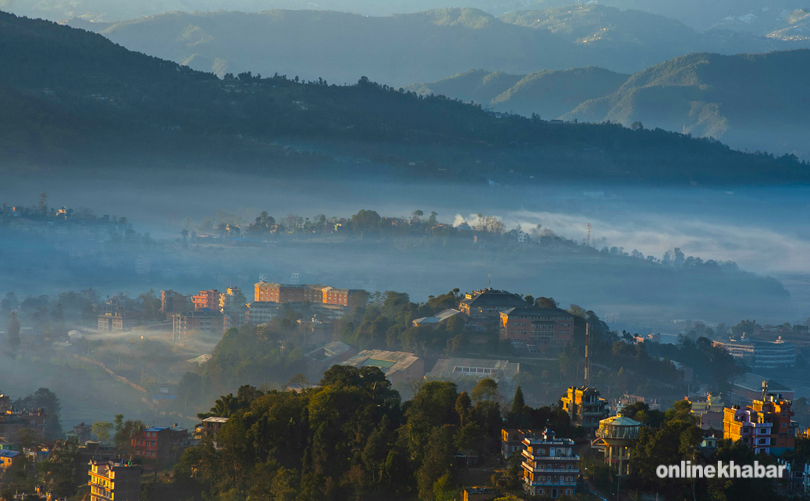 Another major tourist destination of Nepal, Dhulikhel is a hill station situated 30 km east of central Kathmandu. It is also a perfect one-day outing destination for you. You can easily reach there within one to two hours of the bus ride and come back to Kathmandu the same day.
Dhulikhel consists of natural beauty as well as the mesmerising scenery of snow-clad mountains such as Mt Annapurna, Mt Ganesh Himal, and many more. In addition, it is also full of religious and historical resources. Not only that, if you are up for an adrenaline rush, you are always welcome for a bungee jump and zipline, in and around Dhulikhel.
6. Phulchoki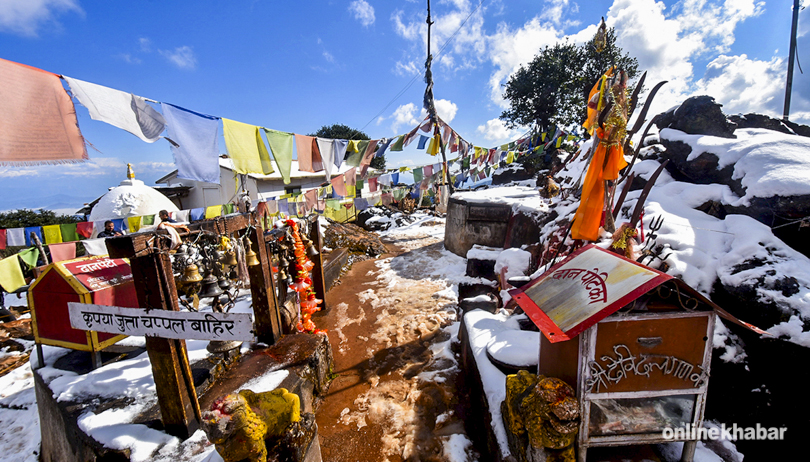 Phulchoki lies southeast of the Kathmandu valley. The Phulchoki hill stands at a height of 2,781 metres above sea level. For this hike, one has to start their journey from Godawari. The hike will be about 15 km; it will take around eight hours for a normal walker to go up and come back down.
It is one of the highest points inside the Kathmandu valley which offers beautiful hiking trails full of greenery. During the hike, one can enjoy nature, enjoy the company of a variety of flora and fauna. From the top, you can enjoy the majestic view of the mountain ranges around the Kathmandu valley. And, if you go there during winter, just after a rainy day, you might even witness snow, which is a rare phenomenon in core Kathmandu.
7. Lakuri Bhanjyang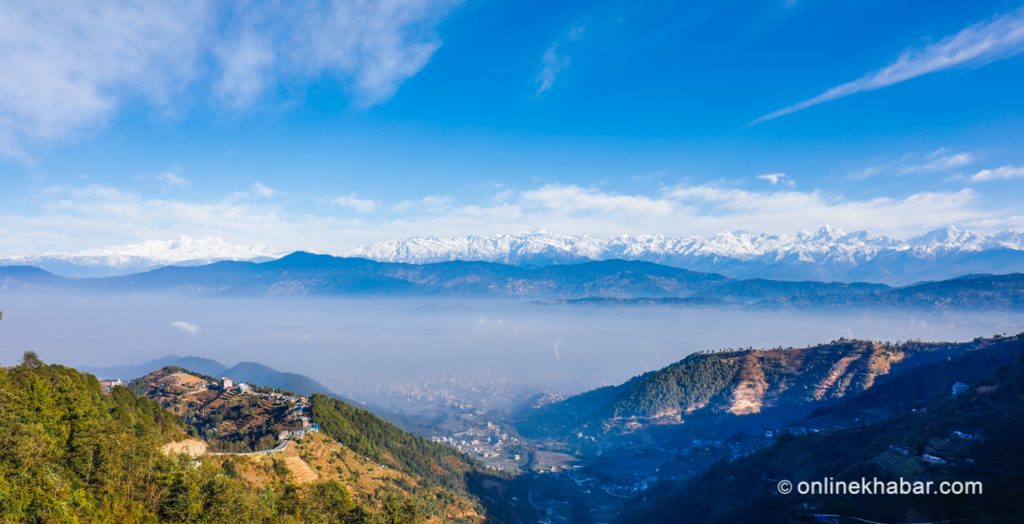 A hill station in southeast Kathmandu is Lakuri Bhanjyang. It is popular as a picnic spot and one of the easiest travel destinations to choose from. But, one can also go up to the peak of Lakuri Bhanjyang via vehicle or on foot, which is completely your choice.
However, for a more immersive experience, it is better if you hike and take in the fresh breeze, break a sweat, and enjoy nature. It is just a two hour-walk from Sanagaun/ Siddhipur or Lamatar, the base of Lakuri Bhanjyang. Like other hikes, the peak of Lakuri Bhanjyang too offers you amazing scenery of snow-capped mountain ranges as well as the entire view of the Kathmandu valley.
8. Nagarkot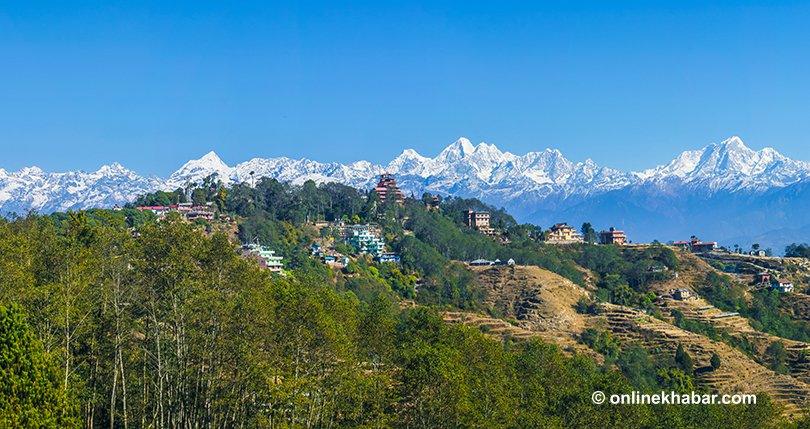 Nagarkot is renowned for its breathtaking scenery of sunrises, sunsets, scenes of mountain ranges, including Mt Everest. Except for sightseeing, Nagarkot offers you plenty of options for relaxation, enjoyment and other outdoor activities and which is why it has been one of the popular travel destinations from Kathmandu.
Nagarkot is around 32 km far from Kathmandu but it can be reached by vehicle in just around two hours. If you are more sporty, you can also choose to hike. Starting from an old Newa village, Sankhu in Kathmandu, the total hike is of 16 km distance up to Nagarkot. And, within just three to five hours of hike, one can easily reach the summit of Nagarkot.
9. Champadevi

Champadevi is on the southern side of Kathmandu. It is the third-highest hill around the Kathmandu valley, at an altitude of 2,278 metres, and is very famous for hiking. People from very far come to hike here and it has been a top travel destination in recent times.
Because of its height, you get the best birds-eye view of the Kathmandu valley and surrounding mountain ranges. On the top of the hill, there is a Hindu shrine, that also conducts a festival every year for Hindu devotees.
You can take the bus going to Dakshinkali and get off at the Khahare bus stop. From there, you will see a sign indicating the start of your Champadevi trail. The total hike is 13 km long, which can take you around six to seven hours to complete.