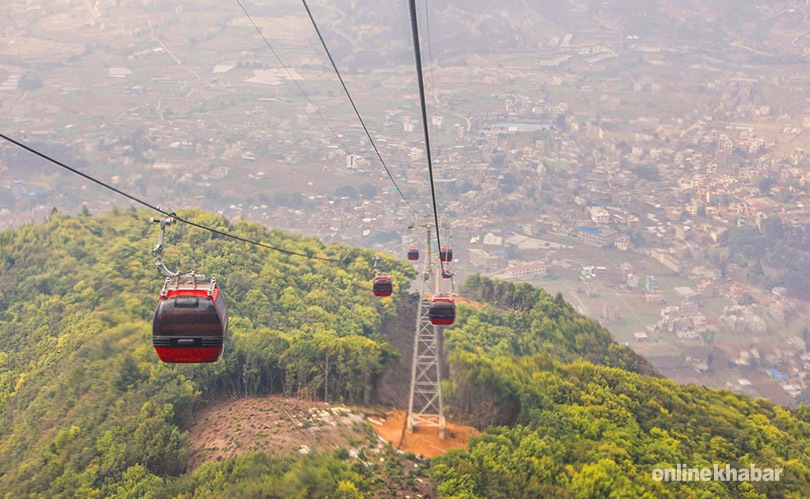 The residents of Kathmandu, and its surrounding areas, will soon have a new destination to go on a quick getaway. Once only accessible by foot, the hilltop of Chandragiri, southwest of the Valley, will soon welcome visitors with a newly installed cable car system.
Currently on trail, the cable cars at Chandragiri will come into operation sometime next month. From the base station at Godam, near Thankot, the 2.5 km ropeway will take you to the top of Chandragiri, where several tourist attractions are under construction.
Once completed, the hilltop will not only serve as a vantage point to observe the ever-expanding Kathmandu, but will also become the go-to place for those seeking an escape from the hullabaloo of the capital.
According to Kathmandu Fun Park Pvt Ltd, the company behind the project, a 6D theatre, shopping area, restaurants and a view tower are also being built on the hill top.
Chandragiri is also home the temple of Ichchapureshwor, the god believed to have powers to grant wishes. "The construction work is nearing completion," says Chandra Dhakal of Kathmandu Fun Park. "We are expecting up to 10,000 visitors during holidays."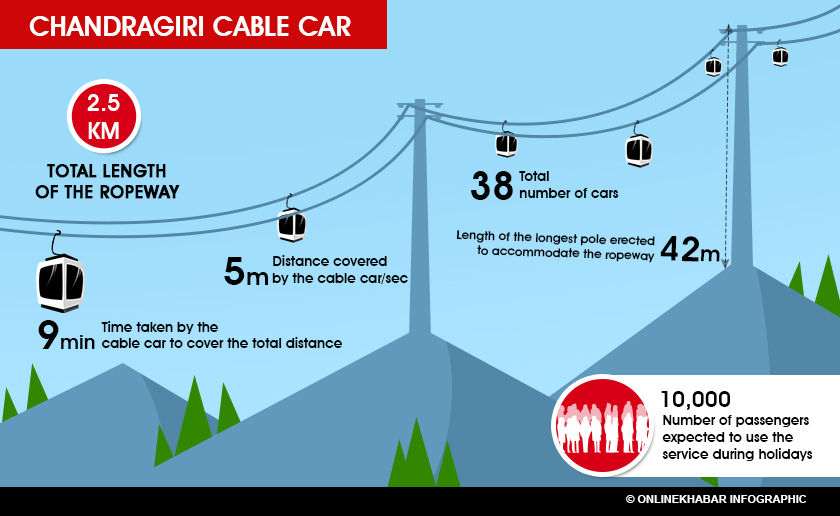 Standing tall at an altitude of 2600 m above sea level, Chandragiri has always been a popular choice among hikers. With the newly installed cable car system, the site will become accessible to even those who do not like hiking.
The hill is famous for its ever-changing weather. It is here that a thick blanket of mist forms and then disappears, only to form again. On a good day, almost all the major peaks along the northern vista can be seen from the hill. If you look south, you can even see the Terai.
For those who wish to spend more than an afternoon at Chandragiri, a resort is also under construction. The five-star property will have a total of 100 rooms.
***
Also read
These six hotels redefine tourism in Nepal's Lake City Pokhara