Bruce McCoy Owens, an anthropologist from the USA, is one of the artists being featured at Photo Kathmandu 2016. His exhibition "Bungayā: Forty years of Rāto Matsyendranāth" includes some of the thousands of photographs he has taken during Rāto Machhindranath Rath Jātrā since he first encountered the festival almost 40 years ago.
When did you first come to Nepal, and when did you encounter the jatra?
I first came to Nepal in 1977, and that's when I decided to specialise on this place. In between college and grad school, I wanted to see this part of the world, about which I knew virtually nothing. I also, sort of, wanted to test myself to see if I could really be an ethnographer. I wanted to see how I would deal with culture shock. It was sort of an acid test.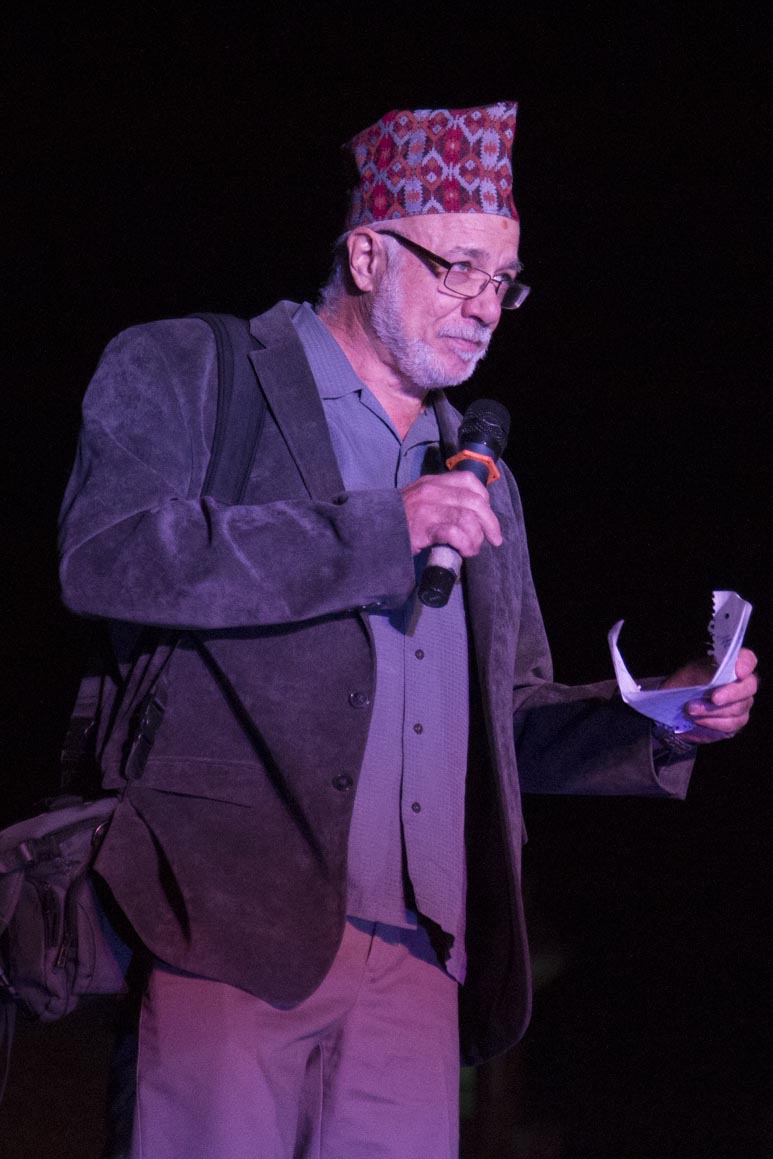 That same year, I walked into Patan for the first time and a crowd of little boys came around seeking to be my guide.
They all said the same thing – "'Do you want to see the golden temple?' 'Do you want to see the Ashok Stupa?'" – and one said, "Do you want to see a festival?" I picked him. The rest is history.
A fortuitous accident?
Absolutely, same as was my decision to study Nepal. I just happened to decide to travel here. My friends had been to Nepal before and had said that I'd probably like it. And they were right.
What was your first impression of the jatra?
I just couldn't understand why people would try to do this. It seemed extraordinary. Everything about it was extraordinary. The chariot was extraordinary, as was the effort required to pull it along what were then muddy roads. There was no pitch, no pavement. I don't think there was pavement on the road from Durbar Square to Lagankhel.
So it was completely amazing to me in every way.
I walked in while they were pulling it through the branch of the path that goes from Sundhara to Lagankhel. So they were on their way, they rounded the corner and headed towards Lagankhel on the Thaina road.
As I turned to graduate school, it was my intention to study Nepal and one of the courses I took during my first semester at Columbia was with Professor Alexander Alland, who later became my advisor. He taught a course on the anthropology of art. And I thought, there's an immense amount of art in this jatra.

Leader of the chariot pullers (haḥpāḥbiyemha) directing them to circumambulate MājuSimā, the tree shrine at the center of Lagankhel identified with Bungadya's mother; Lagankhel, Patan, May 12, 2005. Photo: Bruce McCoy Owens. (Above) Bruce, photographed in Kathmandu, Nepal. Photo: Ashish Joshi. (Opener) Pulling on the jangala, guided by Yanwa on the chariot spire, in order to guide Bungadya's chariot up from the Nakhu river on its return to Bungmati during the twelve-year festival of 1991; July 12, 1991. Photo: Bruce McCoy Owens.
Why did you decide to study the jatra in particular?
One thing that I learned in trying to understand was there was an extraordinary diversity among the Newa people. There's linguistic diversity, religious diversity and different caste hierarchies depending on where you are. It also struck me that most studies of Newas were done in villages.
For an anthropologist who's interested in having a lot of face-to-face contact and a kind of deep understanding of the place, a place like Patan was a very challenging place, so most were focusing on villages. And I thought to myself, Newa are really urban people, even the villages are so dense!
It occurred to me that the jatra was a kind of a window to look at Newa culture, given that all segments of Newa society participated in it in one way or another: Hindu, Buddhists, high castes, low castes, men, women.
What always struck me was how the jatra was managed. Somehow, all these people managed to come together and pull off this extraordinary feat, year after year, against considerable odds. Something I find extraordinary is the cooperation among people despite their differences.
What are the changes you've seen in the jatra across time?
There are changes that one might expect. Some traditions become less extensive. I remember in the early 80s, there used to be as many as 12 dafa-bhajans—instrumental hymns. There are fewer dafa-bhajans now. But the opposite thing is also happening. There are many more young people involved.
Also now—I never saw it in the early 80s—there are women, not only dancing, but also playing [instruments]. In many ways, the tradition is becoming stronger. It's also becoming organised in ways that it wasn't. So the position of the man at the very front of the chariot used to be decided pretty anarchically, by popular decision. And if someone didn't prove capable of encouraging people—and it's a difficult task, you're trying to get 300 people or more to pull at the same time this chariot that weighs 35 tons—they'd just get pulled off and someone else would come on. Now the Jyapu Samaj has this very organised process where these people are pre-selected from each of the four destinations of the chariot.

Are there changes in attitudes or perceptions of the festival?
I think, possibly because of the Janajati movement and the general increased focus on ethnic identity in Nepal, people are identifying this festival as an expression of the Newa heritage more explicitly than before. Another thing that's changed is that different groups from different neighborhoods will have T-shirts made, which speaks to organisation. One of the T-shirts said something like "our festival, our culture." Throughout Nepal, since the Janaandolan and the rise of the Janatantra movement, there's a new awareness of identity, and events like these are explicitly linked to expression of that identity and pride of that culture.
How did you select the photos to present at Photo Kathmandu?
We initially spoke about trying to construct a narrative with my photos. But that would be extremely difficult. In order to have a comprehensive narrative, there would have to be a thousand pictures. My research also tells me there is no one narrative; it depends on who you are what you're going to focus on, where you come into the jatra. So I was resistant to impose a narrative.
I thought, what contribution can I make when there are people who are better photographers than me and are better equipped than me? There are thousands of them shooting every minute of the jatra now. And what I have are images that span over 40 years. And I have old images in color which not many people have. So I decided to focus on those pictures from the 80s and the early 90s. And then if there were striking differences, I would add newer photographs to highlight those differences.

Former Mālinī, Kaya: Māli, offering water as prasād from the ewer used each morning for the first of four daily pujas (nityapujās) performed for Buṃgadyaḥ each day; Poḍetol, Patan, May 25, 1982. Photos: Bruce McCoy Owens.
What was the most difficult part of taking these photographs?
In order to see everything that's going on in the jatra, you have to be in three places at once. Things are going on in Kothawada, Swayambhu, in Lagankhel.
Plus, in the early 80s, I was using an Olympus OM1MDs. Those were manual cameras with no autofocus and auto exposure. And I was shooting on Kodachrome for color, which came out to nearly a dollar a picture. I was on a tight budget, so every shot had to count. And I wouldn't see the photos for a month and a half or so, because it had to go back to the States and then come back to me.
Do you think your background shows in the photos you take?
One thing that probably shines through is that I took pride in becoming invisible. It's impossible not to affect the situation which you're in but I wanted to minimise that effect. I wanted to capture images of people, how they would be if I were not there. People got so used to me they almost expected I would go back to Bungmati, and said, "Where were you? Why weren't you taking pictures?" As a result, and much to my delight, people ignored me.
But for those who are not a part of the culture, portraits – where people are looking into the camera, noticing that you're there – are actually more compelling. I regret, in a way, not taking more portraits. I did sometimes, but my orientation of being a non-intrusive observer and participant—but not as a participant photographer—prevented me. The eye contact that one has in a portrait provides a means of relating to people who are doing extraordinary things. They're difficult to relate to.
What are your hopes for the exhibition?
I hope the exhibition conveys all the different kinds of work that goes into the jatra, and all the different kinds of people that participate in it. I hope you find a fair number of images of behind-the-scenes work being done. I see this as an exhibition for the people who make the jatra happen.
(Interview has been edited and condensed.)
***
Read also
I came here to make an impact, but Nepal made an impact on me: 'Burning Man' sculptor David Best
Meet the soldiers who 'call the shots' in Nepal's city of festivals
It's time for the rain god's procession in Nepal's historic city Patan again!