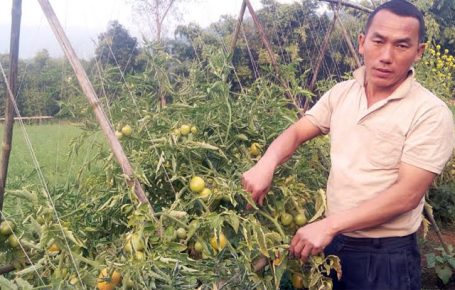 Taplejung/Chitwan, April 19
Rainfall and hailstone have caused huge damage to farms and orchards in Taplejung and Chitwan districts, causing local farmers losses to the tune of tens of millions of rupees.
Rainfall and hail lashed more than a dozen VDCs in Taplejung district on Monday, causing extensive damage to orchards, vegetable farms and crops like corn, wheat and mustard. The affected villages include Hangpang, Change, Liwang, Khokling, Sanghu, Dhungesanghsu, Tellabung and Khamlung, according to the district agriculture development office. Yield of oranges and other farm products in the district will suffer this year as 42-millimetre rain and hail lashed the farms and orchards for about half an hour on Monday evening. According to the office, yield of grains like corn and wheat and mustard may go down this year.
In Chitwan, Darechok VDC suffered damage worth tens of millions of rupees as rainfall lashed orchards, vegetable farms and corn crops. The rainfall lasted about two hours, causing huge damage to orange trees during their flowering season, in ward numbers 1, 2, 5 and 6f of Darechok VDC. According to local people, the rains destroyed vegetables like cauliflower, cabbage, tomato, cucumber and eggplant.
For the farmers of Darechok, vegetable and orange farming are the main source of income. With vegetables and fruit trees destroyed, their woes have only increased.