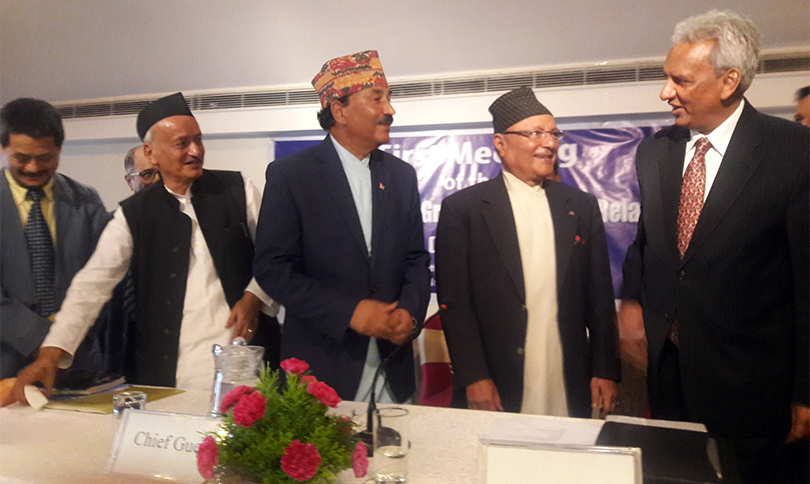 Kathmandu, July 4
The first meeting of the Eminent Persons' Group has begun in Kathmandu. The group comprising four members each from Nepal and India is tasked with helping strengthen relations between Nepal and India by helping governments remove the irritants.
Inaugurating the meeting, Minister for Foreign Affairs Kamal Thapa said agreements signed years ago cannot be relevant in the present context. Thapa asked India to be ready for a revision of old treaties and agreements to make them relevant.
It should be noted that the 1950's Peace and Friendship Treaty, the Treaty of Sugauli and the Koshi Agreement are largely seen as instruments that have weakened Nepal's sovereignty.
Thapa said the EPG meeting has given both the countries an opportunity to improve bilateral ties.
Nepal has former Foreign Minister Bhesh Bahadur Thapa, former Minister Nilambar Acharya, former CIAA Chief Commissioner Surya Nath Upadhyaya and lawmaker Rajan Bhattarai as members in the EPG, whereas India has BJP leader Bhagat Singh Kosiyari, former ambassador to Nepal Jayanta Prasad, Professor Mahendra P Lama and Professor BC Upreti as members.
Kosiyari said India has never harboured any ill will against Nepal and pointed that India is ready to revise treaties and agreements with Nepal. Indians and Nepalis have the same blood group, Kosiyari said, adding that it's not India's intention to humiliate Nepal.
Nepal's former Foreign Minister Thapa said the meeting will try to remove bitterness in Nepal-India relations, resulting from some bilateral treaties and agreements.
The two parties have not yet made their agendas public. The meeting will last till Tuesday. Border experts have suggested abrogation of the Treaty of Sugauli and the peace and friendship treaty.