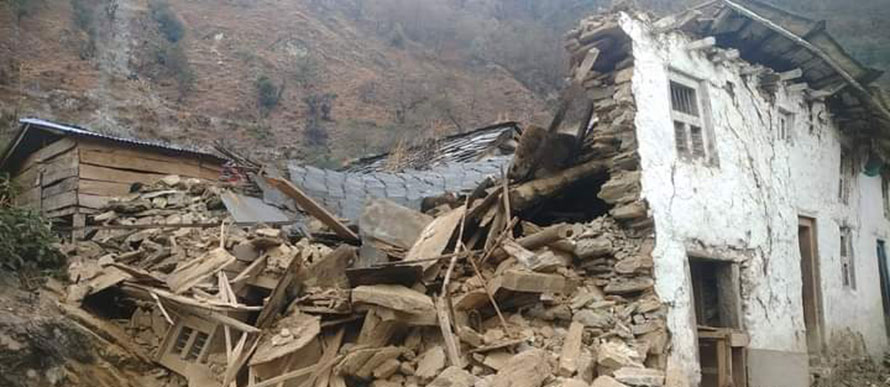 Bajura, January 25
Fifty-eight houses have been damaged by the 5.9 magnitude earthquake that jolted the Sudurpaschim province on Tuesday. The epicentre of the earthquake was recorded in Bichchhya of Himali rural municipality of Bajura district.
According to the District Police Office, Bajura, some of the houses have suffered partial damage while others have been completely damaged. There has been loss of life and property in various places of the district due to the tremor that occurred at 2.43 pm on Tuesday.
Some government buildings in the district have developed cracks due to the earthquake. Several private houses have also developed cracks and suffered broken walls.
The mud and stone houses have cracked and are unfit for accommodation, said DSP Surya Thapa. He said police officials stationed at the Area Police Office and the police posts were sent to the villages to collect the details of the damage caused by the earthquake and as per the collected data 58 houses, including government office buildings and private houses, have been damaged.
So far, only one death has been reported. Jamuna Rokaya, 32, from Gaumul rural municipality died after getting hit on the head by a stone and died on the spot, informed Thapa.
Three people were injured due to the earthquake in the district out of which two are receiving treatment at local health facilities while one has been already discharged.