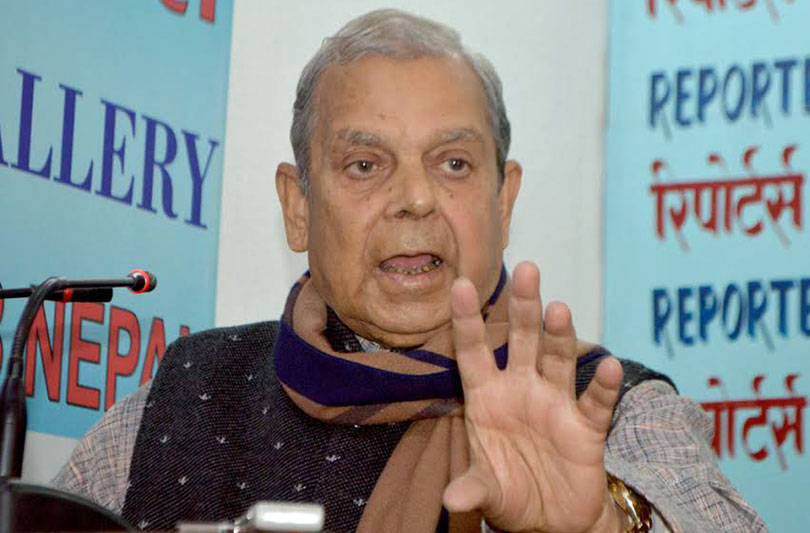 Kathmandu, February 5
Mahantha Thakur, a leader of the United Democratic Madheshi Front, said on Sunday holding elections will be impossible unless and until the Parliament passes the Constitutiona amendment proposal. At the same time, Thakur clairified that he is not against elections, per se.
He said: Conducting elections is  impossible without passing the amendment proposal.
Thakur, speaking at a face-to-face that Reporters' Club Nepal had organised, warned all concerned not to 'daydream' that UDMF will go to the polls after discussions on the proposal in the Parliament, regardless of whether it passes the proposal or not.
Thakur stressed that the ruling coalition comprising the Nepali Congress and the CPN-Maoist Centre, among others, should ensure the passage of the proposal through the Parliament, no matter what.
Like other forces, we too fought for democracy and republicanism, Thakur said, adding: We are not against elections. But without resolution of problems, elections will not give the country a way out. Therefore, there's a need to solve the problems first.
Thakur cautioned that a complex situation will arise if the government tries to hold elections by using force.
Current problems are political, so they should be solved politically
Political problems should be solved politically, he said, adding: Constitutional problems should be solved constitutionally. Current problems are political, so they should be solved politically.
Asked to comment on the arrest of CK Raut, Thakur said: Arrests and killings will not solve problems.