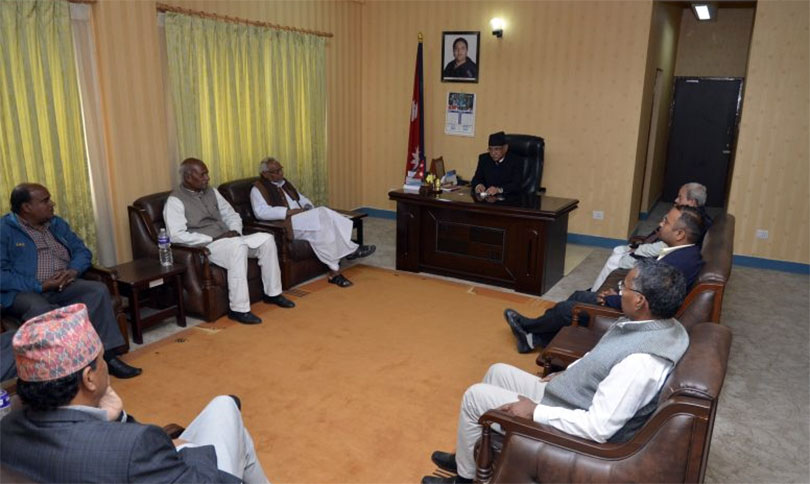 Kathmandu, March 15
Prime Minister Pushpa Kamal Dahal 'Prachanda' on Wednesday asked agitating UDMF leaders to join the election process by letting a commission sort out the task of adjusting provincial boundaries.
UDMF too appears positive when it comes to letting the commission settle the boundary issue and addressing other issues through the Constitution Amendment Bill registered in the Parliament.
PM Prachanda had held talks with UDMF leaders on Wednesday morning, after the latter announced that they will withdraw support to the Prachanda-led government. At the discussions that took place in Singhadurbar, PM Prachanda proposed sorting out the boundary issue through the commission, his press adviser Govinda Acharya informed.
Acharya said: In existing conditions, there's no possibility of the House passing the Bill with a two-third majority. That's why PM asked UDMF to come to an agreement by sorting out the provincial border issue through a commission before federal elections.
At the meeting, PM had asked UDMF to prepare for local level elections by amending the Constitution by incorporating other UDMF-raised issues save the border issue.
For their part, UDMF leaders said they will give a formal reply after holding their meeting.
Presently, UDMF leaders are holding discussions at Bijuli Bazaar.
Before the discussions, TMLP President Mahantha Thakur said PM Prachanda had assured to address issues like language and representation without delay. There's also talk of addressing the border issue, by forming a commission, he said.
Sadbhavana Party President Rajendra Mahato described Prachanda's proposal as great, indicating that their support to the government continues.