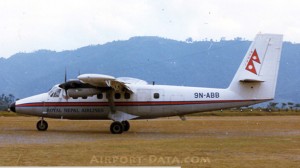 Kathmandu, April 1
For people interested in the history of democratic struggle in Nepal, the BP Koirala Museum will offer something of interest, pretty soon.
Preparations are afoot to keep the plane, whose hijacking Nepali Congress leader Girija Prasad Koirala had ordered during the struggle against the Panchayat regime about four decades ago, at the Sundarijal-based museum.
Then Royal Nepal Airlines Coropration had purchased the plane about 44 years ago. The plane got hijacked on June 12, 1973 while it was heading to Kathmandu from Birgunj, carrying INR 30 lakh meant for Nepal Rastra Bank, the central bank.
Two years ago, the plane with call sign 9N-ABB suffered damage when it crashed at Masine of Arghakhanchi district. Parshuram Pokharel, one of the museum's founders, said damaged parts of the historic plane are in Nepalgunj.
Under the command of Girija, who went on to become prime minister, Congress leaders Sushil Koirala, who also became PM, and Durga Subedi, among others, had hijacked the plane and taken it to Forbesgunj, India.
At that time, the Nepali Congress was engaged in an armed struggle against the Panchayat regime. The plane was hijacked to arrange money for management of NC's Mukti Sena (Liberation Army) and for procurement of arms.
We are exhibiting this plane show that new generations can learn about the struggle for democracy in Nepal, Pokharel said. The museum plans to restore the plane's damaged parts.
The museum said it is holding talks with the Department of Archaeology for funds required to restore the plane.