In 2020 and 2021, the Nepali fine art sector was in a slumber thanks to the Covid pandemic. Compared to them, 2022 saw major art exhibitions, festivals and events. There was not a month in the year when art exhibitions, festivals or events were not happening in Kathmandu.
Major galleries like Siddhartha Art Gallery, MCube Gallery, Classic Gallery, Bikalpa Art Gallery, Dalai-La Boutique Hotel Gallery were busy in terms of different exhibitions—national and international— along with other art events. Nepal Art Council, Nepal Academy of Fine Arts, Museum of Nepali Art and Taragaon Museum also contributed a lot to the growth of the Nepali fine art sector this year.
Here are some interesting and noteworthy Nepali fine art events that took place in 2022.
1. Kathmandu Triennale 2077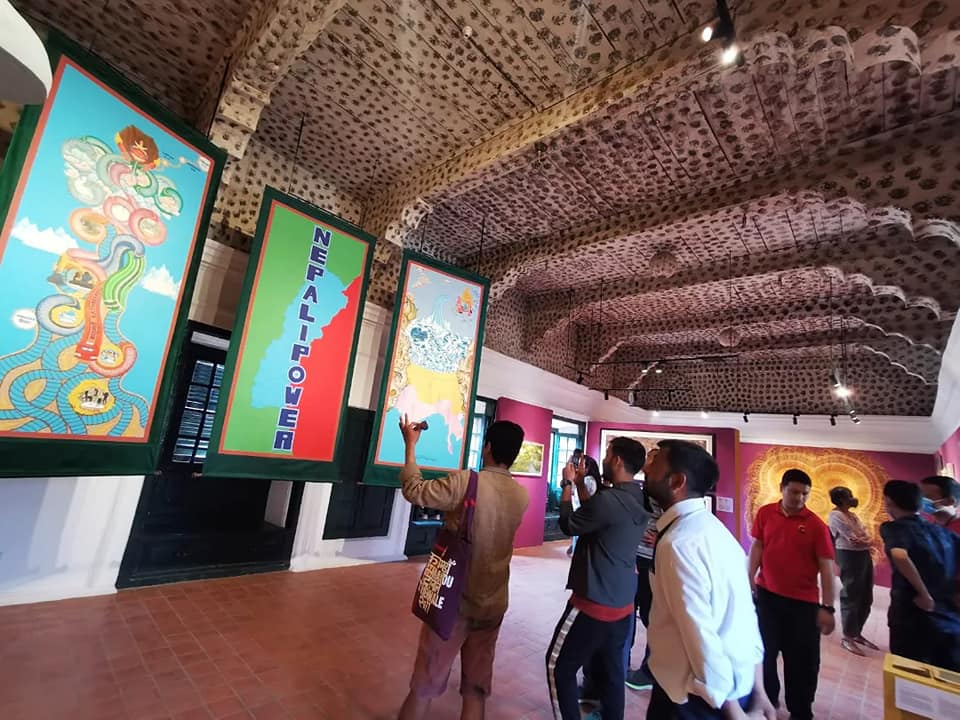 One-month-long Kathmandu Triennale 2077 that began on March 1, featured more than 130 artists' 300 plus artworks from around 40 countries. The event was held at five venues, namely, Patan Museum, Bahadur Shah Baithaik, Nepal Art Council, Siddhartha Art Gallery, and Taragaon Museum. It
At the event, one witnessed works by artists working with and from multiple aesthetic, and cosmological viewpoints and meanings, expressing multiplicities that composed the multifaceted global reality. Kathmandu Triennale 2077 was jointly organised by the Ministry of Culture, Tourism and Civil Aviation in Nepal and the Siddhartha Arts Foundation, in a bid to promote the Nepali fine art scene internationally.
2. Revisiting the Roots in a Modern Nuance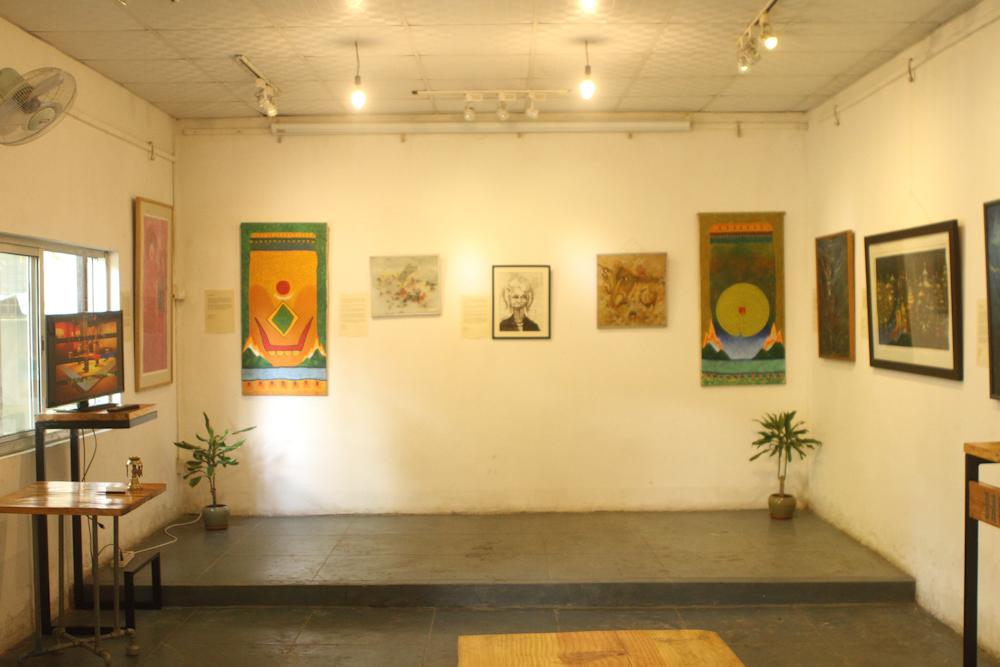 In the exhibition held in April-May, curator Saroj Mahato brought together 45 new and old Nepali artists including veteran artists Lain Singh Bangdel, Indra Pradhan, Rama Nanda (RN) Joshi, and Manuj Babu Mishra. Revisiting the Roots embraced the subtle differences and nuances in the art scene not only in the past and present Nepal, but also as a whole, in regards to how these different eras blend together into one harmonised art world.
3. Art exhibitions at Siddhartha Art Gallery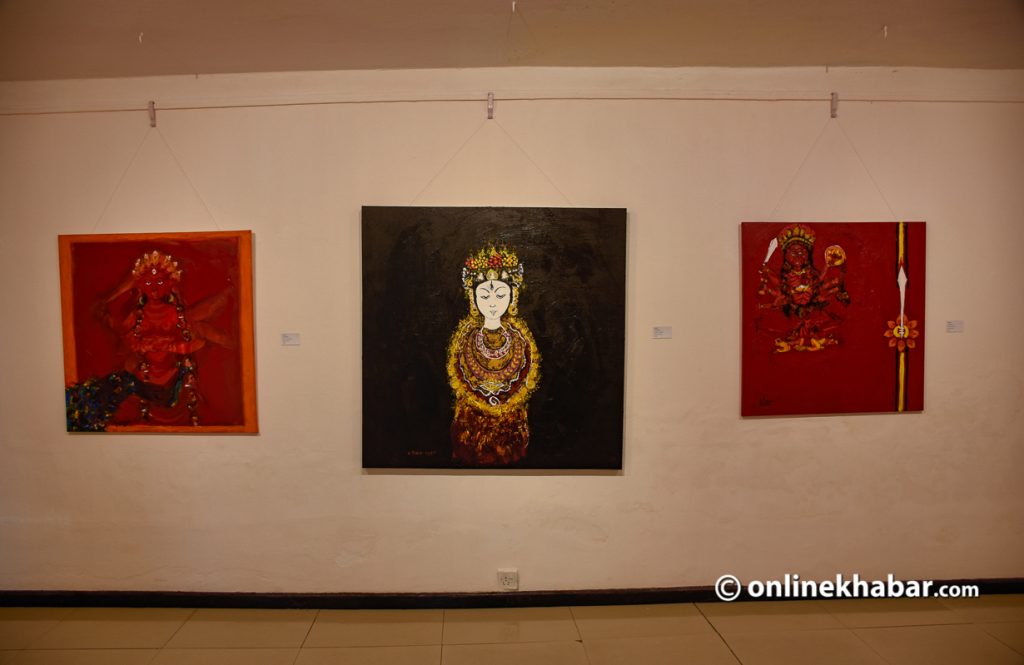 Among many solo painting exhibitions, exhibitions by veteran artist Kiran Manandhar and artist Binod Pradhan created a buzz in the Nepali fine art sector this year. Manandhar, in his exhibition Samarpan, held in July explored the spiritual aspects of life using the religious motifs of Shakti in figurative forms. According to him, it was his way of paying homage to his country, people and culture here.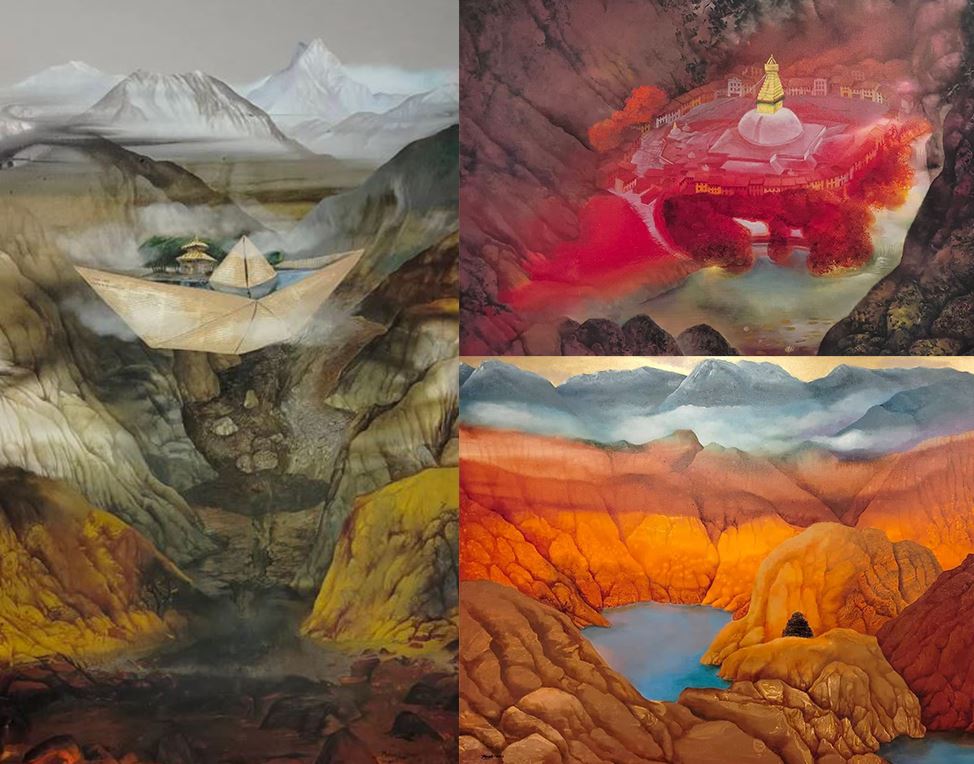 Likewise, the painting exhibition Sacred Realms by Pradhan held in November explored the theme of preserving and promoting nature and culture. The paintings in his exhibition were surrealistic and he used impressionist, expressionist and realistic styles in them.
Then, there were other painting exhibitions by artists such as Sabita Dangol, Bidhyaman Tamang, Priyam Pradhan and more.
4. Art exhibitions and events at Nepal Art Council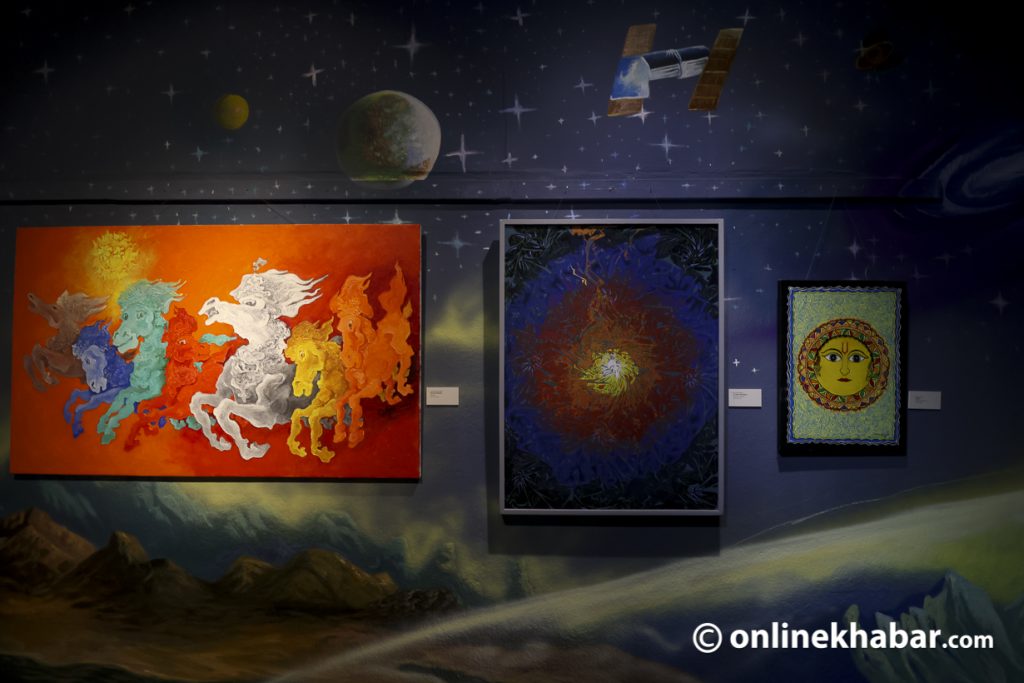 Many solo and group exhibitions took place at the Nepal Art Council, one of the most happening places in the Nepali fine art scene.
A group exhibition Deities of Nepal celebrated the 60th anniversary of the Nepal Art Council and became one of a kind, which was held in November. The exhibition featured different artists from traditional and modern art genres, making itself one of the biggest art exhibitions that filled the gap between traditional and modern artists on the same platform.
Likewise, Agrajka Bimbaharu art exhibition organised by Pagoda Group and the Sushil Koirala Memorial Foundation featured artworks created during the 1960s and '70s till now, which was held in May. There were 68 paintings by 30 veteran artists in the exhibition, making it a one-of-a-kind exhibition as their works are rarely exhibited.
Similarly, The Himalayan Art Festival was a four-day festival held in September organised by E-Arts Nepal that showcased 130 artists' artworks such as paintings, sculptures, performances, installations, and prints. It aimed at creating awareness about the art scenario of Nepal and encouraging Nepali investors to invest in art.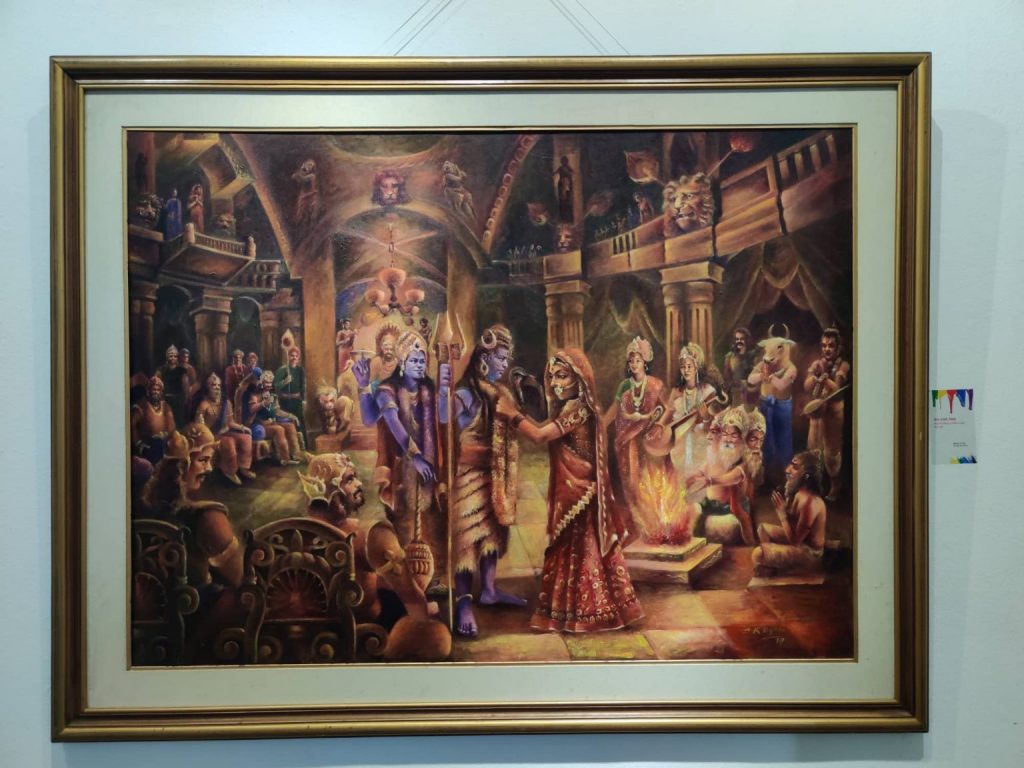 Suresh Kumar Dyola's painting exhibition Satyam Shivam Sundaram held in September based on Shiva Puran was one of the most remarkable exhibitions in the Nepali fine art sector as the artist had dedicated 20 years to completing all 23 masterpieces showcased in the exhibition.
Artist Samjhana Rajbhandari's woodcut print exhibition held in May, Prints: A Tribute to the Past, exhibited 33 prints that reminisced about Nepal's overall postage stamp history and her emotional journey.
5. Solo art exhibitions at Dalai-La Boutique Hotel's gallery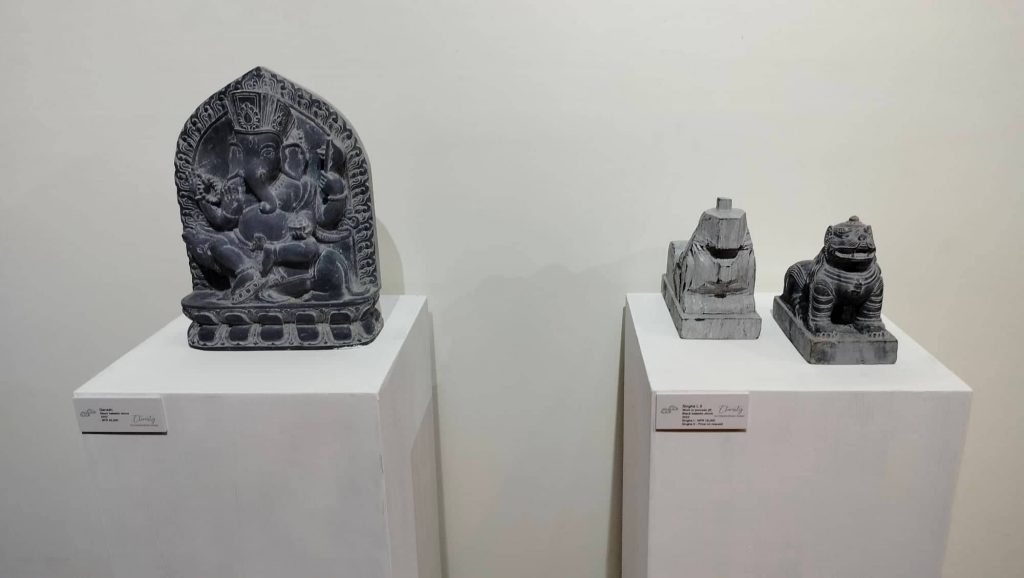 Dalai-La Boutique Hotel's gallery is narrow in comparison to other major galleries in the town. Nevertheless, it became the appropriate platform for many young talents in the Nepali fine art sector to showcase their creations this year. The gallery featured exhibitions of printmakers Saurganga Dharshandhari and Sushma Shakya, visual artists Muna Bhadel and Kunti Shree Thapa and sculptor Chandra Shyam Dangol among others.
6. Exhibitions at the Museum Of Nepali Art (MONA)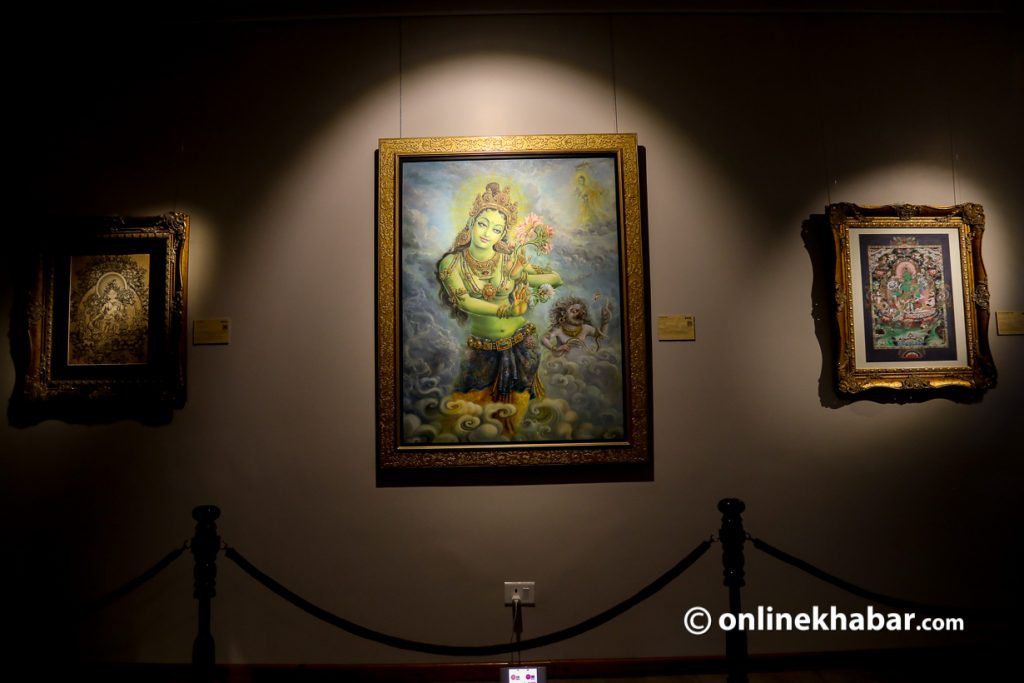 At MONA, traditional artist Samundra Man Singh Shrestha's solo exhibition displayed around 60 artworks held in February.
Then, the exhibition by traditional artist Raj Prakash Man Tuladhar and visual artist Sushila Singh was a notable event held at MONA in 2022. Tuladhar's paubha paintings were showcased while Singh's paintings, prints, installations and more were displayed in the exhibition.
7. Significant documentation of traditional art
Traditional artist Ujay Bajracharya launched his book, Paubha: Where the Divinities Reside, in 2022 with an aim to spread awareness regarding the ancient art that originated in Nepal. This has been considered a milestone in the documentation of the Nepali fine art sector.
8. Street Art Project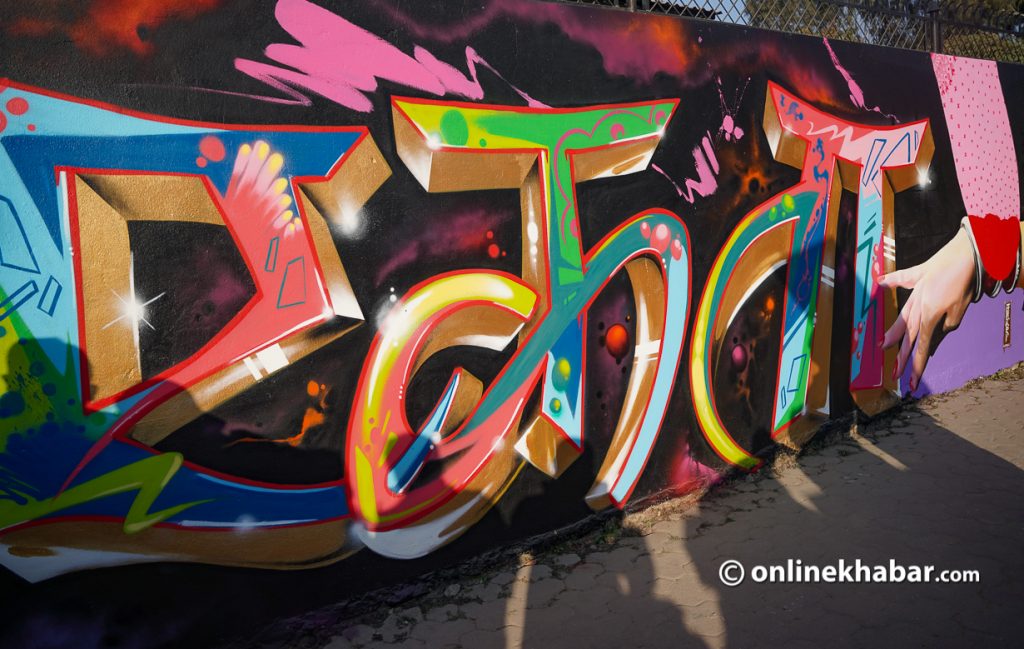 In collaboration with the US Embassy in Kathmandu, Artudio presented the Street Art Project focusing on the theme of social inclusion and equity. The project aimed at creating a platform for underrepresented artists to reach new policymakers on important topics related to inclusion and equity. The project–connecting Kathmandu and Janakpur–was curated by artist Kailash K Shrestha. Nepali artists Kiran Maharjan, Sudeep Balla, Manisha Shah, Anil Khadka and American artist Man One along with local artists from Janakpur were involved in making street art. The event was one of the few dedicated to taking the Nepali fine art scene to the common people.