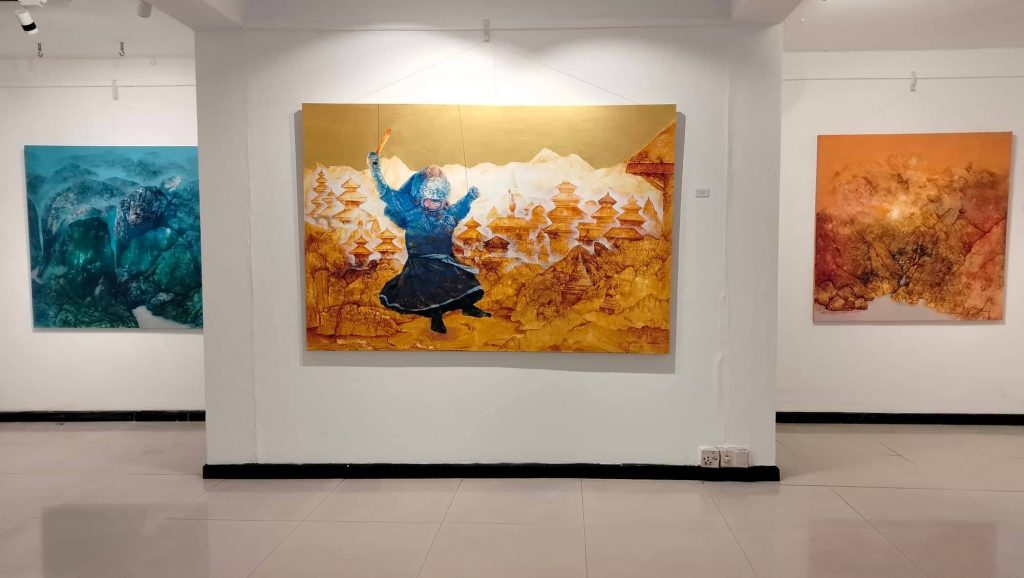 The canvas is surrounded by barren hills in hues of brown, black, grey, dark green and more. On top of these hills is a mountain range covered by white snow. The bottom of these hills forms a dark gorge that is filled with boulders and pebbles, which look like a dried-up water source. Then, on a huge paper boat, there resides the famous temple of Pokhara, Tal Barahi, floating on the water.
The painting Fewa Lake Existing by artist Binod Pradhan is one among 21 paintings displayed in the exhibition titled Sacred Realms at Siddhartha Art Gallery, Babermahal, with a theme of preserving and promoting nature and culture.
The exhibition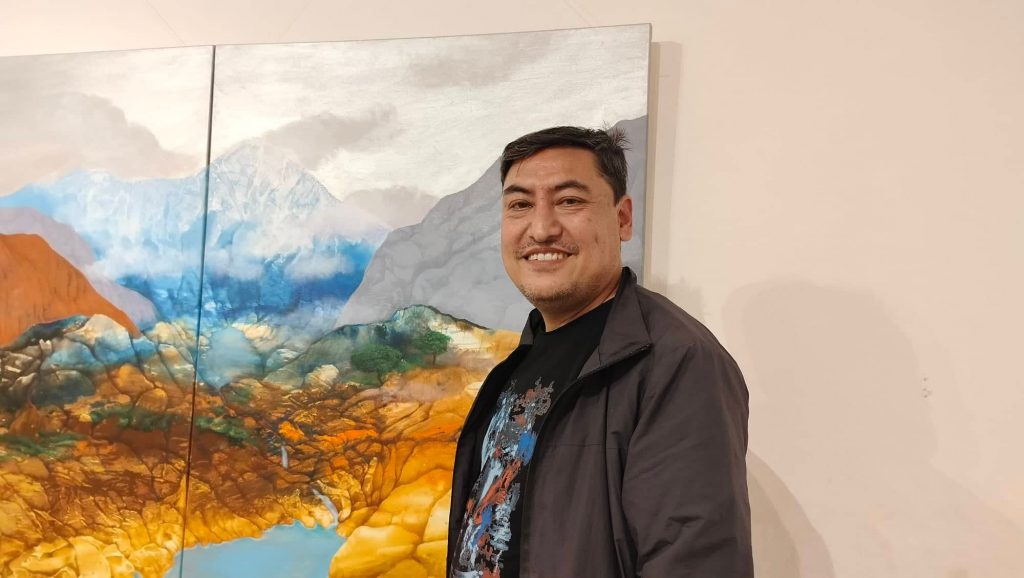 Sacred Realms is Pradhan's 11th solo exhibition which began on November 4, after eight years since his last solo exhibition.
The paintings in his exhibition are surrealistic and you can also see impressionist, expressionist and realistic styles in them. He has used acrylic medium and the texture along with the composition make the paintings unique on their own.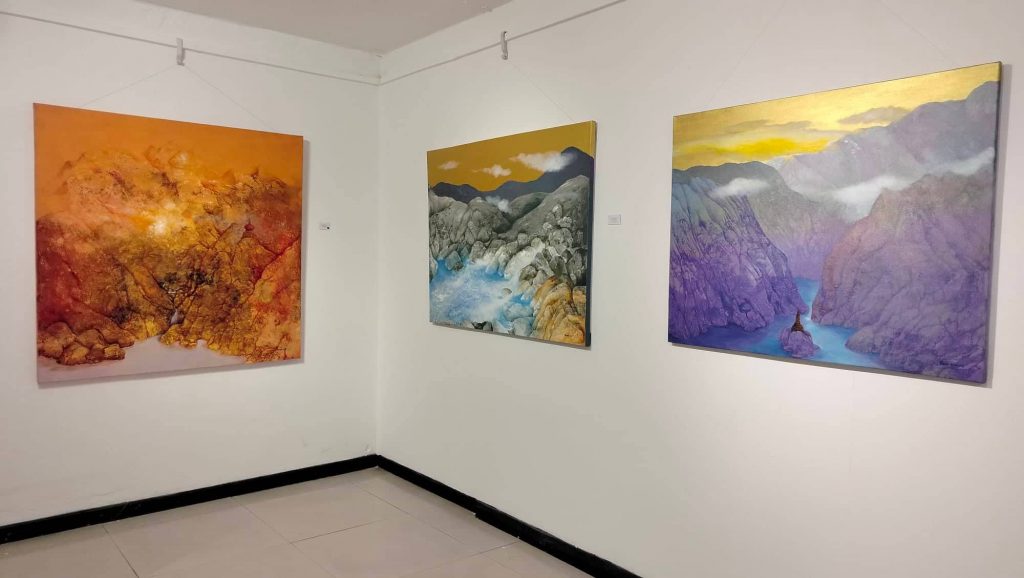 But, he says he has depicted the condition of nature: people are not aware of the natural resources while there are risks caused by climate change and global warming.
Pradhan finds paintings as a process of healing. This time, he has done something he would have never done if there had not been a pandemic. The painting, Sacred Realms, depicts the panoramic view of the landscape from Annapurna Circuit Trek, which is 15ft in breadth and 4ft in length.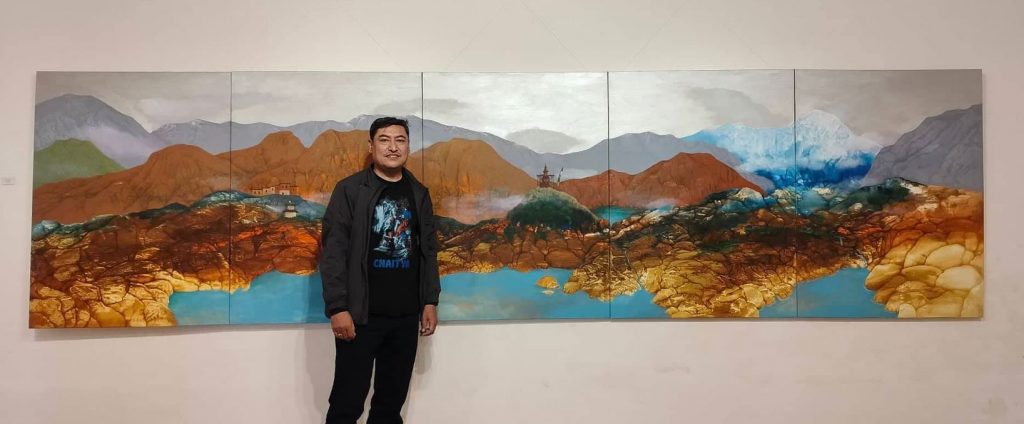 "During the lockdown, I worked tenaciously from 10 am to 5 pm every day for three months. If I had to create it, in today's condition, it would take me a year to complete it," he says.
It was difficult for him to create such a huge painting as his studio is small and he had to take care of things like not splashing colours on other paintings and things like that. He adds, "Yet when the world was immersed in negativity, working on my painting helped me sustain positivity, which I would say was a healing process for me in the difficult times."
Responses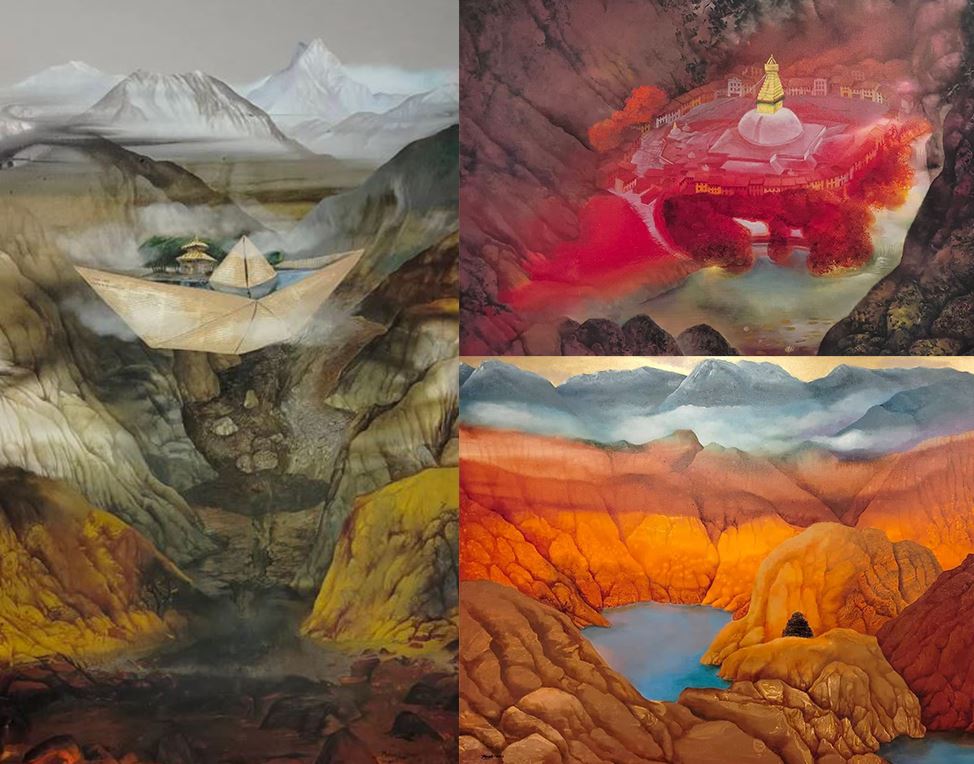 On the day of the inauguration of Sacred Realms, his painting about the Phewa lake in Pokhara, which is one of the artist's favourite paintings in the exhibition as well, got sold on the spot.
There is a sense of tranquillity and peace once you enter the gallery, all thanks to his paintings. Through the paintings, Pradhan also wants his viewers to not only enjoy the beauty of nature but also understand the folklore and beliefs behind the places and monuments, which persist among the locals. And, that is how Sacred Realms came into existence; the natural and cultural heritage is sacred.
Sangeeta Thapa, the founder and director of Siddhartha Art Gallery, shares, "Binod continues to focus on Nepal's sacred geography while also embracing the landscape, architecture, and culture. The artist's quest to portray the mythical beyuls or sacred hidden valleys, said to protect the faithful in times of crisis, can be seen in this series of works." She says Sacred Realms is a celebration of the divine and mystical aspects of the Himalayan region.
If you too want to witness his healing process and feel the positivity of his paintings, visit the exhibition that continues till November 25.