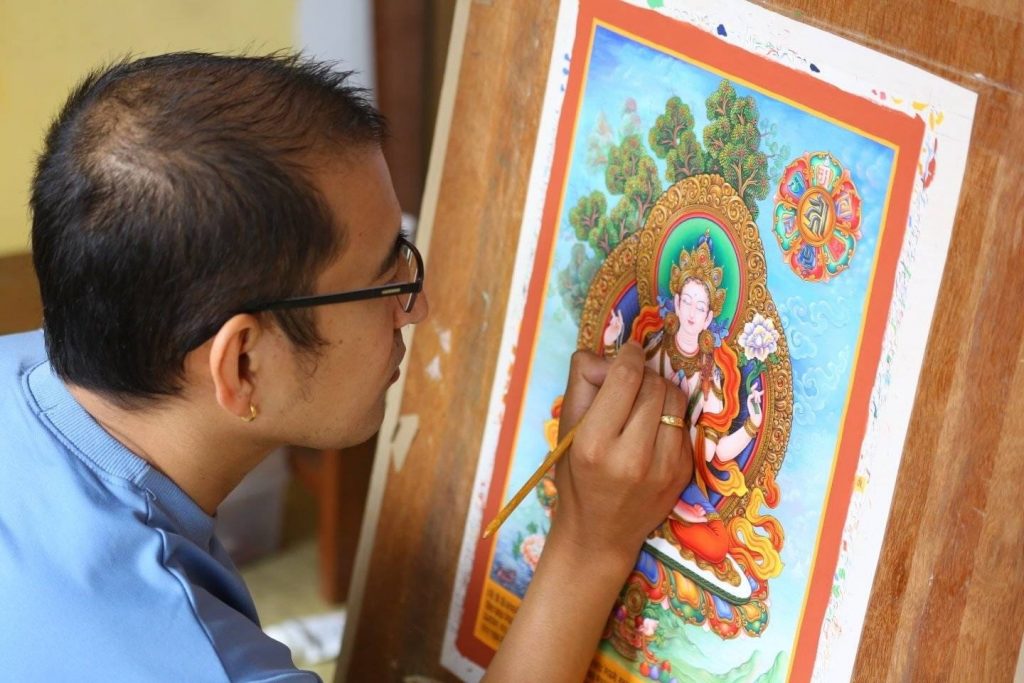 One of the most pressing debates perpetually troubling traditional Nepali art is if the paubha art that originated and is practised in the Kathmandu valley by its native inhabitants, Newas, has any historical ties with the Tibetan thangka art. While many consider the two forms–coexisting in Kathmandu today–synonymous, paubha painter Ujay Bajracharya is outspoken against the perception of synonymity.
Bajracharya says one of the major objectives of his recently released book, Paubha: Where the Divinities Reside, is to spread awareness regarding the ancient art that originated in Nepal.
"General people won't find any differences between paubha and thangka. But, I insist the thangka painting tradition originated with the influence of the paubha painting tradition," he says.
Also, there are many stylistic differences between the traditions. "But, I have found even researchers confused."
This intrigued a curious Ujay Bajracharya to do something to clear the confusion. After hard work, which also involved traditional rituals to practise paubha, for a decade, he has finally come up with the book, which he believes will preserve the ancient art for centuries.
Preserving the process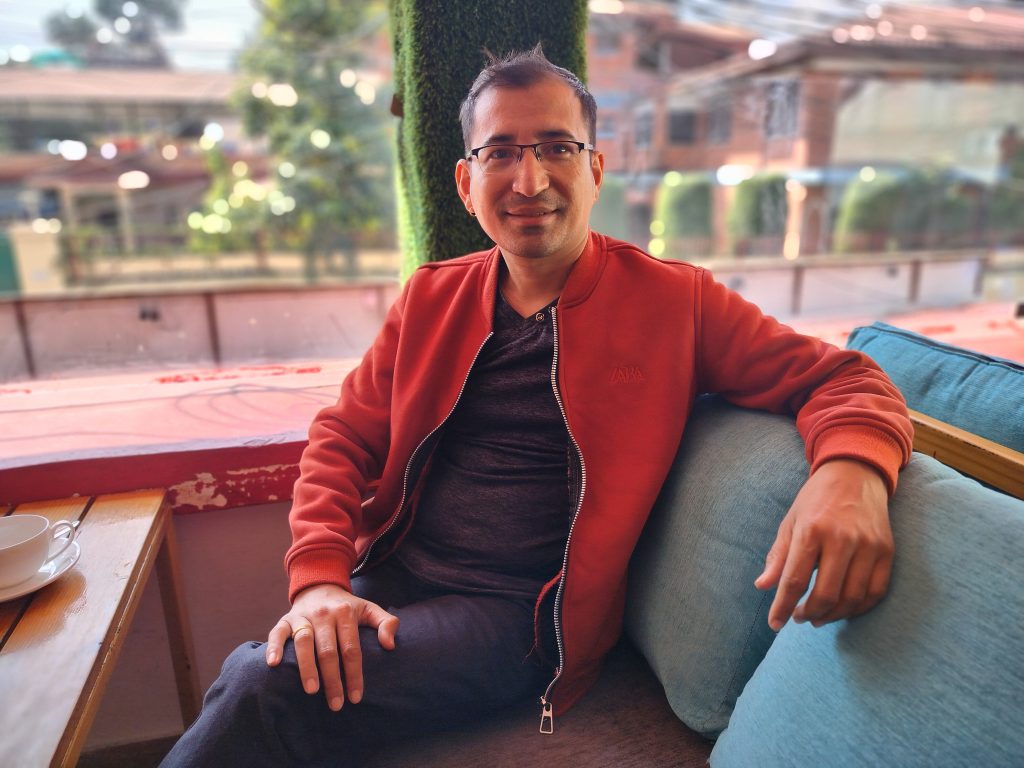 Ujay Bajracharya have been involved in the art of making paubha's for over two decades now. The struggles that he had to go through to understand and practise the art form made him do something to preserve the form. He stresses it is, in fact, the process that needs preservation, and the experience of it inspired him to write the book.
Paubha involves an intricate process. Bajracharya, being a Buddhist, showcases the philosophies related to Buddhism in his paintings. He explains the process, "First, you need to have a concept. Then, you need to study the concept of what should be done and what not. Then, it's time for creating a sketch design that is followed by colouring. There are a lot of things one needs to keep in mind while using colours in a paubha painting."
According to him, the artist first fills in flat colours on the canvas and gives good shapes on the lining of the design. After lining gives a perfect shape to the motifs used in paubha, one has to work on shading and highlights for giving dimension and uniqueness to the painting. For that, they sometimes need to use precious metals such as gold and silver.
Ujay Bajracharya takes a minimum of one month to more than 10 years to complete one paubha painting. His mood also affects the time requirement.
Regardless of the time, one has to follow strict rituals if one is going to create a religious paubha painting. Bajracharya has created two paintings recently following all the rituals before, during and after painting. The painters are also required to follow a certain diet (such as that they should not eat garlic, meat, and fish among others through the entire process). They need to keep themselves empty-stomached to paint.
"Paubha represents religion and spirituality, mostly related to Buddhism. For me or any other painter, it is not only art, but it has a connection to religion as it is a way for me to practise Buddhism as well," says Bajracharya.
"People have gradually forgotten the traditional practice of creating paubha paintings, which threatens the value and existence of Paubha paintings," Ujay Bajracharya says, "So, with a mission to preserve this tradition, within recent two years, I created two paubha paintings following all the strict rituals and wrote the book."
Preserving the philosophy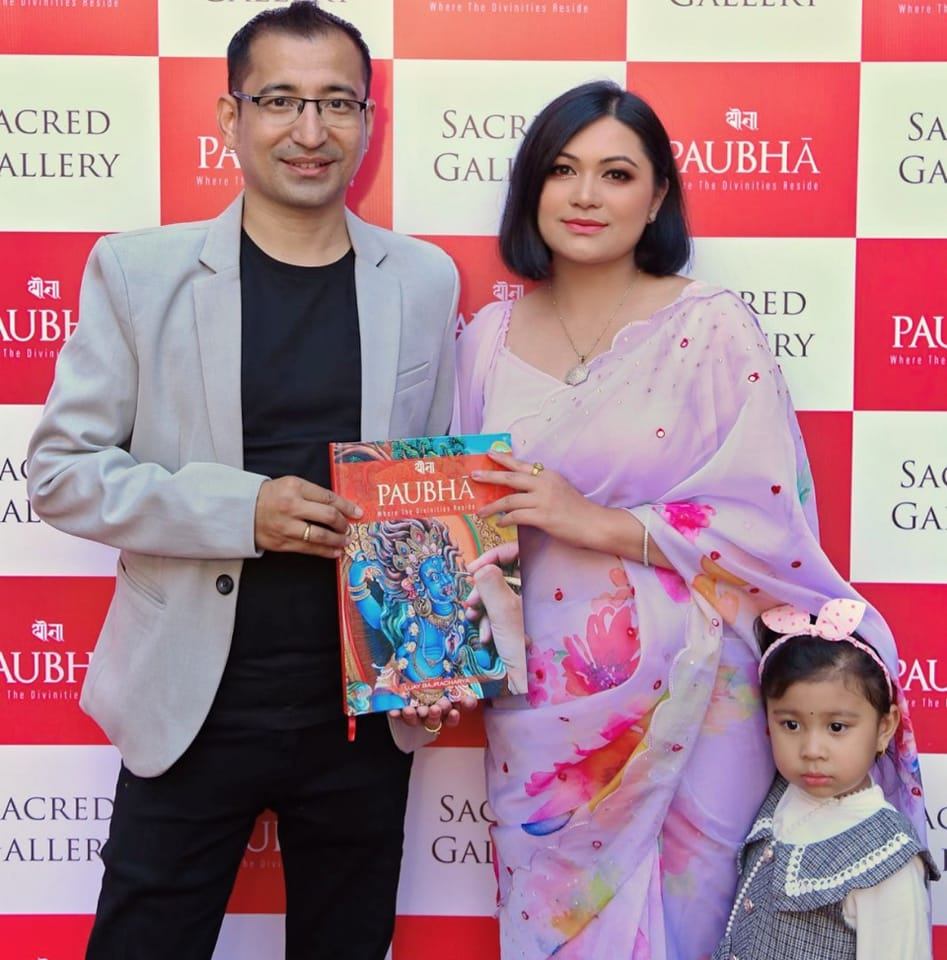 But, these days, paubha paintings are also used as decoratives. This was not the scenario in yesteryear. "Paubha paintings were created for religious purposes and were kept inside the prayer rooms."
Nonetheless, during festivities such as Panchadan, the paubha paintings are kept on display along with other sculptures in public to worship them.
The religious philosophy behind these beautiful artworks is the second inspiration that made Ujay Bajracharya write the book.
He says the traditional procedure helped him create paubha in a more vivid way and understand it as a form of meditation and philosophy. He says he has seen positive changes in himself after this.
"In ancient times, siddha mahapurushes (enlightened practitioners) were likely to visualise mighty gods and goddesses. Then, to convey the teachings and philosophies, they used symbols and motifs, which turned into master art pieces for making them available for the general public as well," Bajracharya says.
Hence, those very symbols and motifs used time and again created paubha paintings, where each of the symbols and motifs has different teachings and philosophies. "So, to let people know about certain philosophies the religious symbols and motifs in paubha help people remember them instantly," says Ujay Bajracharya.
Hard work pays off
Bajracharya's love for art began at his home when he was a kid. A resident of Lalitpur, he got influenced by the mesmerising art and architecture of his surroundings.
He first created drawings to help his father, a metal artist by profession, to carve the facial features on the metal. But, he enrolled in a paubha training class after completing his school and obtained a certificate of the third level of paubha art from the Council for Technical Education and Vocational Training (CTEVT).
Today, Bajracharya says that was one of the best decisions in his life. "I find myself lucky to be in this profession. Paubha art has given me everything, though I too have faced ups and downs being in this field."
According to Ujay Bajracharya, art has taught him patience and discipline. "There were days when he used to get frustrated and unwilling when the hard work did not pay off," he says, "If I remember those days of frustration, I keep on thinking about why I had such a perception."
He says, "Today, I have known that no matter what, if you continue your work without thinking too much about the result, which is the sale of your painting in my case, you will definitely be rewarded for keeping patience and faith."
Yet, he got his result delivered now in the new book. "It's in simple English despite the subject matter being complicated. It can be useful for researchers, art enthusiasts and students alike," he says.
The book is published by Scared Gallery and is priced at Rs 4,000.