Humans are prone to take things or people for granted. Only after they lose them, they regret their attitude towards them. However, artist Samjhana Rajbhandari has been able to get respite from the regret of not helping her father exhibit his collection of postage stamps.
Her woodcut print exhibition, Prints: A Tribute to the Past, which began on May 8 at Nepal Art Council, Babermahal, is primarily dedicated to her father, late Bidyadhis Rajbhandari. Yet, on a higher scale, it reminisces about Nepal's overall postage stamp history.
Rajbhandari, whose father passed away five years ago, revisited his stamp collection during the time of the Covid pandemic. "I have seen my father collecting his stamps since I was a child. Many times I had this thought about why he indulged himself in such a painstaking hobby, which I used to care less about. During my adulthood, my father frequently asked me to help him exhibit his collection of stamps as I am an artist. However, I could not fulfil his desire when he was alive," the artist shares.
Postage stamps and Nepali art
Late Bidyadhis Rajbhandari was a philatelist and had a collection of postage stamps printed in Nepal since 1886, the sixth year of the postage stamp history in Nepal. Pranab Man Singh, a founder member of Quixote's Cove and Satori Center for the Arts, states, "Jung Bahadur Rana printed them on paper imported from Britain using a printing machine from the same country. These stamps were only used in Nepal. It was only in the 1950s after Nepal joined the world and became a member of the Universal Postal Union that its stamps were recognised internationally."
The uses of stamps are gradually on the decline due to the advent of digital media. Yet, stamp collection still is a passionate hobby. In many countries, it is a valuable business and investment strategy.
In 1967, a postage stamp enthusiast went to his local post office in the North England town of Rochdale to buy a pair of Great Britain stamps. He paid one shilling and nine pence (less than 10 US cents) for a pair that celebrated the invention of the television and featured a silhouette of Queen Elizabeth II.
What he did not realise until later was that one of the stamps was missing the queen's head. It was a lucky purchase. In 2014, he sold the stamp, known as SG 755b, at auction for £23,600 ($36,260). Moreover, stamps issued between 1840 and 1875 are now among the world's most valuable ones because of their rarity and historical significance.
Moreover, postage stamps are a part of visual culture which strongly holds the valuable knowledge of an issuing country which eventually leads to understanding the socio-political, economical and cultural aspects of that country. Samjhana Rajbhandari, realising the same, was inspired to work on this series. Previously, she used to work with the themes of nature and life.
The exhibition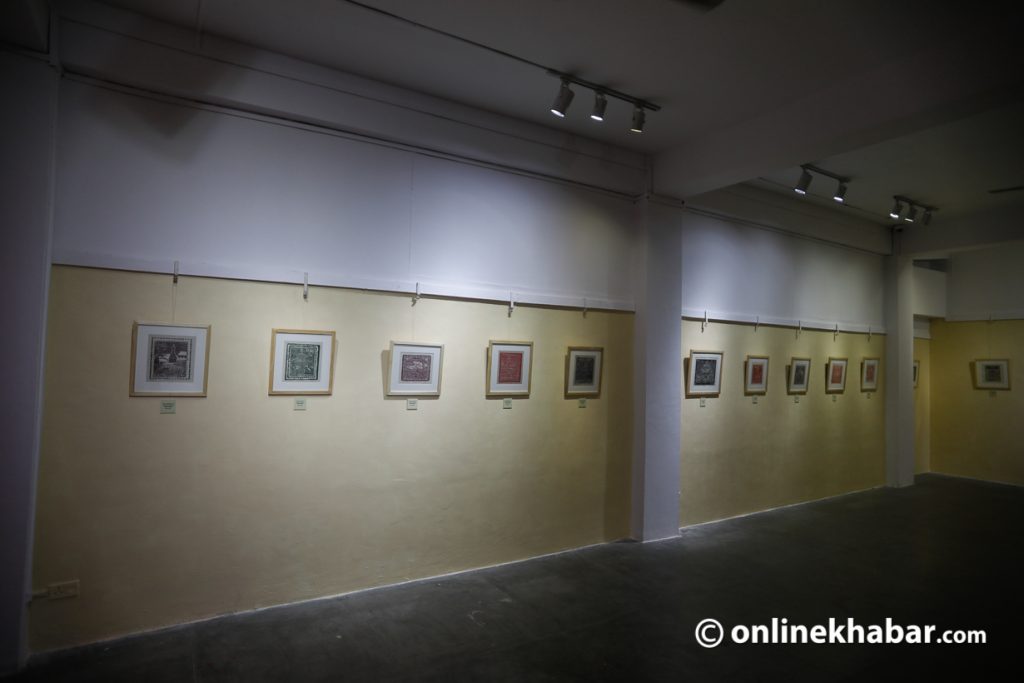 The artist has carefully selected the exhibition's title as she revisited the past through her artworks using the woodcut medium and presented them now using her creative skills in the form of prints.
She adds, "In the initial phase in the development of postage stamps, stamp making process included printmaking techniques like engraving and lithography. The woodcut method is the oldest form of printmaking. I choose to work monochrome because, in the early days, stamps were found in only one colour."
She has used colours like red, brown, yellow, orange, and green among others for her prints. In the exhibition, the prints that dominate architectural heritage such as temples, monuments and religious motifs signify the inclination of the country towards its rich heritage. Other than that, prints of commemorative postage stamps are also displayed. Then, there is a series of prints which are imaginative stamps using the motif of Astamangal.
The exhibition has 33 prints that have an emotional yet historical connection. About this connection, Roshan Mishra, the director/curator of Taragaon Museum, states in the catalogue, "Samjhana has done several solo exhibitions in her career, but this series of work really stands out as it helps to immortalise and contextualise the forgotten history that would have been either neglected or discarded. To a great extent, personal histories are undocumented in Nepal, (but) such an exhibition will encourage the audience to explore their own collection and the family history."
According to artist Rajbhandari, the older technique of stamp making process is similar to the process of printmaking and being a printmaker herself, she was intrigued to work on her father's collection of stamps. Woodcut uses a relief process in which the tools like knives are used to carve the wooden surface to form a printing block which is used to press onto the paper and make a print. She has chosen Nepali lokta paper to print her designs and to give her viewers a taste of how philately works in her collection. Original stamps that she chooses from her father's collection are also on display.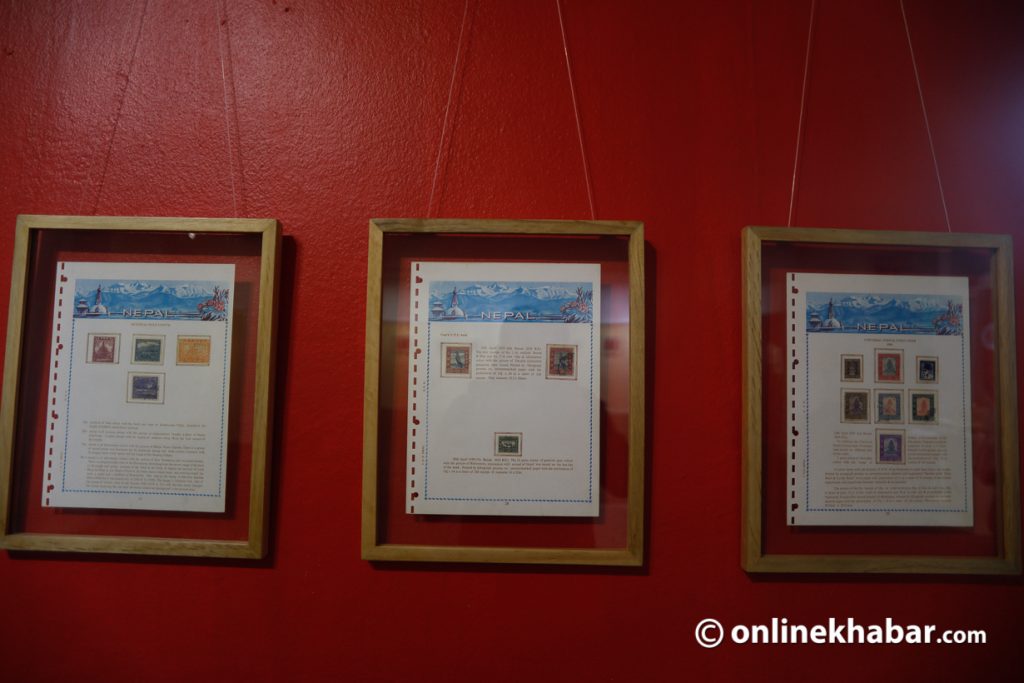 The exhibition that continues till May 17 is quite interesting where one gets to see the detailed works of stamps on the larger-size prints although postage stamps are most frequently 0.87* 0.98 inches only.
"It was painstaking work to enlarge the size of the stamps and create prints out of them. However, I feel that the positive feedback from the visitors is like the fruit of my hard work and tribute to my father. Moreover, I am concerned about how can this source of knowledge be preserved and what should I do," adds Rajbhandari.