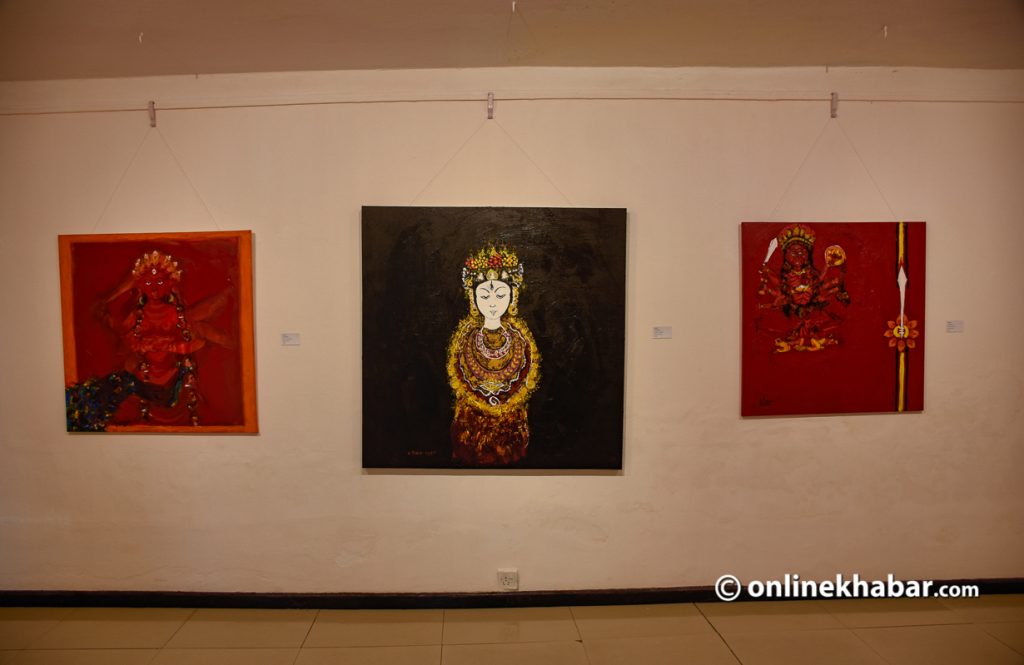 Veteran artist Kiran Manandhar's solo painting exhibition, Samarpan, is on display at Siddhartha Art Gallery, Baber Mahal from July 24.
This time, through his figurative paintings, Manandhar has explored the spiritual aspects of life using the religious motifs of Shakti. But, in the end, he says he is paying homage to his country, people and culture here, as the title of the exhibition suggests.
Connecting religion with patriotism
For the exhibition, Kiran Manandhar painted the figures of goddesses such as Brahmayani, Kumari, Mahakali, Barahi, Vaishnavi, Indrayani, and Maheshwari among others. Then, he also painted Lord Ganesh, Seto Machhindranath, Rato Machhindranath, Mahadev, Vishnu, Kumar and more.
According to Sangeeta Thapa, the founder and director of Siddhartha Art Gallery and Siddhartha Arts Foundation, this solo exhibition is an offering by the artist to Nepal and to all the viewers who are both familiar and unfamiliar with his work.
She adds, "He engages people by the gusto through which he embraces life, love and local culture. His desire to experiment can be seen and be observed by the confidence with which he approaches his canvases or surfaces—with bold brushes overladen and dripping with colour, with textures and layers and with deep dark sensitive lines, which he wields to draw attention to his prowess as an intuitive and sensitive artist."
Peace and wrath together
As you enter the gallery, you definitely feel a sense of peace looking at the magnificent paintings. They have vibrant colour combinations, perfect lines and textures. In addition, the texture of those hues adds to the beauty and the details in his semi-abstract art forms.
Using acrylic on canvas, Kiran Manandhar has created the image of Seto Machhindranath on a black backdrop. He has created it in a semi-abstract form where the body parts are not depicted clearly, but one does not feel it incomplete due to the detailed works on the facial features and the ornaments worn by the god.
Moreover, along with Lord Machhindranath's white face, and the use of yellow, golden, red and orange coloured decorations, his painting becomes complete in the thoughts of the viewer, which also has a calming and soothing effect on the viewer leading to forgetting about all the worldly difficulties and getting enchanted by its beauty.
In the exhibition, one can see the peaceful and calming effects in most of the paintings. But, few of his paintings also showcase his ability to portray wrath in the facial features of his figurative art.
For example, Kiran Manandhar has painted Goddess Kali who is wearing a garland of demons' heads and tactfully, he has given a formation and character even to the faces of those demons' heads.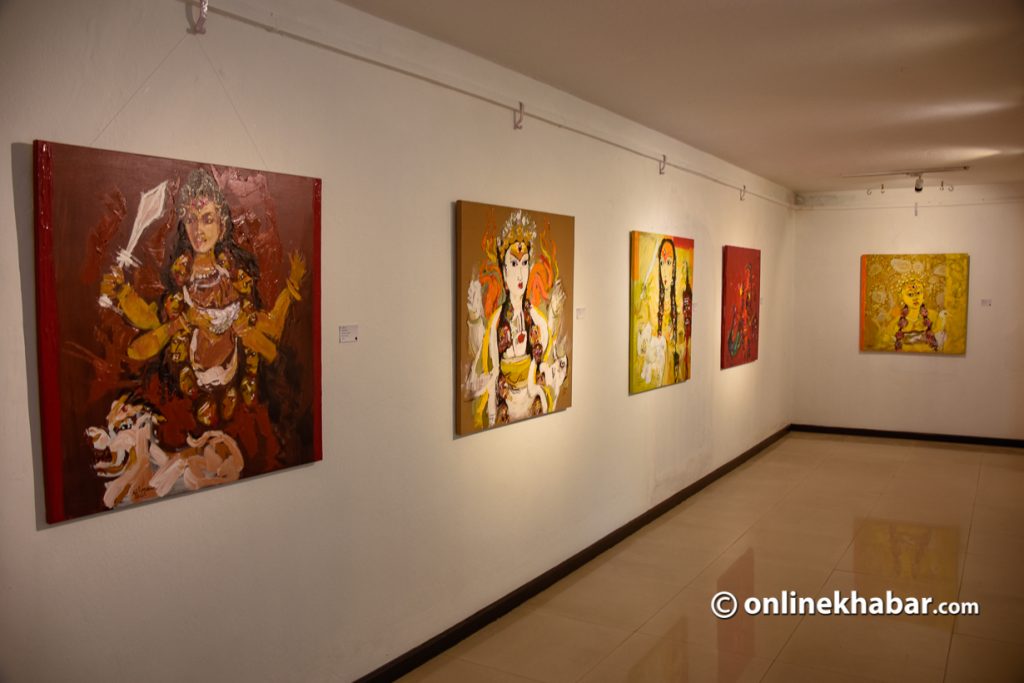 The perfect blend of light and shade and the tones set by the overall composition lead a viewer to admire more about the veteran artist Manandhar.
The fruit of four years
It took Kiran Manandhar over four years to complete16 paintings for the exhibition. He says, "I have tried to capture different forms of the gods and goddesses in a painterly language that came spontaneously while I remained in front of my canvases immersing my mind and heart towards my creation."
Manandhar enjoys experimenting with vibrant colour palettes and intriguing strokes to express his emotions and manifest them in his paintings. In this exhibition, he says, "I have portrayed my way of expression by using bright colours to give a rich finish to each of my creations. Each painting is different, layered with strong texture and colours projecting my devotion and dedication (samarpan) and my emotional connectivity."
The exhibition continues till August 24.