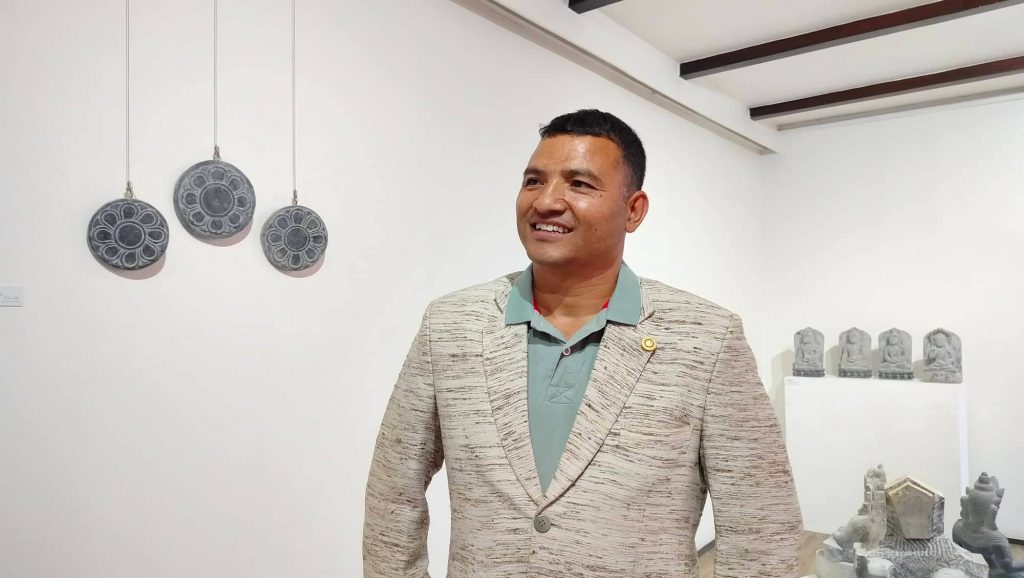 If you look back to history, the most long-lasting artworks that you can still admire are stone sculptures in Nepal. With this in mind, sculptor Chandra Shyam Dangol has titled his traditional stone sculpture exhibition, Eternity, which began on November 10 at Dalai-La Boutique Hotel, Thamel, with the purpose to inspire the future generation to not forget the unique art tradition.
Letting people learn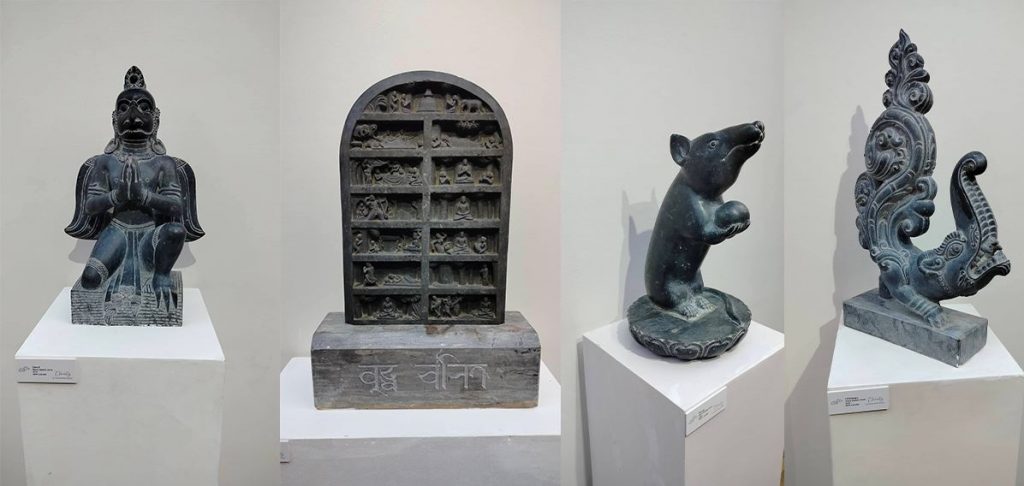 One of the most famous stone sculptures found in Nepal is that of Lord Vishnu at the Budhanilakantha temple, believed to be built during the seventh century during the regime of Vishnugupta.
Legends say that the statue is made of a single block of black ballistic stone or black basalt stone. Most of the idols of gods and goddesses found around the Kathmandu valley are built from this specific stone, which is reportedly available only at the Hattiban hill range. The interesting characteristic of this stone is that with time, its beauty enhances, and after coating normal oil on this stone, its colour becomes black.
Using the same stone, Chandra Shyam Dangol has exhibited his sculptures.
This is Dangol's third solo exhibition. He says this exhibition is different from the previous ones. One of the differences is that he has showcased incomplete forms of statues. In his first solo exhibition, he exhibited small-sized completely finished statues and for the second exhibition, large-sized statues were exhibited.
"Most people are unaware of how a stone is transformed into art. So, by showcasing the unfinished statues, I am letting the viewer understand my process of art," he says.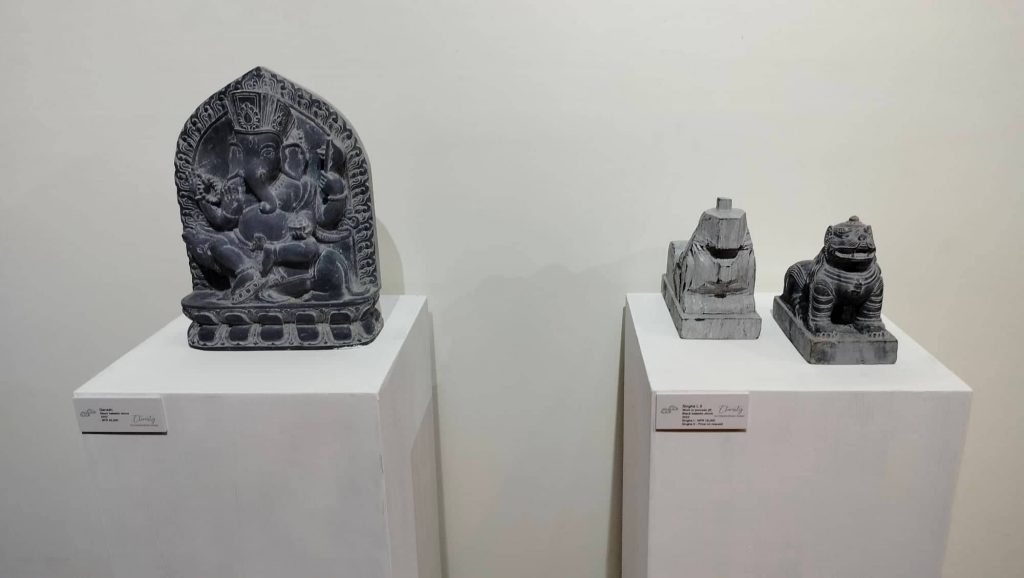 For example, he has created two stone statues of the lion —one finished and another unfinished. The finished statue has intricate details of hair, ornaments, facial features and more. Hence, it is a matter of admiration for how a shapeless blob of stone is sculpted into a beautiful masterpiece.
In the exhibition, you can see sculptures of Garud, Buddha's Life, Hitimanga, and stupa among others.
Contribution to Nepali art and culture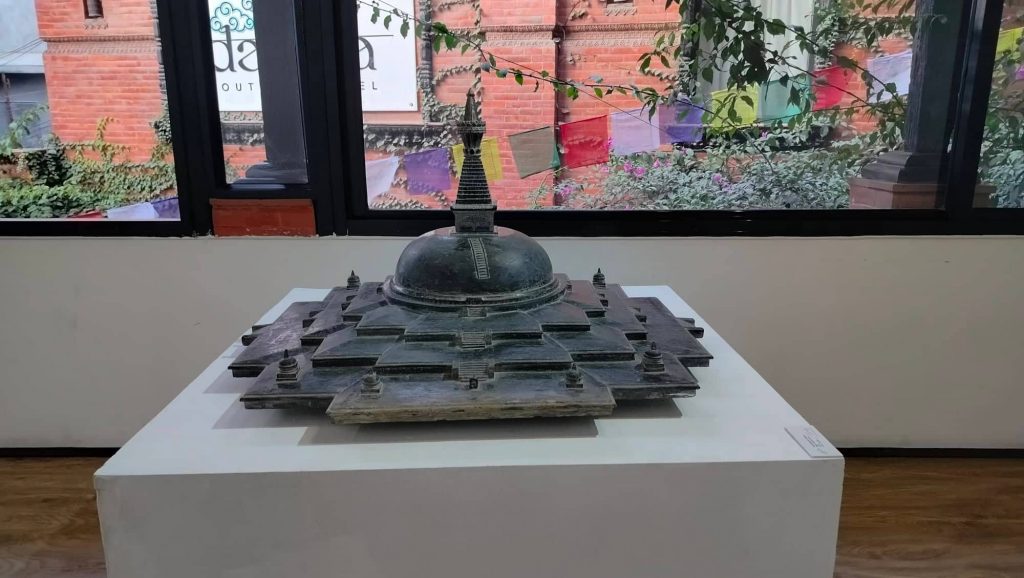 Chandra Shyam Dangol's works are a true representation of art and culture, which has the capacity to stir up dialogues about Nepal's history, traditions, and culture. They are also a medium to familiarise future generations with the rich heritage of Nepal as well.
Dangol, who has sculpted a 33-ft stone statue of Manjushree at Chobhar, one of the tallest stone statues in Nepal, is also capable of sculpting in a smaller size. He has sculpted Lord Ganesh on a gemstone, which is a half inch in size and it is his smallest sculpted work.
A PhD student and also a sculpture teacher, Dangol says, "Those who are working in this art form are usually uneducated. But, education has helped me understand the value of the skills and crafts used in traditional stone art."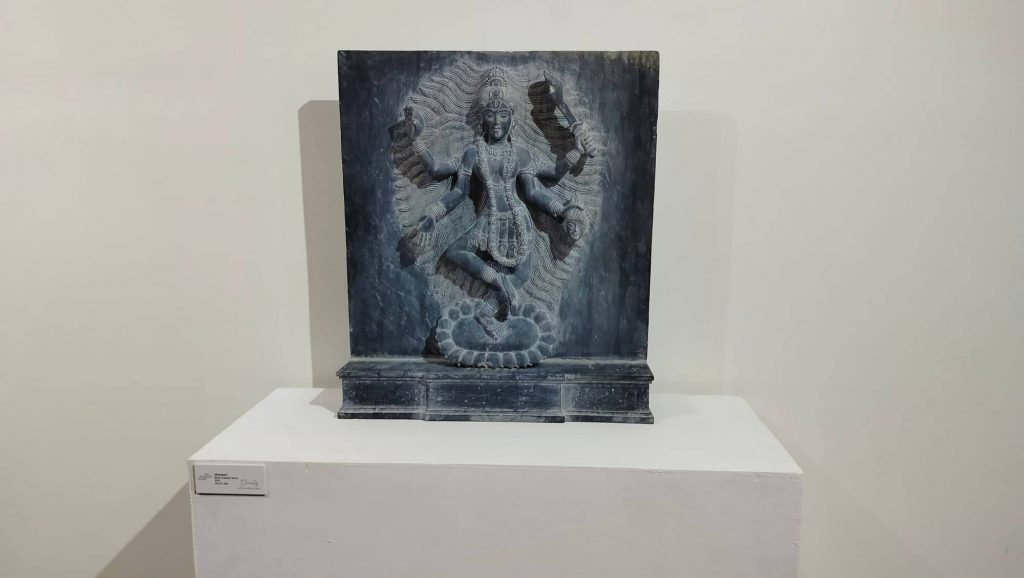 He is also looking forward to publishing a book in Nepali to document the process. "Till now, there isn't any Nepali documented form of the process; we have been transforming this knowledge orally from generations."
The exhibition is capable of igniting debates about Nepal's history, customs, and culture, as well as serving as a platform to educate future generations about Nepal's rich heritage, he says.
If you are also willing to admire his skilled craftsmanship, combined with his Newa heritage, visit the exhibition that continues till November 28.