Chinese foreign minister Wang Yi is arriving in Nepal for his three-day visit. The timing of his visit is very interesting given that Nepal recently ratified the Millennium Challenge Corporation (MMC) deal, through which the United States of America will give Nepal a grant of USD 500 million to undertake two projects.
There are a lot of people who believe that this visit is to take stock of the post-MCC situation as China considers the US as its biggest competitor when it comes to global politics.
After the Second World War and the fall of the Soviet Union, the US emerged as the world's only superpower. But, China wants to change that over the past few years. Accordingly, things have changed as the world, particularly South Asia, has been divided into two groups – pro-US or pro-China. And with the US showing interest in Nepal, China wants to know where Nepal stands in this geopolitical landscape. This has resulted in Wang Yi coming to Nepal.
Despite these, experts say Nepal should dare to turn the tables to its benefits while addressing the Chinese concerns towards its small neighbour.
Chinese interest in Nepal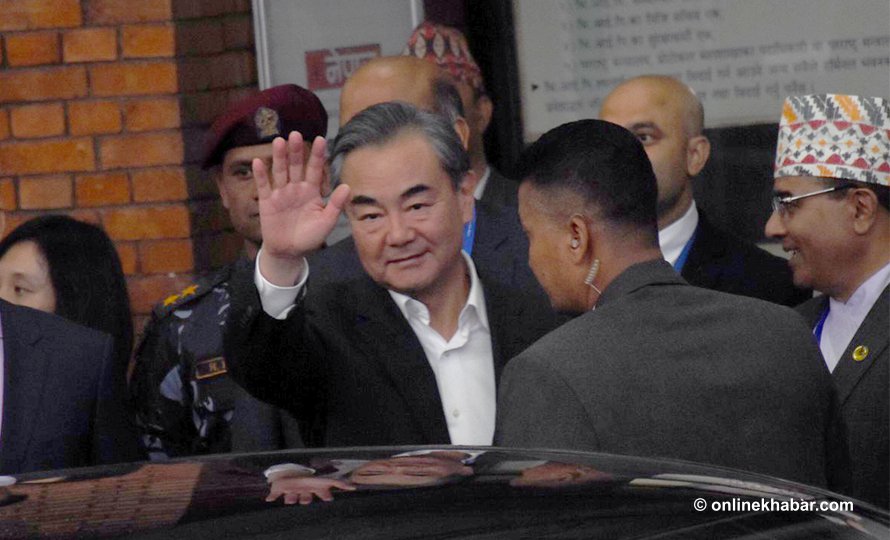 There is a belief among geopolitical experts that China did not want Nepal to ratify the MMC compact. To ensure that it was not ratified, China tried its best by issuing its official statement on the MCC. Despite its best efforts, the compact was ratified and China feels that it lost a key diplomatic battle.
Following this, Wang Wenbin, the spokesperson at China's foreign ministry, accused the US of using its diplomatic force to pass the compact in Nepal.
"China welcomes the support Nepal is getting from the world as it believes that Nepal needs support for development. But, China believes that it should only get aid if the people want it and if it is free of politics," says Wang Wenbin.
He mentioned politics because of what American Assistant Secretary of State for South and Central Asian Affairs Donald Lu did.
Lu on February 10, Lu called senior Nepali leaders–Sher Bahadur Deuba, KP Sharma Oli and Pushpa Kamal Dahal–reportedly telling them that if Nepal did not ratify the MCC compact, the US would take that as a Chinese intervention.
Nepal's Former Ambassador to China, Mahesh Maskey, says Wang Yi's visit to Nepal, hence, is purely political, as he believes the visit was planned after Nepal ratified the MCC compact.
"I think China is sending its official to show it's still committed to helping Nepal despite the things that have happened in the country in the past year. I think it will also have some expectations from Nepal," says Maskey.
Turning the situation in Nepal's interest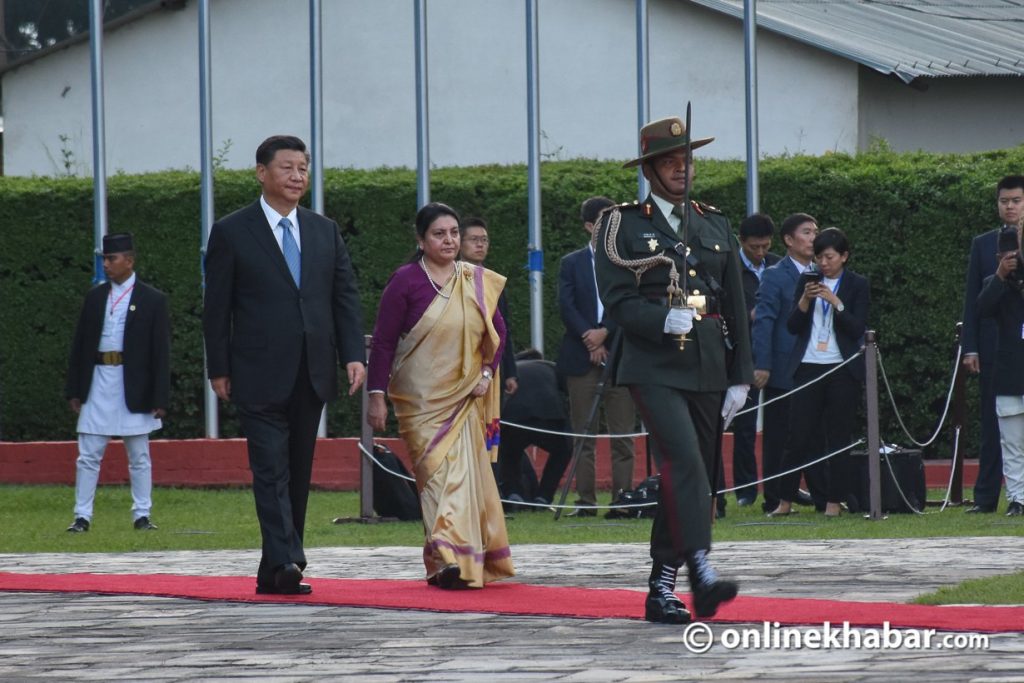 China was sure that the MCC deal will not be passed by Nepal's parliament. Chinese officials, during official and non-official talks, would always say the MCC would not be ratified. They had a feeling that Dahal would not allow it to happen along with Oli.
But, they were wrong.
Nepal had to pass the American deal because there is a belief among foreign policy experts that the US threatened Nepali leaders that it would not issue visas to them or their families if the deal was rejected.
It is believed that a diplomatic note stating these things was handed over to Deuba, Oli and Dahal by Randy Berry, the US's ambassador to Nepal. The note caused turmoil, especially in the Maoist camp.
China was aware and there was genuine dislike of what the US was doing. In a bid to show Nepal that it cares more than the US, Wang Yi is coming to Nepal, believe various experts.
Since Wang is coming to Nepal to show China cares, foreign policy experts argue that it is the right time to talk about projects that have not started along with new developmental projects.
"China is the best neighbour we can have. We need to keep it close and work with it in tandem because it can help in the country's development," says former ambassador to China Tanka Karki.
The USD 500 million grant is not a lot of money for China. It does not care about the money. What it cares about is US's influence in the country. It estimates a larger presence of the US in Nepal and wants to make sure that the presence is less than what it has estimated.
Ball in Nepal's court
It is also hurt that Nepal's communist parties, which had told them they would not ratify the MMC compact, failed to fulfil their promises. Despite that, experts want Nepali officials to talk to China during Wang Yi's visit about the aid it had promised a while ago.
"China isn't coming here to talk about money. I think it wants to understand what is going on in the country and wants to meet all major political leaders," says Narayan Kaji Shrestha. "We should, however, talk about making the border loose so our business can have it a bit easier. There are a lot of goods stuck at the borders."
Shrestha says that Nepal should also talk about the projects that Chinese President Xi Jinping promised to help build in the country.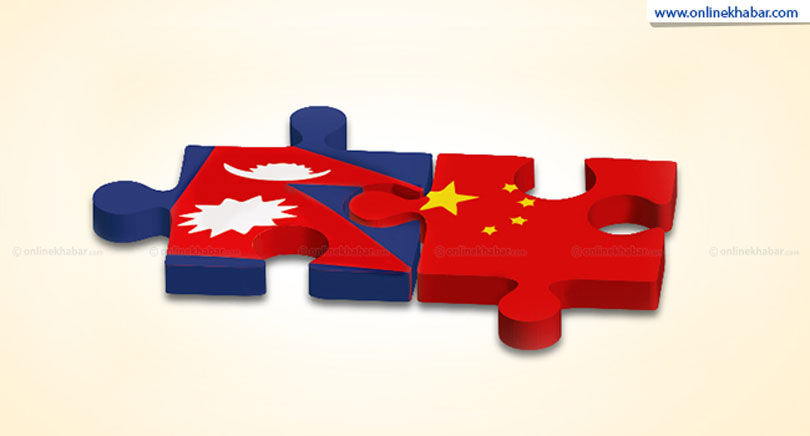 Xi had said China would help Nepal in over 40 projects. But, no one is aware of the state these projects are in currently.
After Nepal became a part of the Belt and Road Initiative, Nepal sent China a list of 35 projects. But, since no preliminary study was done for these projects, China refused to accept them. Following this, Nepal made a list of nine major projects and sent them to China. But, none of these projects has even started.
"I think we should focus on making sure these projects that were signed start," says former ambassador Karki.
Nepal needs China too. When India imposed an economic blockade in 2015-16, Nepal tilted towards China. China helped too, opening four of its ports for Nepal.
In 2016, Nepal also signed a 14-point memorandum of understanding to move forward with the BRI in Nepal. Former foreign affairs minister Prakash Sharan Mahat says that the current government should speak to China to at least start these projects.
"We need to talk about how to implement the BRI. There is also an issue with transportation at border points. We also have a trade deficit with China. We have been asking for a zero per cent customs on the things we export, maybe that might help," says Mahat, a confidant of Prime Minister Deuba.
He says Nepal should also speak about making trade through various border points easier as China has continued to cause obstruction citing Covid.
"We need to talk about how we can make things smoother," says Mahat, adding many businesses have suffered because China has obstructed trade between the two countries.
Even the futures of students who came back to Nepal due to the pandemic are facing uncertainty.