After a month of United States Undersecretary of State for Civilian Security, Democracy, and Human Rights and US Special Coordinator for Tibetan Issues, Uzra Zeya's visit, another US official has come to Nepal.
On Thursday last week, the commanding general of the US Army Pacific, General Charles Flynn, arrived in Nepal. The visit of a US General created added tension to Nepal's dynamic foreign relations amidst the whole MCC controversy.
These two were not the only Americans to visit the country. In the past year, many US state officials have come to Nepal and met the country's top leaders. It seems Nepal is doing a lot to improve foreign relations, in particular, with the US, and vice versa.
Some speculations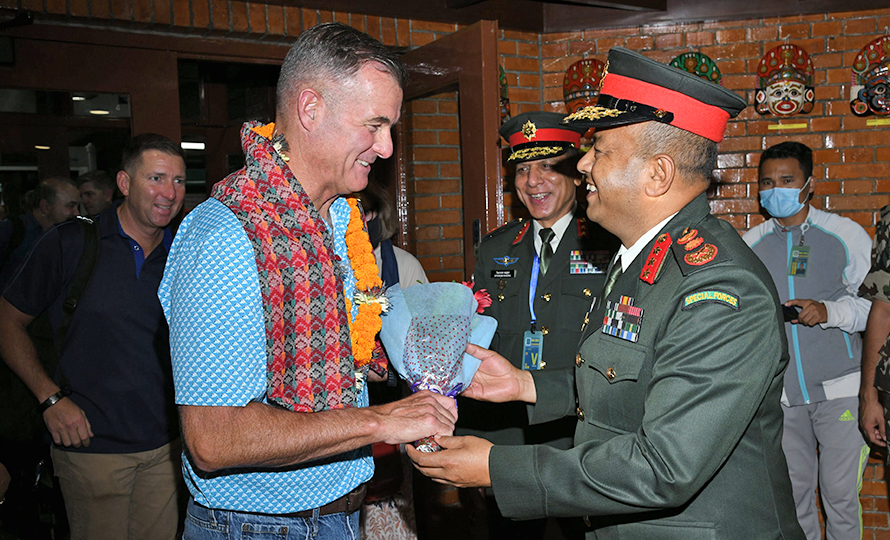 Taking that into consideration, a few lawmakers are asking the government to explain why so many US officials are coming to Nepal.
UML leader Bhim Rawal and CPN-Maoist Centre's Giriraj Mani Pokharel on Thursday posted questions in the parliament if Nepal was on the verge of joining the US-led Indo-Pacific Strategy. They are right to suspect this as there has been no briefing on why these officials are coming to Nepal for.
On February 27, the House of Representatives ratified the Millenium Challenge Corporation compact. Since then, different US officials have been vising Nepal. The compact was passed by the Sher Bahadur Deuba-led government, which has also been trying its best to get to the US as possible.
Khadak KC, a professor at the Tribhuvan University's Department of International Relations and Diplomacy, hints things have changed in terms of relations between Nepal and the US since the MCC was ratified.
"It seems the MCC and the Indo-Pacific aren't as far away from each other as we were told. If the MCC was purely a development project, why are so many US officials coming to the country all of a sudden? This does show there's been a change in Nepal's foreign relations," says KC.
But, the US has time and again said that its presence in Nepal is only for development purposes along with human rights. But, as KC speculates, there is more to this than meets the eye. He believes the US wants to get Nepal into the Indo-Pacific strategy and in the long run, use it to pressurise China.
PM Deuba's US connection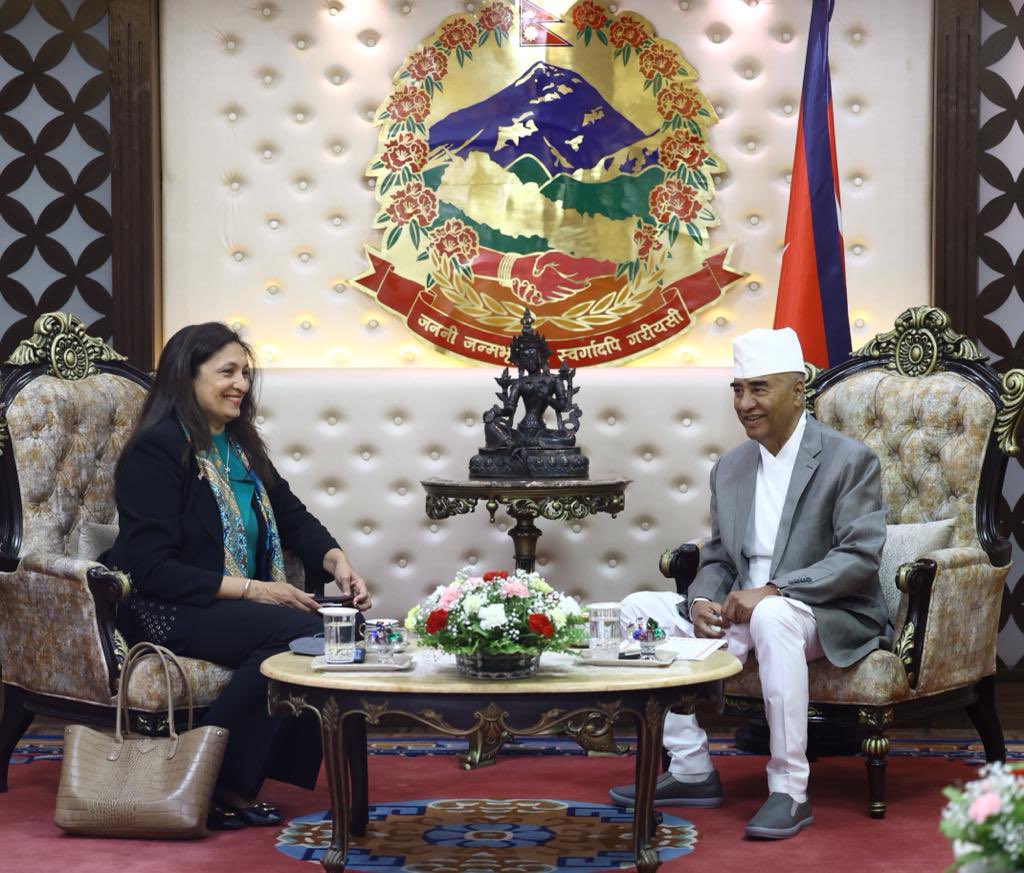 Zeya even met with Tibetan refugees while US Ambassador to Nepal Randy Berry went to upper Mustang to visit the monasteries there. This will surely have a negative impact on Nepal's balanced foreign relations as it could hurt the relationship with its northern neighbour, China.
"People who don't have experience are handling diplomacy and that is why this is happening. This will take a bad turn someday," says the former ambassador and foreign relations expert, Deep Kumar Upadhayay.
It has been 75 years since Nepal-US relations started and both parties claim that these visits are mostly to do with celebrating this. But, the director of the Centre for South Asian Studies, Nischal Nath Pandey, says the visits also prove that the US trusts PM Sher Bahadur Deuba.
"A high-level official hadn't come to Nepal in over two decades. It shows they trust this government, hence so many officials have come since Deuba took office," says Pandey.
It has been two decades since a Nepali prime minister has been invited by the US. Back then, it was Deuba who was invited by the US government and fast forward 20 years, Deuba again has been invited by the US government.
This shows how much the US trusts Deuba. Following Deuba becoming prime minister nearly a year ago, MCC's vice-president Fatema Z Sumar came to Nepal and met almost all Nepali officials.
After Sumar, Donald Lu, the United States assistant secretary of state for South and Central Asian Affairs and Kelly Keiderling, deputy assistant secretary for South and Central Asian Affairs came to Nepal and met Deuba and other leaders. A high-level team led by US senator Kristen Gillibrand also visited Nepal in April.
During this period, Nepal did not see any high-profile visit from either India or China, its closest neighbours.
Deuba, when he went to India for a three-day visit, did ask the Indian prime minister, Narendra Modi, to come to Nepal. Modi accepted his invitation and came to Nepal to celebrate Buddha Jayanti in May. But, Modi did not come to Kathmandu as he flew into and out of Lumbini. Before Deuba went to India, China's Chinese Foreign Affairs Minister Wang Yi visited Nepal. These are the only two high-level visits made by Indian and Chinese officials in the 11 months since Deuba became prince minister.
"We can't say no if a foreign official wants to come to Nepal," says a member of the House of Representatives, Deepak Prakash Bhatta. "Once they arrive, we have to follow the foreign policy and look after them."
These visits made by the US have also affected the decision-making process of the leaders in the country, claim foreign policy experts. They say these visits have pressurised the ruling parties into taking decisions in haste.
Take the MCC ratification for example. Many believe MCC's-vice president Sumar came to Nepal to pressurise the Nepali leaders into ratifying the compact. The pressure intensified when Lu came to Nepal, after which Deuba, despite protest by the opposition, tried to table the MCC compact in the parliament.
Dueba was even ready to break the coalition and pass the compact. But, the Maoist and the Unified Socialist parties accused Deuba of threatening them after which, Deuba took the help of the 12-point interpretative declaration and created an environment to pass the compact.
Nepal-China relations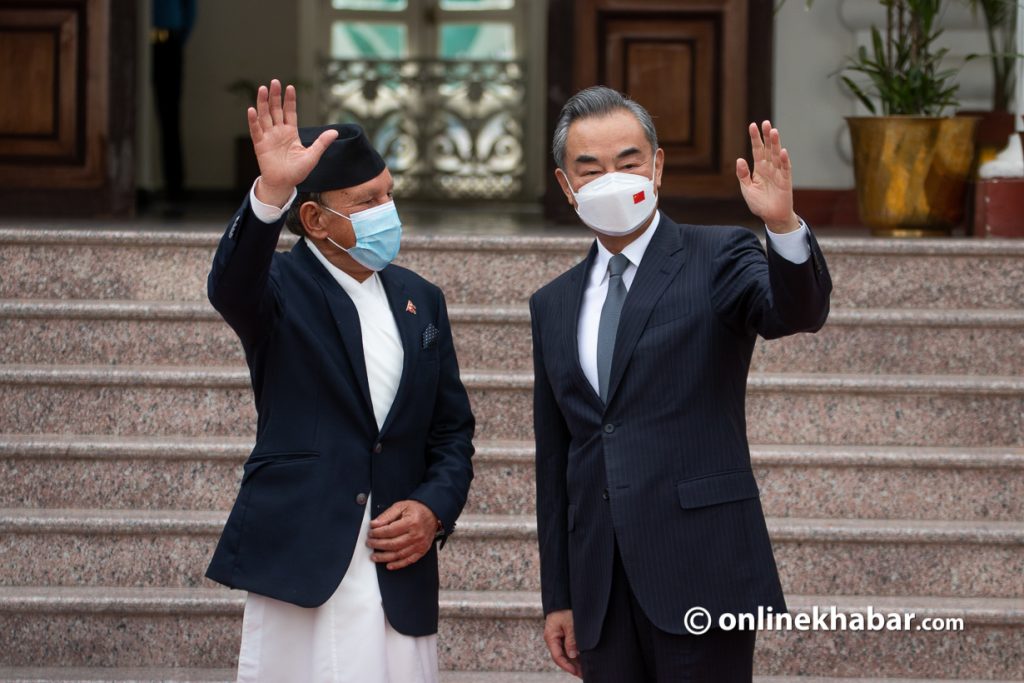 When Zeya came to Nepal, she did not meet any top leaders. As soon as she landed in Kathmandu, she went to a Tibetan refugee camp. How China will take this is a different issue as it is keeping a close eye on Tibetan refugees in Nepal.
Even though there's a general consensus that China is doing wrong to Tibetans, Nepal's foreign policy has accepted the One China policy. The home and foreign ministries were unaware that Zeya was going to visit these camps.
A source at the foreign ministry says that China is not happy regarding this.
Former ambassador Upadhyay says that the government dealing with the issue was dangerous for the country in the long run.
"They tried to rub it under the carpet, which in the long run will be bad," says Upadhyay. "China is looking at this and ambassadors and other officials visiting these camps will not be received well."
A source tells Onlinekhabar that Zeya even asked Nepali officials to provide the refugees with cards identifying them as refugees as she was told how they were restricted from exercising basic human rights.
The government stopped handing out these cards in 1995, but the US has for a while been asking Nepal to start giving the refugees the ID card.
The recent case
Flynn's visit is also seen negatively by some. Flynn comes to Nepal before Deuba's visit to the US. Nepal's Chief of Army Staff Prabhu Ram Sharma is also going to the US.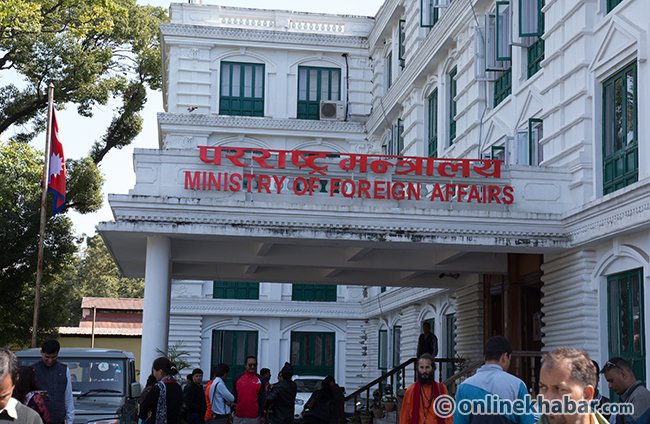 Flynn has asked Nepal to join the US-led State Partnership Program (SSP), which the US has wanted Nepal to be a part of since 2015. But, since the SSP is part of the Indo-Pacific Strategy, Nepal has not signed.
CPN-UML's Bhim Rawal, on Thursday, had called on the government to explain why Flynn was coming to Nepal. He asked if the government was planning to be a part of the Indo-Pacific Strategy.
Maoist Centre's Giriraj Mani Pokharel asked if the government was planning to sign the State Partnership Program agreement.
"I heard this from a source. Is this true? The government has to answer," he said at the House of Representatives on Thursday.
But, security and foreign relations expert Binoj Basnet says people are taking things out of hand as this might only be a formal visit of a country as the general was in India.
Basnet, who served in the Nepal Army, says Flynn may be visiting as the US had only recently finalised the Indo-Pacific Strategy and maybe he was going around Asia to make it public to the countries around the region.
The US has also been providing Nepal's army with training and building its capacity to go work with UN peacekeepers. The two countries are also sharing experiences in mountain warfare, jungle warfare and anti-terrorism. They are also teaching Nepal Army about intelligence sharing and dealing with natural disasters.
Nepal for a long time has been adhering to the non-alignment policy as far as its foreign relations are concerned. But, in recent times, the country's foreign policy has been questioned by many leaders of both the ruling and opposition parties.
KP Sharma Oli, Pradeep Gyawali, Jhala Nath Khanal and Narayan Kaji Shrestha all have been questioning the country's foreign policy. They accused the government of not bettering foreign relations with neighbours and condemned how the government protested Russia on invading Ukraine when it could have remained mum.
Oli even questioned why the government has not put the Belt and Road Initiative (BRI) on this programme and policy and questioned if Nepal's policy on foreign relations has changed.
Nepal did not bring the BRI even when Wang Yi came to Nepal. Even though some communist leaders asked for the BRI to be endorsed, Deuba and Foreign Minister Narayan Khadka have not been interested.
---
This story was translated from the original Nepali version and edited for clarity and length.