Dashain, the biggest festival for Nepali people, is here, and so is the time for feasting on Nepali food.
Festivals come with moments of joy, celebration and gathering of friends and family. But, festivals become more special when there is the right food. In fact, there are many Nepali food items that are eaten only when there is a special occasion.
Of course, there is no restriction on when you can eat them, but the experience of eating these Nepali food items on special occasions, together with your friends and family, is even more memorable.
So, here are some of the food items that are eaten across Nepal during particular festivals.
1. Wo on Sithi Nakha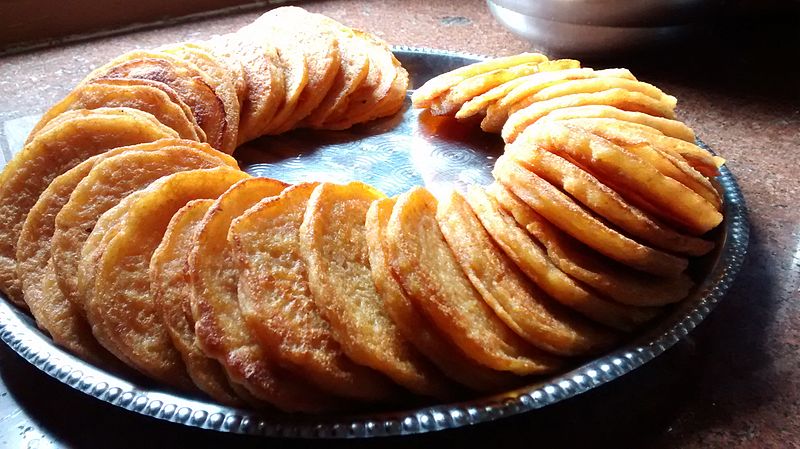 Sithi Nakha is celebrated just before the monsoon. This festival, also called Kumar Shashthi, marks the start of the monsoon and the end of the festival season. The Newa community in Kathmandu celebrates the day by eating a feast with wo, a lentil-based flat bread-like dish. They are usually "misadvertised" as bara, but wo and bara are two different delicacies.
This Nepali food item can have lentils only or lentils mixed with eggs, meat, or vegetables; it all depends on the chef. Wo tastes even better with meat gravy, pickles or with something spicy on the sides. They can be eaten as snacks or appetisers too.
2. Dahi chiura on Asar 15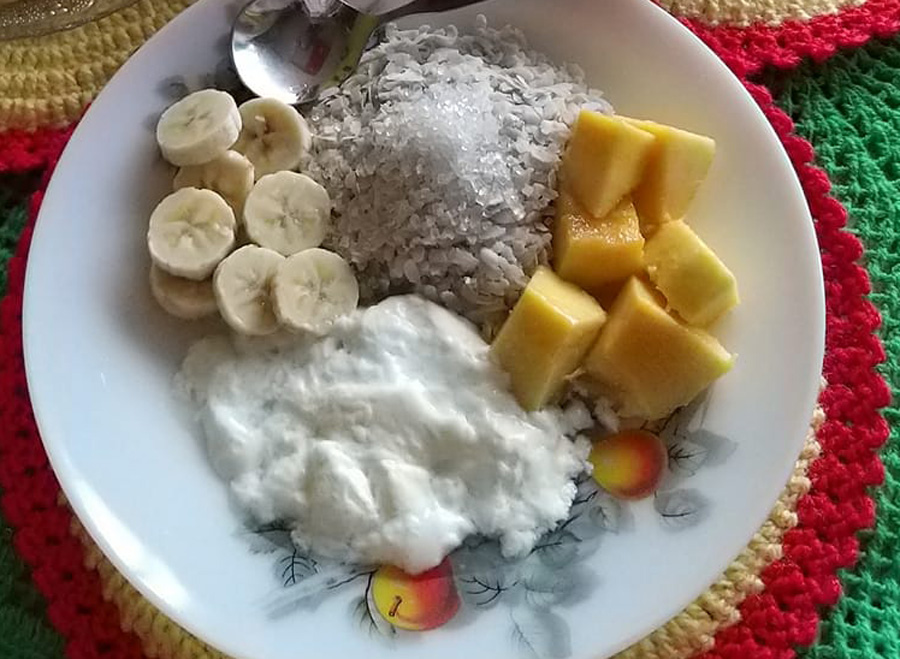 On the 15th day in the month of Asar, popularly called Asar 15, people celebrate Ropain Diwas or Dhan Diwas (National Rice Plantation Day or National Paddy Day). It has been celebrated as an agricultural festival for centuries where men and women celebrate common goals and everyday joys of their farming life.
For the demonstration of the fanfare, the farmers get dressed in their traditional garb. And, they eat dahi chiura, a mixture of curd (fermented milk) and baji (beat rice), a staple food for many communities including the Newa community. Dahi chiura is a popular Nepali food item on other occasions also.
3. Khir on Shrawan 15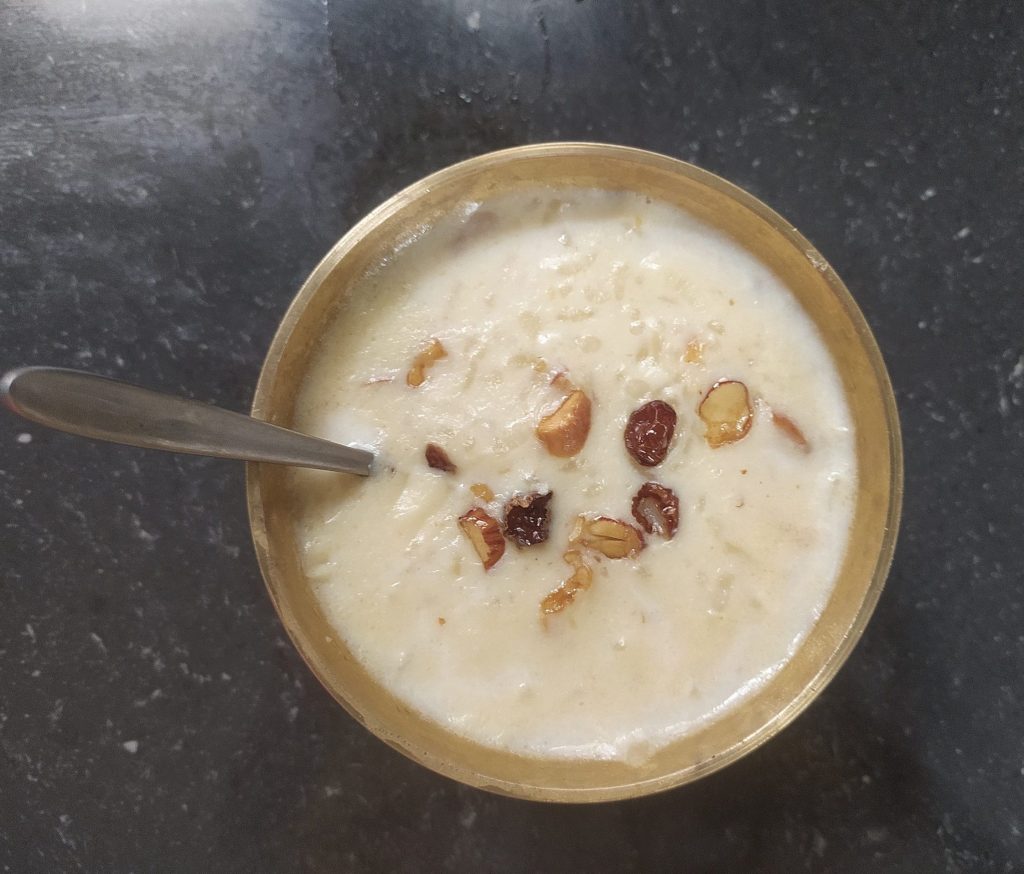 On the 15th of the Nepali month of Shrawan, a day is marked as Khir/Kheer Khane Din in the Nepali calendar, and it translates to a day for eating rice pudding. On this day, khir is cooked and offered to the deities before the family members enjoy this sweet delicacy. This Nepali food is also prepared during religious rites and celebrations since it is regarded as a sacred and pure cuisine.
Khir is incredibly delicious, and preparing it is not at all difficult. You need milk, taichin rice, sugar, ghee with optional nuts and saffron. Get the whole recipe here.
4. Kwati on Kwati Punhi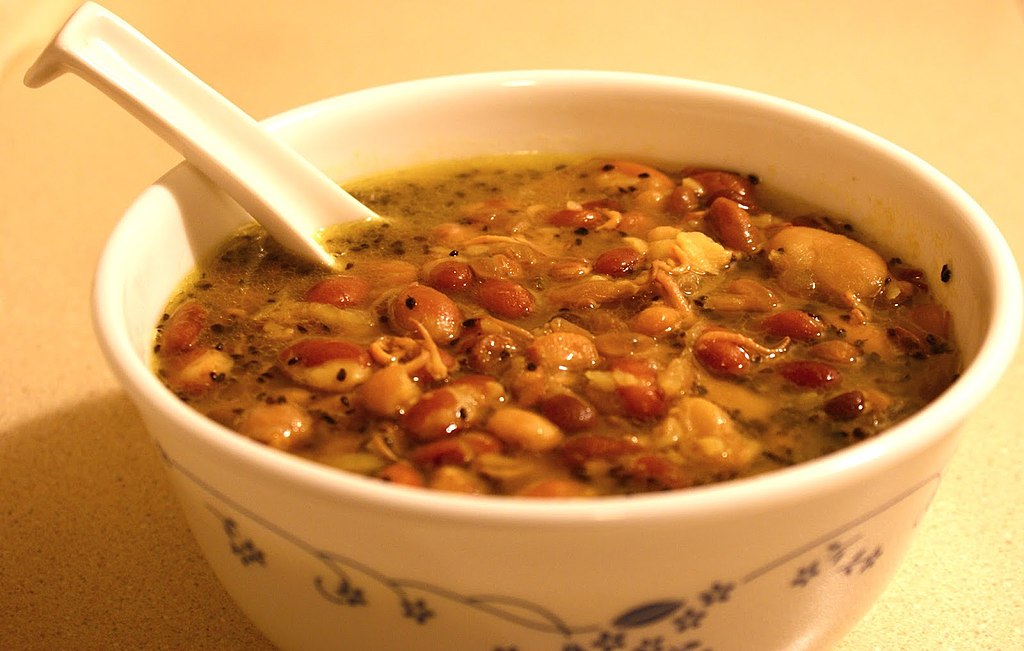 On the full moon day of Shrawan, Nepali people celebrate Janaipurnima or Gunlaa Punhi. It is also called Kwati Punhi for people have kwati on this day.
Kwati is a hot soup made with a combination of nine beans, namely soya beans (bhatmas), red kidney beans (rajma), mung beans (mung), fava beans (bakulla), chickpeas/whole grams (chana), black-eyed peas (bodi), field peas (kerau), black grams (mas) and white beans (seto simi).
People enjoy this special Nepali food item on Janaipurnima almost everywhere. Farmers have kwati to rejuvenate themselves after all the rice plantation for all it is packed with many health benefits.
5. Samay baji on Indra Jatra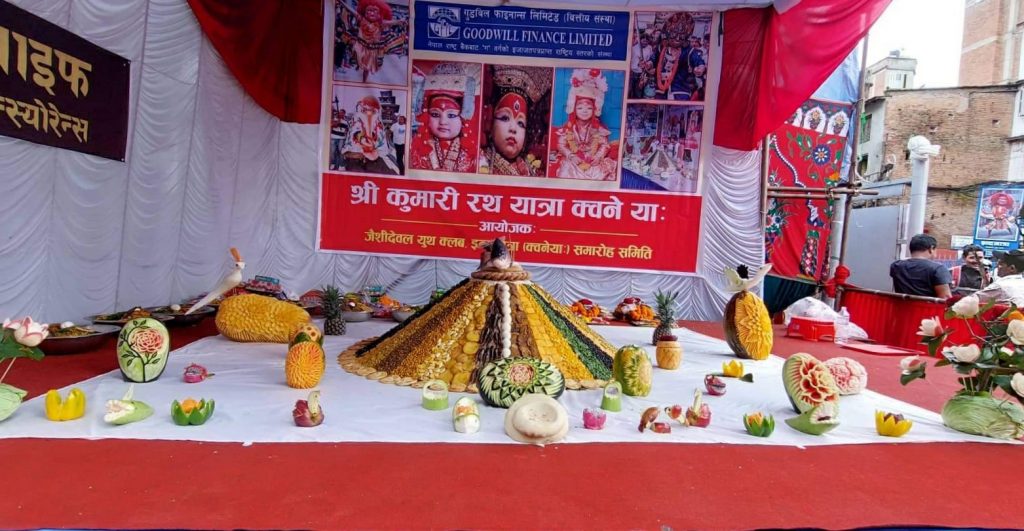 Samay baji is a common Newa khaja set that first gained popularity in antiquity. It is enjoyed by the community mostly on special occasions and festivals, the most common being Indra Jatra. A delicious samay baji set includes chiura (beaten rice or baji) and other food items such as chhoila, aaloo tama, aaloo achar, anda, and even aila.
This Nepali food item was particularly popular among the farming population of the Newa community. Nowadays, people from different groups, nationalities or walks of life also love this.
The delicacy is popular not just for its taste, but it also carries some benefits to the human body. It is believed to promote longevity, good luck, health, and fortune.
6. Khasiko masu on Dashain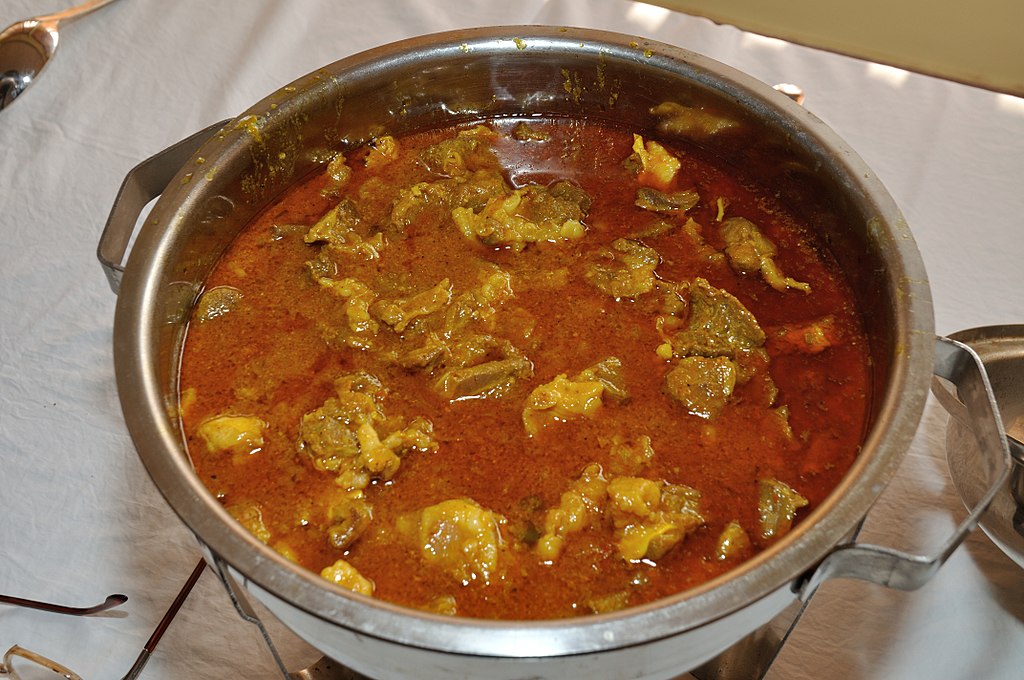 Dashain is all about the festivities, family and food. But, when it comes to Dashain, khasiko masu (goat meat) is something most of Nepalis look forward to. It is the biggest festival in Nepal, so naturally, there will be many feasts and varieties of food. Depending on the social and economic status of the families, the kind of feast people enjoy might also differ. But khasiko masu is something special and will always have that nostalgic feeling to it.
7. Sel roti on Tihar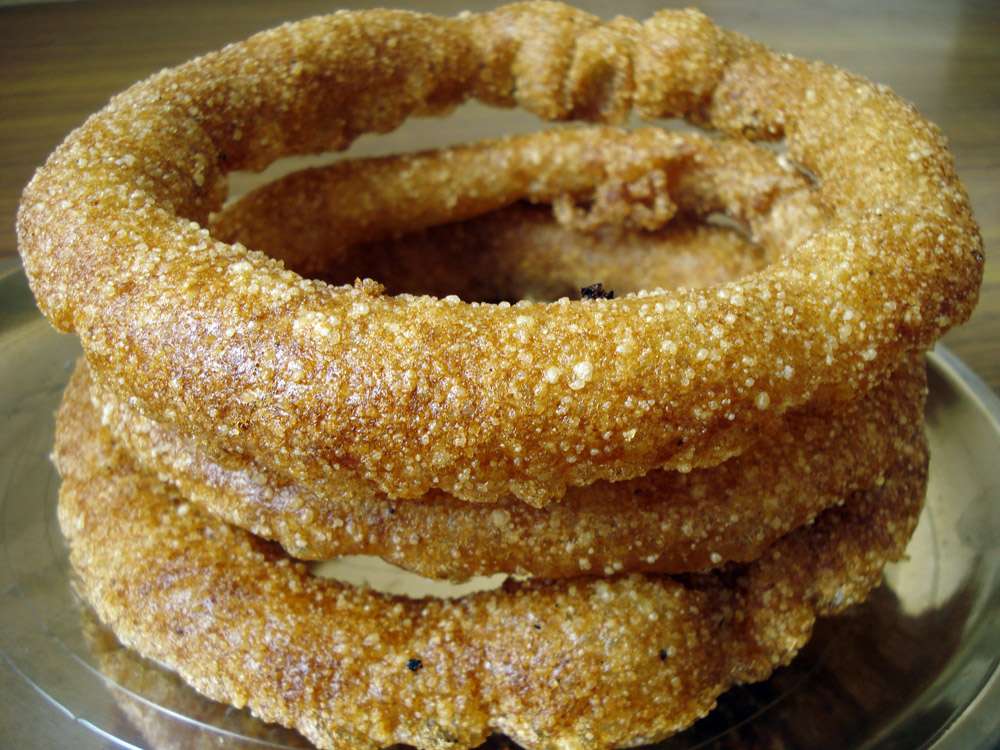 This authentic Nepali food item is loved by most Nepalis and is considered mandatory during Hindu festivals and ceremonies like Dashain, Tihar, Teej, weddings, bratabandhas, and others.
Shape-wise, sel roti is a Nepali doughnut deep-fried in oil or ghee and made with granulated rice or rice flour. Not only in Nepal, sel roti is also made and enjoyed by many Nepali-speaking communities in Sikkim, Darjeeling, and of late, wherever Nepalis and Nepali restaurants are there.
Here is the recipe for how you make it.
8. Bagiya on Tihar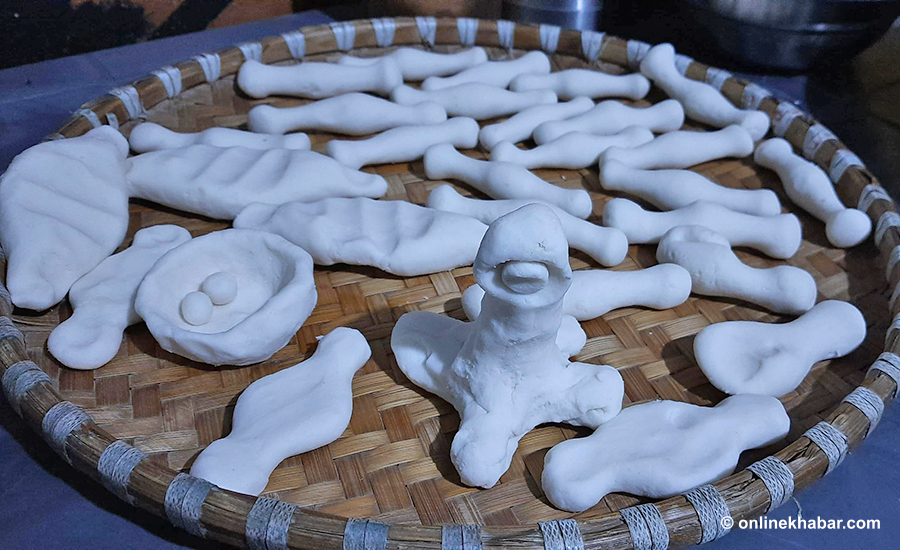 Different to other Hindu communities in Nepal, the Tharu community celebrates this Tihar festival in its own way. The community welcomes the goddess of wealth, Laxmi, by playing hukke-hukka. After that, people start making bagiya from rice flour in their houses the next morning.
Bagiya is a signature Nepali food item of the Tharus. They make it in different shapes in an artistic way. Depending on the social customs, lifestyle and settlement, they give different shapes to bagiya and they are named khajan chirai, sakhari-bakhari and others.
9. Phini (Fini) roti on Tihar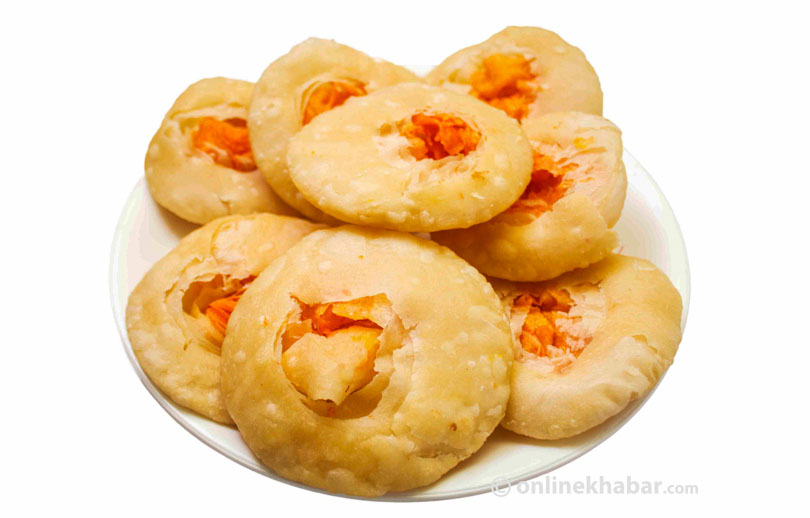 Phini roti or fini roti is a crispy, multi-layer bread specially made during the festival of Tihar. It is a special mix of flour, ghee and salt. It is offered to the goddess Laxmi during this festival.
This Nepali food item is also made on other special occasions like Dashain, Maghe Sankranti, and weddings.
10. Thekuwa on Chhath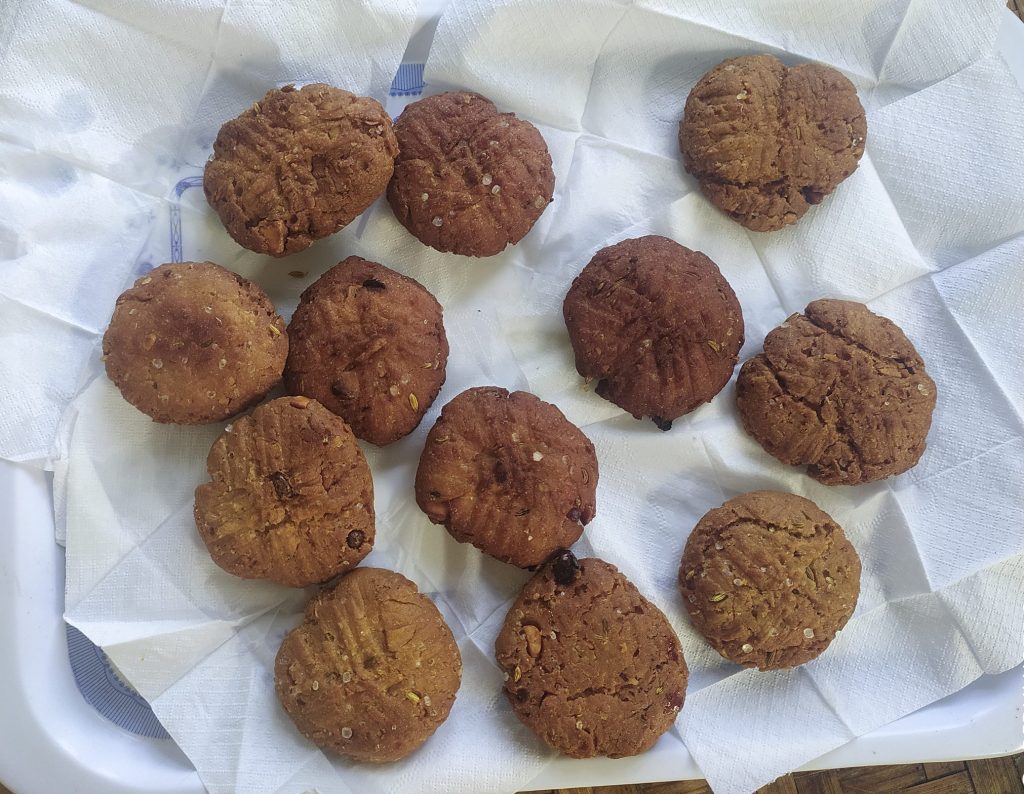 Thekuwa is a signature Nepali food item, particularly popular during the Chhath festival. Thekuwa is offered to the sun god and Shashthi Chatiya Maiya during Chhath puja and then eaten as prasad by the devotees. This sweet dish is generally prepared by the worshippers who fast during the festival.
Not only this but thekuwa has also been used as a snack for a long time ago in many parts of Nepal and India. It is primarily made with wheat flour, sugar, jaggery, raisins, or other dry fruits. Get the full recipe here.
11. Yomari on Yomari Punhi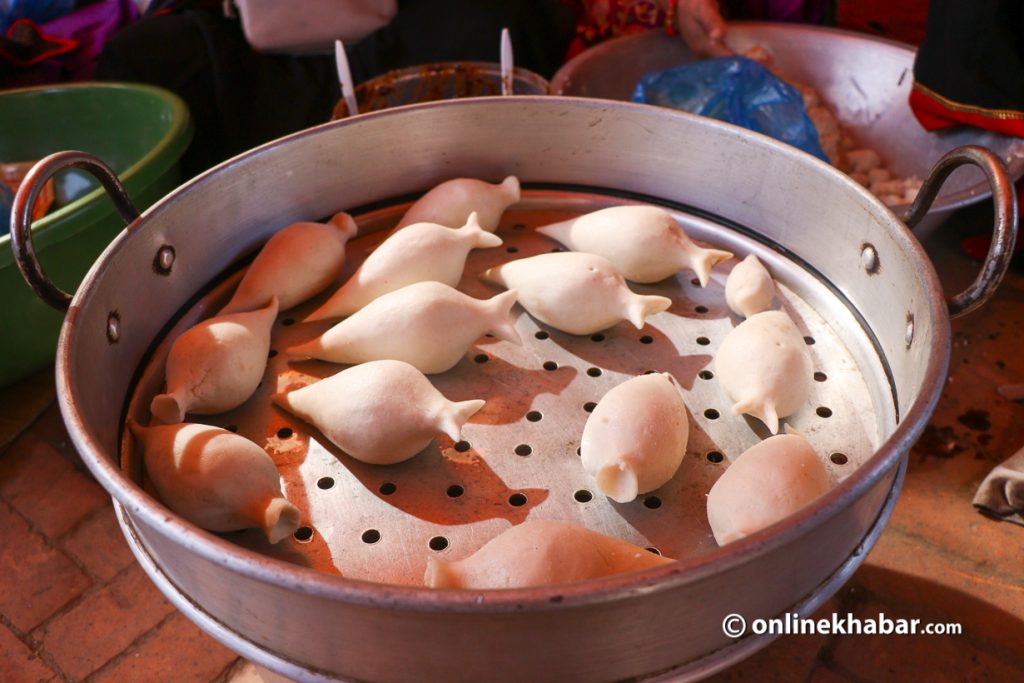 On the full moon day of Thinlaa (the second month of Nepal Sambat) or Marga Shukla Purnima, the Newa community celebrates Yomari Punhi. On this day, households primarily make yomaris of various shapes and sizes to commemorate the day. The day is also celebrated as Jyapu Diwas or Dhanya Purnima. Meanwhile, the Kirant community celebrates it as Udhauli.
As an act of gratitude for the good harvest, it is a custom for the people to offer this Nepali food item to the gods and goddesses. The signature shape of the yomari is also said to resemble the fig.
12. Ghya chaku on Maghe Sankranti
Makar Sankranti is celebrated every year on the first day of the Nepali month of Magh. People of the Newa community also celebrate the day as Ghya Chaku Sanhu. The festival is marked by eating ghee (clarified butter) and chaku (a sweet taffy), said to be good for body heat. Other Nepali food items to enjoy on this day are yams, sweet potatoes, fried fish, and black and white sesame balls.
13. Yam on Maghe Sankranti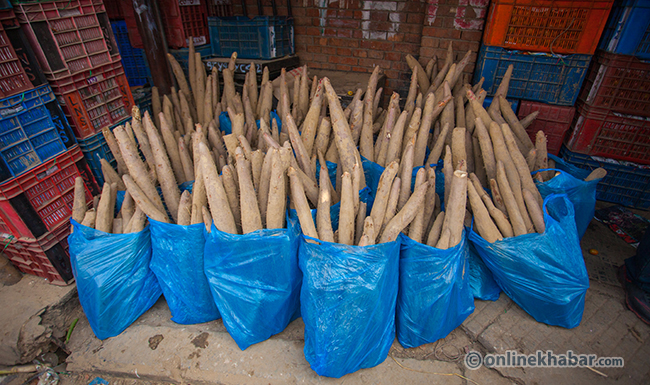 Consuming yam, ghee, chaku, and sesame laddu are parts of the rituals of this festival. Yams are generally boiled one day in advance before the Sankranti (the first day of Magh month), on the last day of Poush and eaten on the Sankranti day. Regarding this practice, there is an old Nepali saying, "Poushko pakya, Maghma khanya."
Enriched in many nutrients and minerals like carbohydrates, protein, dietary fibre, potassium, vitamin B1, B6 and C, manganese, and many more, yam has many health benefits.
14. Bhakka on Maghi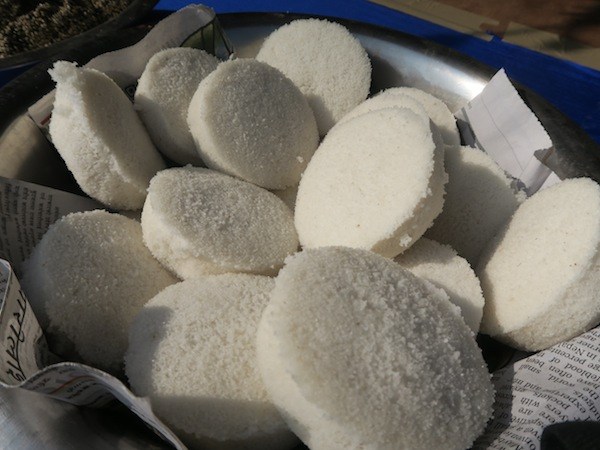 Bhakka is a fluffy rice flour steamed cake. It is a traditional Nepali food item popular among the Rajbanshi community of eastern Nepal. The one prepared with freshly harvested rice flour has some sweetness.
Bhakka is typically eaten as breakfast or as a snack with freshly prepared tomato pickles. It is typically eaten during the Maghi festival in Kathmandu.
How many of the mentioned food times have you tried?