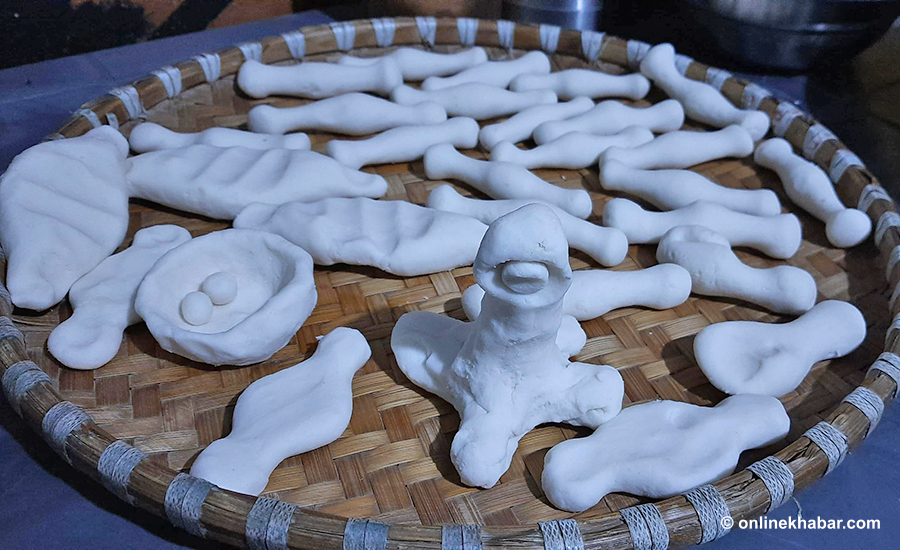 While a majority of Hindus in Nepal celebrate Tihar with much pomp and fervour, the Tharu community celebrates this festival in its own way, which is a bit different than how other Nepali Hindus observe Tihar.
Interestingly, the Tharu community living in the Terai welcomes the goddess of wealth, Laxmi by playing 'hukke-hukka'. After that, they start making 'bagiya' from rice flour in their houses the next morning.
Bagiya is a signature delicacy of the Tharu community for the festival. They make them in different shapes in an artistic way. Depending on the social customs, lifestyle and settlement, they give different shapes to bagiya and they are named khajan chirai, sakhari-bakhari and others.
These shapes hold special significance in the Tharu culture. Let's find out what do these shapes mean to the Tharus:
Khajan chirai bagiya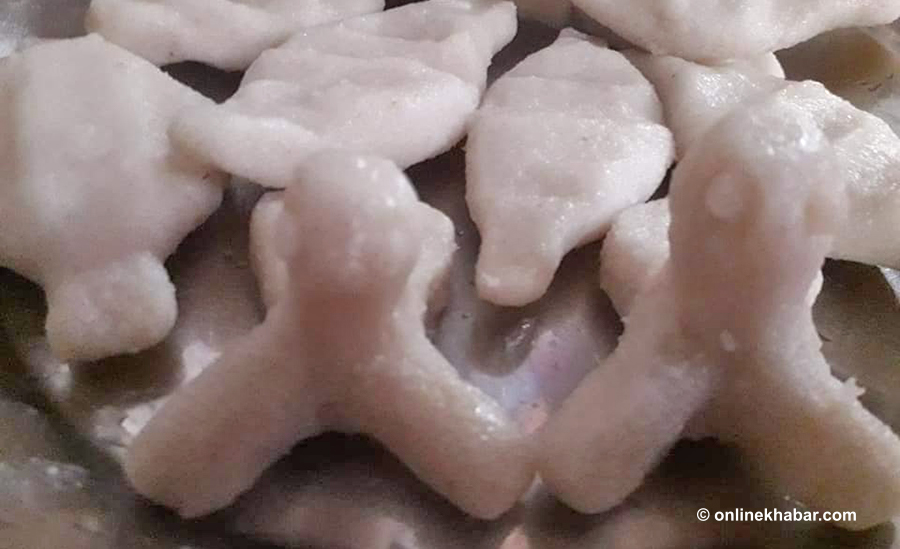 'Khajan chirai' is a dish made by the Tharu community for its children. Khajan chirai is actually a bird, which is small but playful in nature. As the weather gets colder, it flies from the trees and goes out in search of warmth. According to cultural expert Bhulai Chaudhary, as children have the same temperament that of khajan chirai birds, and to save them from winter, steamed bagiya in the shape of the bird is made.
Chaudhary says, "There is the social and religious belief in the Tharu community that the direction these birds fly to have an impact on your luck.
As it is small in size, children love khajan chirai bagiya, and this dish is considered special for them. As soon as the children of the Tharu community get up from bed the next morning after Laxmi Puja, they ask their mothers for 'khajan chirai bagiya'.
Sakhari-bakhari bagiya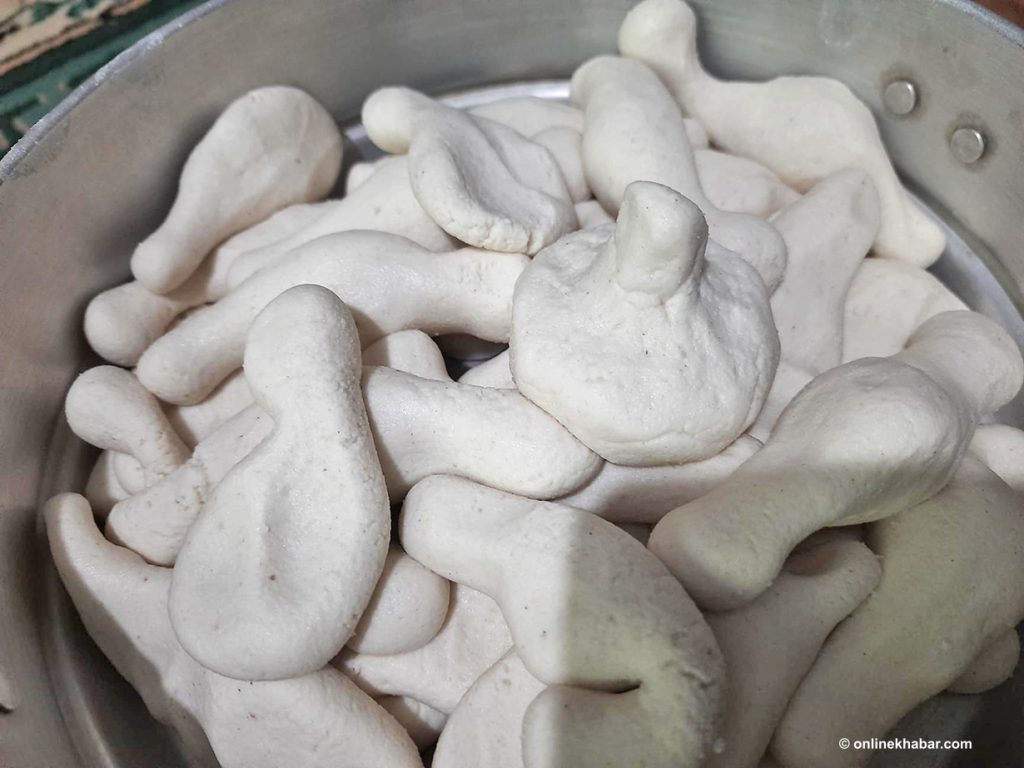 Sakhari-bakhari is also an icon of the traditional Tharu culture. In the past, the Tharus used to have ample farmingfield in the Terai and while harvesting rice, they would keep a portion of rice in a bakhari/bhakari (a round tank made of bamboo).
They used to translate this tradition in their dishes as well. As a result, they make sakhari-bakhari considering it a symbol of happiness on the night of Laxmi Puja, which is locally known as Sukrait (the happy night).
Chaudhary says, "The Tharu community considers Tihar as Sukrait, a time of happiness. Rice is the most productive crop in the plains of the Terai and is considered a symbol of gold. That is why Terai is also called the goldfield, grain store. The Tharu community was the landlord of the Terai. They used to make their dishes from the rice they grew and in it, they made their living, customs, rituals and traditions."
If there was a shortage of rice in a house on a regular basis or during feasts, it was customary to provide rice from the bakharis of other neighbours. They maintained this tradition in their festivals.
Since bagiya is made from pure rice and water, they believe it to be a gift of nature.
As this dish is cooked by steaming, the Tharu community has named it 'bagiya'. Chaudhary further says, "The ancient Tharus did not have a brass or steel vessel. So, they used to make their own 'bagiya' in a pot made of clay."
This earthen vessel is called 'atni'. Chaudhary says the vessel has disappeared by now. Still, the culture of making bagiya is alive although there is no atni, adds Chaudhary.
Stating that the youth should move forward to preserve the Tharu culture and traditions, he states, " If they can't preserve it now, then the Tharu culture will be in danger."