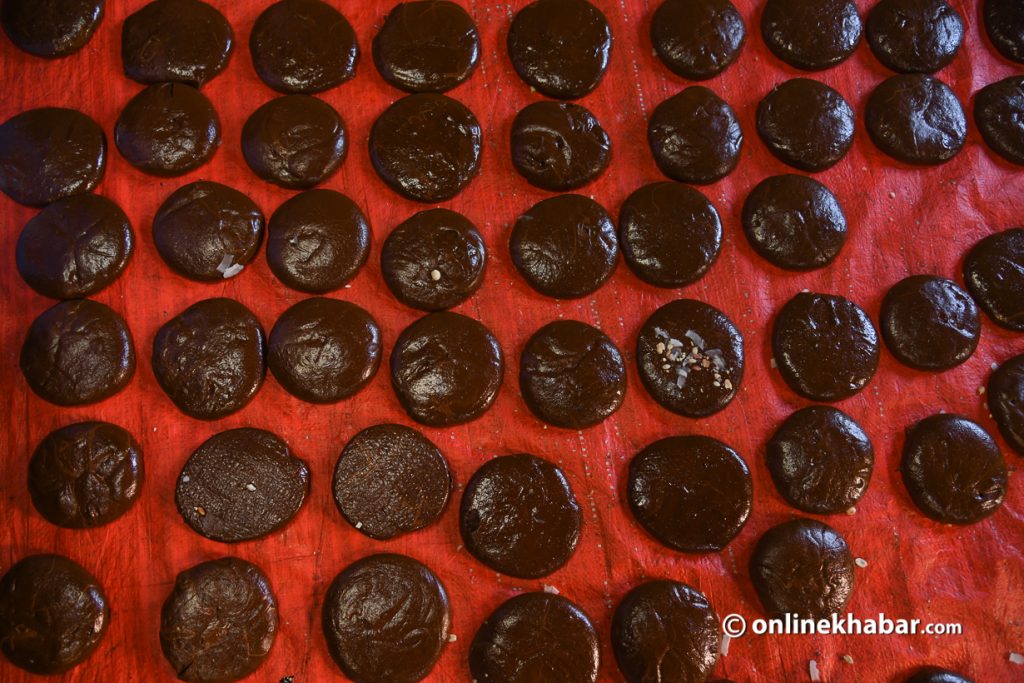 People in Nepal are celebrating Maghe Sankranti or Ghya Chaku Sanhu today. The festival is marked by eating ghee and chaku that are said to be good for body heat. Others also enjoy yams, sweet potatoes, fried fish, and black and white sesame balls.
Whereas other food items are available during other times also, chaku is quite special to this festival only. It is popularly eaten separately or used in making yomari during Yomari Punhi.
Chaku, a sweet taffy made from jaggery, sugarcane juice, ghee and nuts has a more interesting history to look at. Here is everything you need to know about:
The origins
Jaggery is one of the oldest forms of sweeteners with a history dated before 600 BCE. It was produced in the Indian subcontinent for thousands of years with the knowledge of making taffy probably brought from Iran.
Though there is no evidence as to when exactly people started making chaku, the story is as old as the hills around Kathmandu. Arguably, it was first introduced in the old Nepa valley (Kathmandu, Lalitpur, Bhadgaon and other towns within the valley). The oldest town known for making chaku is Tokha, which is located northwest of Kathmandu.
The base ingredient required for the making of this delicacy is sugarcane, which was abundantly grown in old Kathmandu. Tokha in fact gets the name for the same. Tokha was originally called 'tukhya', which means sugarcane field.
Apart from the known Newa settlements of the Kathmandu valley, a community in Mustang also has a taffy-making culture, locally known as ghorang.
Some changes
Chaku was typically made from sugarcane jaggery this is boiled until it caramelises. Caramelisation helps in creating light bitterness that balances the sweetness of jaggery.
But, with people's opting for other cash crops like rice, wheat, and corn as well as modernisation, people stopped growing sugarcane in Kathmandu. A local of Tokha and chaku-maker, Kashi Lal Shrestha, says this affected the age-old tradition of making chaku from sugarcane juice as it was replaced by shakkhar or jaggery, which came from the Terai and neighbouring India.
The process
The jaggery comes in big lumps. So firstly, it is heated with a bit of water till it melts to a soft dropping consistency so that it can be strained through a sieve. The main purpose of straining is to separate grit and foreign matters from the thick liquid.
Next, the molten sakkhar is poured into another cauldron then boiled and stirred constantly for an hour and a half at 360 °celsius. The molasses is then spread out on a wide flat stone to cool off to a coagulating consistency.
The thick batter now is ready for the next step: kneading and stretching.
This stage demands strength. It is a bit tricky, as the sticky dough has to be consistently stretched, twisted and turned (like braiding hair) around the wooden stump until the dark chocolate colour turns beige, like whisked coffee.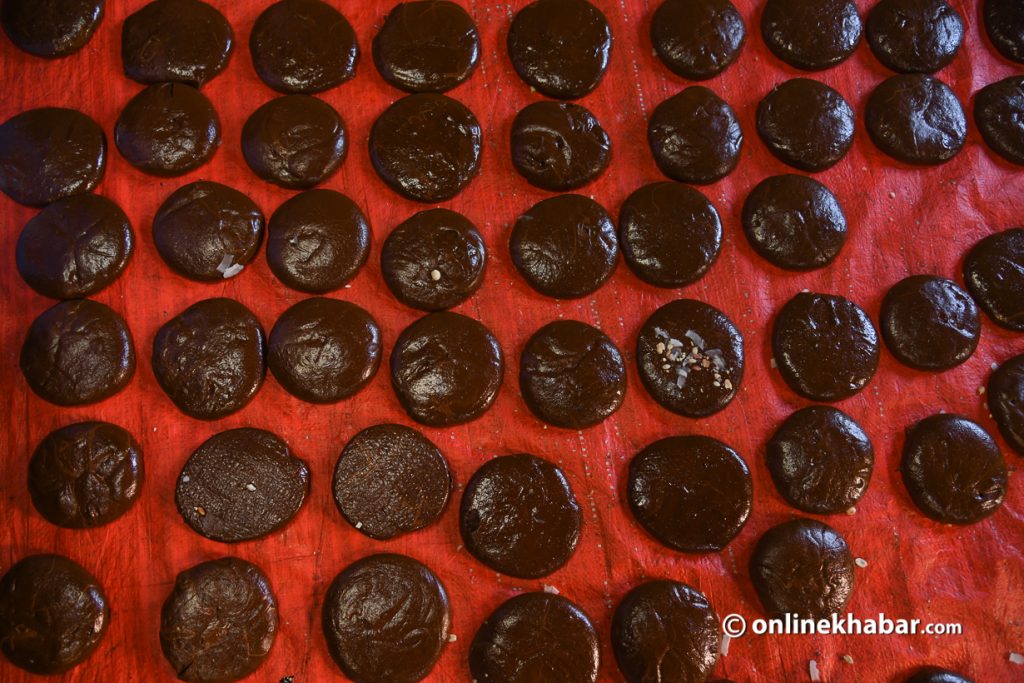 Finally, the thick mass is ready for packing, still rubbery and lukewarm. The batter is broken into small lumps, weighed and shaped into thin flat cakes. Then, it is garnished on top with shredded coconut, peanuts and shelled pumpkin seeds. After letting it cool for some time, the chaku cakes are finally packed in plastic wrappers and filled into cartons—ready for the market.
The quality
Good, tasty chaku is a result of a skilled maker that has perfected the whole process. A slight change in ingredients or failure of handling the steps can change the taste and form of the delicacy, making it bitter and fleshy. Well-made chaku melts in the mouth.
Care is necessary for every step like boiling of shakkhar, kneading and stretching of the batter and packing of the finished product.
People believe that eating chaku gives one strength and stamina. As the days are cold, consuming it also gives one's body heat. Molasses also contains vitamin B and minerals, including calcium, magnesium, and iron.
---
Originally published on January 15, 2022