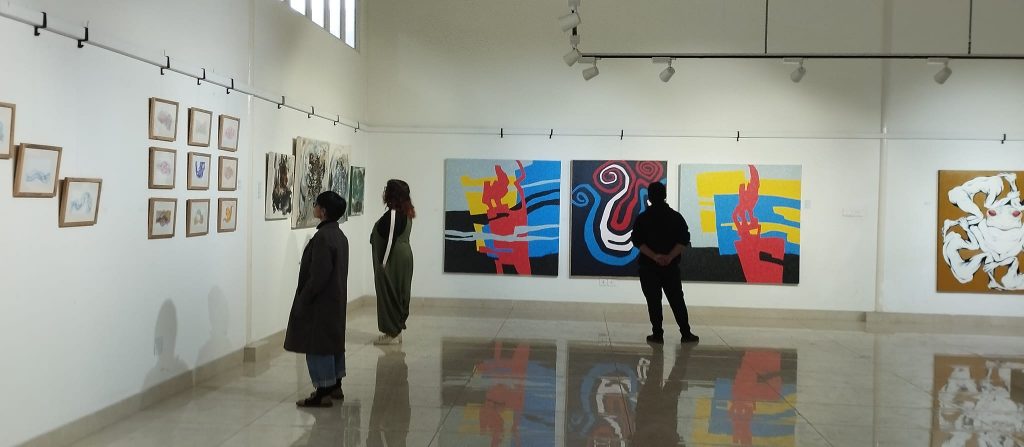 As art education progresses in Kathmandu, major art schools in Kathmandu are struggling to prove their excellence. It seems Sirjana College of Fine Art's annual collective art show, Sirjana-2023, currently on display at the gallery of Nepal Academy of Fine Arts, Naxal, is meant for the same.
The show features artists affiliated with Sirjana College of Fine Arts, mostly veteran artists such as Shashi Bikram Shah, Batsa Gopal Vaidya, Krishna Manandhar, Madan Chitrakar, Shyam Lal Shrestha, Radhe Shyam Mulmi, Rajesh Gautam, Navindra Man Rajbhandari, Lok Chitrakar, Sharad Ranjit, Sunil Ranjit, Gopal Kalapremi Shrestha and Sharada Man Shrestha.
Likewise, it also features artworks by younger and more contemporary artists such as Gangadhar Sharoo, Devina Malla, Samjhana Rajbhandari, Chandra Shyam Dangol, Krishna Gopal Shrestha, Mukesh Shrestha, Kuldip Jung Bahadur Gurung, Suraj Muni Shakya, Roshan Bhandari and Tara Tamang.
Sirjana-2023 has become a one-stop venue to understand and analyse the techniques, styles, composition and thought processes of these master and emerging artists. You can see paintings, sculptures and installations at the exhibition.
Moreover, the spacious gallery has helped the exhibition with a clean setup where visitors can relax and walk around the exhibit appreciating the art.
Nature, culture, religion and more
In Sirjana-2023, the artists have worked on their own style but mainly focused on nature, culture, religion, and emotions. Their imagination and palate of colours along with their mastery of the use of various themes make every artwork unique and exclusive.
A sculpture of a bigger-than-life-size owl using mixed media has become the central attraction of the exhibition and the favourite of many visitors for clicking photographs. This sculpture by artist Sharada Man Shrestha comprises waste materials such as plastic bottles, tyres, parts of motorcycles, etc.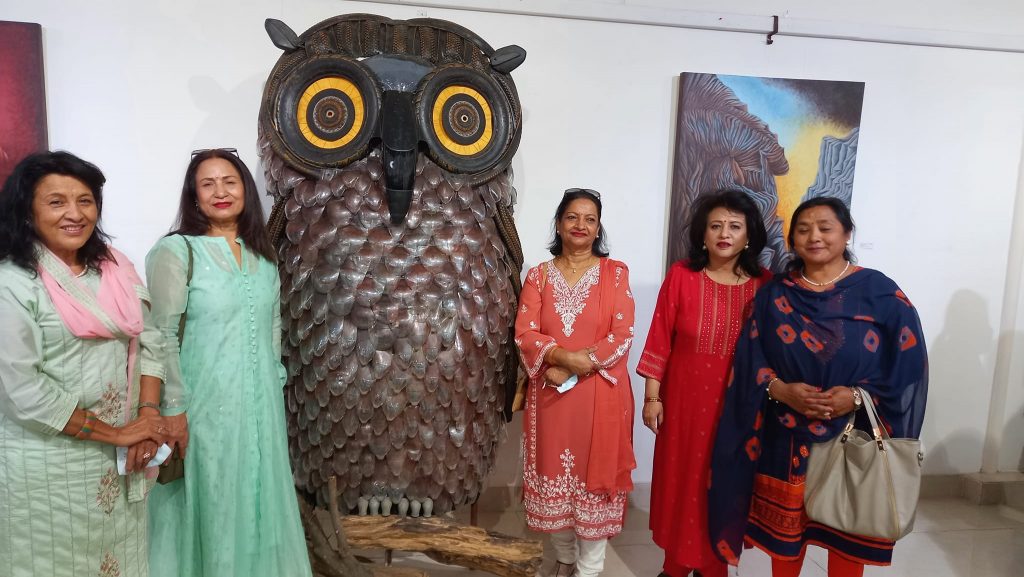 With this, the artist is presenting the idea of beauty in everything, even in the garbage thrown away; it seems useless only until it reaches the hands of an artist.
Likewise, using surrealism, Radhe Shyam Mulmi in his painting showcases different animals on one canvas. Observant eyes can see in his painting animals like rats, rabbits, and elephants along with sparrows and pigeons. In a brief view, the painting looks like a rhythmic pile of smooth pebbles and stones.
Featuring the beauty of cultural heritage in Sirjana-2023, artist Krishna Gopal Shrestha, using charcoal on paper, has presented drawings of ancient stone sculptures and the surroundings they reside. His drawing of a stone sculpture of Chaturamukhi Narayan is impressive as he has not missed any detail about patterns and designs on clothes, ornaments and pedestals that support the statue. Moreover, the monochromatic colour of charcoal gives a fresh perspective to look at this rich cultural heritage.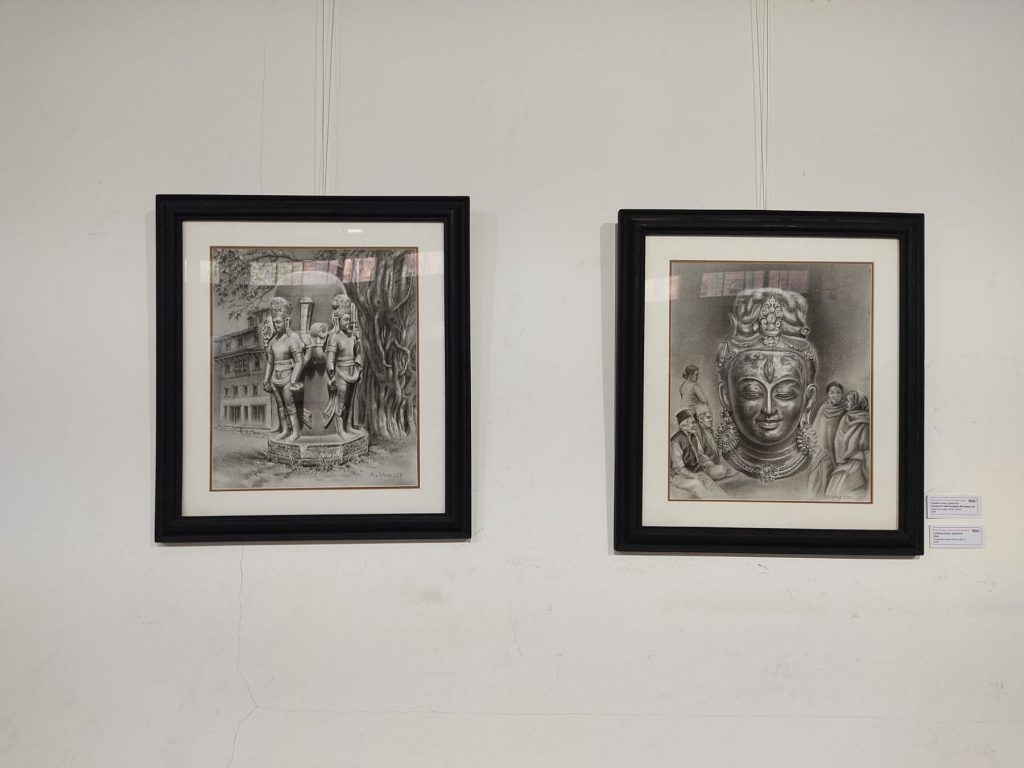 The beauty of vibrant and earthy colours
Then, there is another painting, A Solitary Beauty, by Sharoo. He has used only one colour— an earthy red tone— to create a beautiful woman wearing traditional Nepali clothes and ornaments. She looks like a marble statue from Rome but in Nepali style. The hand gesture and the position she is sitting in are similar to a Roman marble statue. The woman's anatomy is perfectly balanced and you cannot keep your eyes away from her. As the painter is also a sculptor, both arts can be felt in this artwork.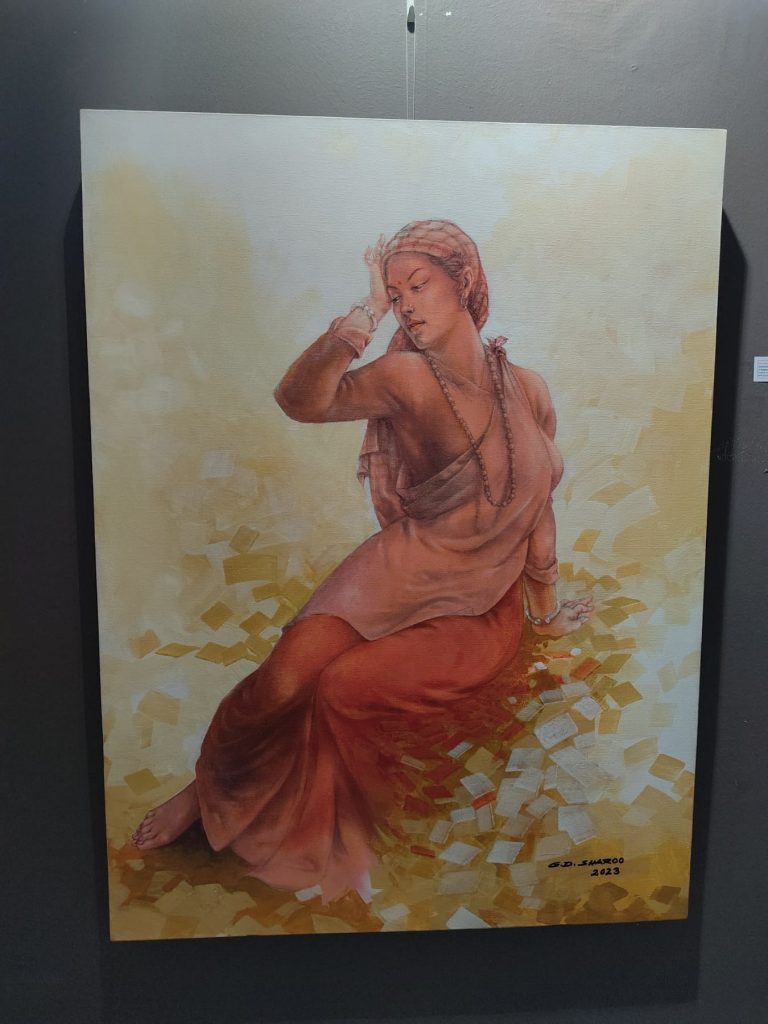 Contrary to monochromatic artworks, there are paintings in which artists have used vibrant bright colours and composed abstract forms. Artist Navindra Man Rajbhandari, with the belief that the creation of art should appease the eyes of its beholder, has created abstract art that is definitely an optical pleasure for the viewers as he says.
Then, Sharad Ranjit and Sunil Ranjit too have used multiple colours in abstract form, which is soothing to the eyes.
This and more can be viewed in the exhibition, which continues till May 5.