On the occasion of the Visit Nepal Year 2020 campaign, statues of the world's rare one-horned rhinoceros and a pair of red pandas with a baby were kept outside arrival and departure halls of the Tribhuvan International Airport respectively so as to reflect Nepal's identity and attract foreign tourists. The statues were made at the cost of Rs 1 million during the campaign to build a boutique airport.
Many may wonder who made these iconic and real-like statues. well, these are creations of Surya Madhyarat of Bharatpur metropolitan city- 9, Chitwan.
Early years
Surya Madhyarat was born into a KC family in Ayodhyapuri of Madi, then considered as a remote area of Chitwan, around 40 years ago. He later stopped using 'KC' as his family name but coined a new pseudonym 'Madhyarat' (meaning, 'midnight') for him.
He explains, "I was born in the middle of the night. Another thing is that both the sun and the night are the truth. The day is complete only when there are sun and midnight, so I kept my surname Madhyarat." [His first name 'Surya' literally means the sun.]
Since his childhood, Madhyarat was fascinated with sculpture. Unlike other children, he used to spend his childhood playing with stones and chisel. Though he did not know what sculpture was then, he was interested in playing with clay, stone, and dung and making statues out of them.
Only because of his interest in the sculpture, he was often scolded by his family and neighbours as they would think he wanted to grow up as a mason. The work he did and liked was neither a subject of study nor a work of agriculture. Recalling his childhood, he narrates, "I used to take my chisel to the river by hiding from everyone and hide it there only. Many times, I used to get scolded and beaten; when I used to be busy with my work while going for cattle grazing, the cattle used to graze in other people's fields."
He reminisces that his school notebooks used to be filled with pictures of different animals and people rather than the alphabets. Later, he got his first reward as 50 paisas for drawing from one of his friends.
As he was not much interested in his studies, it was natural for his parents and the family to worry about his studies and future. However, after realising that he is not going to give up on his passion, his parents and relatives stopped forcing him.
While waiting for the results of the final school-level (10th grade or SLC) examinations in 1998, he worked as a carpenter. After the results were published, he joined Lalit Kala Campus, Nepal's oldest fine art college in Kathmandu.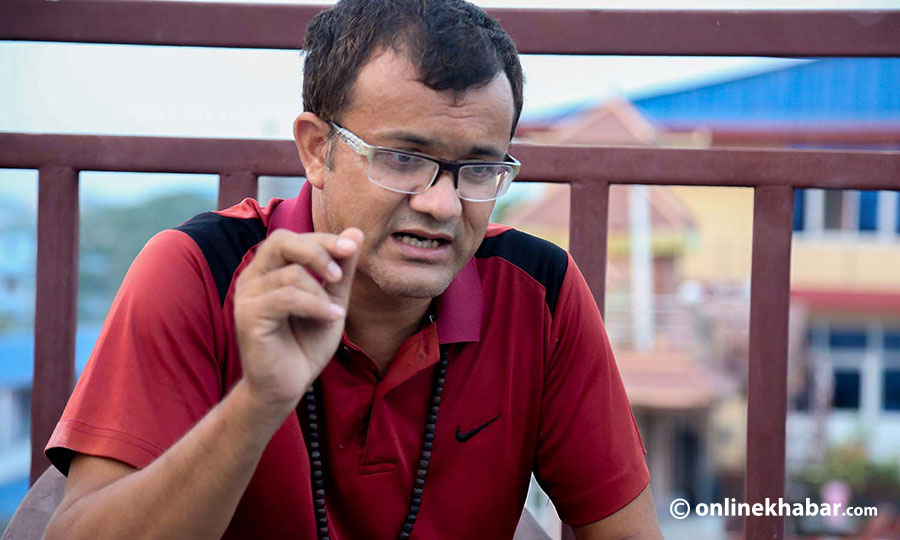 After graduating in sculpture in 2003 and receiving training in Udaypur and Itahari, feared if he could not make a living by selling idols. He also thought of giving up this profession feeling that art could be a hobby but not the source of living. But later, he decided to make it a profession.
Establishing identity
In 2004, he returned to Chitwan from Kathmandu with an objective of starting something in Chitwan. He then came to district headquarters, Bharatpur, from his village in Madi with a desire "to do something". However, at that time, he could not even afford to pay the room rent. That is why he went to Gondrang on the outskirts of Bharatpur looking for a cheaper place to live in. Meanwhile, his family was already exhausted by extreme deprivation and poverty.
Though he had not studied about making wild animals' statues, he was somewhat interested in it as Chitwan has a national park that is home to diverse species. So, after finding a roof to stay under, he thought of making a statue of a rhino hoping for some potential buyers.
So, he went to the National Trust for Nature Conservation-Biodiversity Conservation Centre, Sauraha in the process. However, the civil war was at the peak at that time, and after seeing him with long hairs, security personnel there detained him.
A few days later, they set him free. He, then, proposed making a rhino statue for free for the upcoming Chitwan Festival, a fair scheduled to be held soon.
His art became the centre of attraction of that festival. The very statue established his identity.
"On the one hand, I gave them the statue worth Rs 150,000 for free at the Chitwan Festival. On the other, I did not even have the money to pay the room rent," he recalls, "For five or seven years, I struggled a lot, sometimes I was very frustrated, I didn't feel like I could make my living out of this. Neither was I not interested in other works; I didn't see any option but to go back to the village or go abroad."
Steps toward success
However, time was not always the same. He then made numbers of statues of wild animals for many places such as Ghadgai, Parsa Wildlife Reserve, and Institute of Forestry, Pokhara.
Eighty per cent of Madhyarat's sculptures are of wild animals. The demand also comes accordingly. In the meantime, he has also trained around 50 other people. About 15 of them are professional sculptors today.
He is capable of making statues of elephants, rhinos, tigers, leopards, red pandas, rhinos as well as of various martyrs and famous people and whatnot. Lately, he has stopped writing his name on the statues as he is not much interested in name and fame.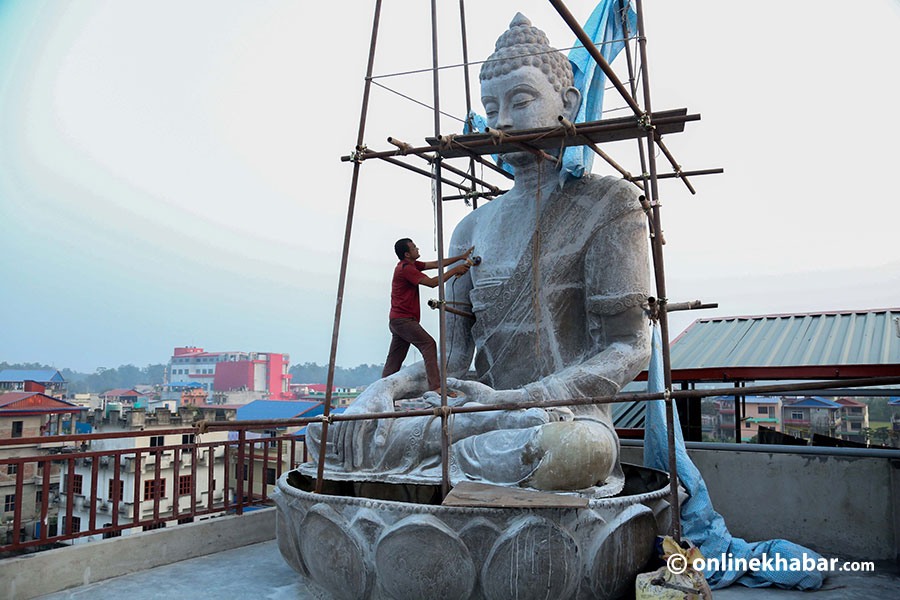 Such statues born from his workshop, which he calls 'kala bhatti' (an art pub), can be seen in various places of Chitwan, community forests, hotels and other areas such as Kavyavatika of Itahari, the Seti gorge of Pokhara, Shuklaphanta Wildlife Reserve, and Everest National Park. In recent years, Madhyarat has been involved in making statues commercially.
"I have made more than 300 large statues so far, but the largest and most costly is the Buddha statue worth Rs 2.5 million that is in Tulsipur," he said. He says that some of the sculptures will be ready in half an hour and some other times, it will take up to five months.
His office is situated near the East-West Highway in Bharatpur, Chitwan. And, his workshop is near the Rambel Community Forest Office in Bharatpur. These days, his wife Chandra KC also helps her.
Madhyarat has employed nine people. Five of them help him in fibre sculpture, two in stone sculpture and two in painting. He has been overloaded with the works of late. He has been compelled to make some of his clients return empty-handed. Some even use their connections with politicians to receive his service.
Madhyarat shares, "For the last seven years, I have not had to look back at life." He has earned a lot of wealth along with the name. He has amassed properties worth millions of rupees from this that includes land and a three-storey house in Bharatpur-12.
Madhyerat says he earns Rs 2 million to Rs 2.5 million a year by making statues. He takes Rs 2,000 to Rs 5,000 for making idols of gods and goddesses for individual residences or public places. A half-sized RCC statue of a person costs from Rs 50,000 to Rs 100,000 and a stone sculpture costs from Rs 200,000. Likewise, a statue of a tiger, a rhino or an elephant costs from Rs 150,000 to Rs 500,000, says Madhyarat.
Madhyarat, who has been intrigued by Osho's Neo-Sannyas philosophy, also practises yoga and meditation for one and a half hours every day and also teaches others. He credits Osho's idea for his success in life. He says, "I was almost frustrated and was on the verge of giving up. After learning about the Neo-Sannyas philosophy, I came to have knowledge of something. In other languages, 'Sannyas' means not doing anything anymore, but in Osho's view, it means the beginning of something new."
Even after reaching this point of life, Madhyarat still has some wishes to fulfil. He wants to make idols that will last for ages. "What needs to be said in thousands of words can be expressed from a single statue, the shape of many important living and non-living things can be created forever," he says, "I still want to do something for the country."
The art of sculpture
Sculptures are made of fibre, metals, cement, and stone. While statues made of stone are durable, those made using fibre and metal are easily portable.
Generally, a sculpture is made by casting and carving the raw material. Casting is more in use than carving as it is easier. Casting is done by making the clay dye (mould) in cement, fibre or metal as per the customer's demand. After preparing the dye, it takes 20 days to make an elephant whereas a tiger or a rhino will be ready in 15 days. On the other hand, the carving method involves carving (cutting or chipping) a shape from stone and wood.
Recently, fibre sculptures made by making dye (mould) from the casting method have become more popular. You can also add pieces to a large statue in this method. At the same time, it is also compact. As the pair of elephants kept on the banks of Narayani River is compact, nothing has happened to it even after the flood of this year, shares Madhyarat.
He continues informing that small statues and statues of people are made of cement. The life of a stone statue is the longest and then of metal, cement and fibre sculptures. He also claims that if a statue has a thick layer of fibre, even it can last up to 50-60 years. Also, due to the lack of stones, there are very few sculptures carved out of stones, informs Madhyarat.