Among Nepali traditional artists, Lok Chitrakar is known for his slowness. They say he takes as many as 20 years to complete a single piece of painting.
And they are right; Chitrakar says he has yet to complete a painting that he started over 25 years ago.
Artists dedicate their whole energy to making a piece of art and creating value in it. It is even truer for traditional paubha artists who have to have creative skills, an understanding of traditional rules along with spiritual and cultural knowledge.
Lok Chitrakar is the master of paubha paintings, and his minuteness is revealed in his masterpieces. In the solo exhibition currently ongoing at the Museum of Nepali Art (MoNA) in Kathmandu, one can see and feel the depth in his artworks, which are not only aesthetically beautiful but also hold philosophical meaning behind them.
The exhibition, Chitrakar's first solo after 2002, began on March 26 and will run for a month.
His masterpieces
As you walk down to the museum gallery, you can see a painting of Lord Ganesh on A4-size canvas in front of you. On your left, there is another life-size painting of Lord Ganesh.
Though both the paintings are of Lord Ganesh, there is a big difference in the presentation style; the life-size painting of Lord Ganesh is heavily decorated with ornaments and its backdrop also has decorative motifs, which is absent in the other one. But Lok Chitrakar says he has natural colours to paint these paubha paintings.
Moreover, it is interesting to know that Chitrakar made the A4-size Lord Ganesh in the early days of his painting when he was as young as 12. The life-sized Lord Ganesh is his recent work. He is 62 today.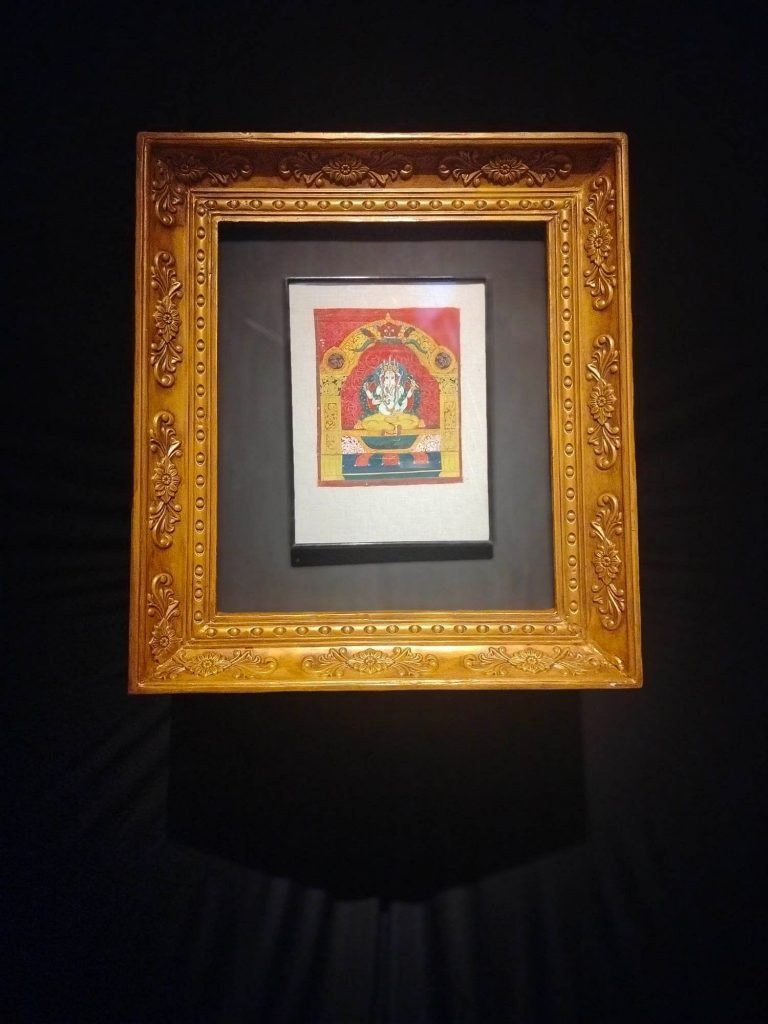 Looking at these two paubha paintings, one can understand how much time, dedication, effort, study and discipline are required to master the art form.
"For me, paubha painting is a subtle and tangible expression of beauty and wisdom, as well as spirituality and philosophy."
He says, "Art is life; it teaches how to live a happy life." For him, art is not just a traditional form but a preface; it captures social, cultural, traditional, religious and all tangible and intangible aspects of life.
In the exhibition, there are paintings of other religious Buddhist and Hindu motifs such as Basundhara, Lokeshwor, Tara, and Bhairav.
Besides the masterpieces, the exhibition also features Chitrakar's early works, sketches and prints.
MoNA director Rajan Sakya who has curated the exhibition says, "Lok Chitrakar has dedicated his life to creation, preservation and passing on the knowledge and skills of paubha art. We, people of this generation, should be proud to say we live in the era of Lok Chitrakar."
Creative use of gallery space
The museum space has been used creatively to showcase the artwork and the theme for the exhibition. The prints of 108 Lokeshwors are displayed on two sides of a passage from one corner to the other of the gallery.
Lok Chitrakar began to paint these Lokeshwors in 2002 and completed them in 2014. Their original paintings are now available at Kanzoin Mandala Museum in Japan.
"Lokeshwor is known as the god of compassion. The concept of 108 Lokeshwors is uniquely Nepali, and the number 108 is a cosmic number," says Chitrakar, "Whenever we become negative towards others, we tend to generate all 108 negative forms present in the universe. There is the concept of 108 Lokeshwors to eradicate and clear that negativity."
According to curator Sakya, the curation of this exhibition has been inspired by the vision of a bridge. "The bridge between reality and spirituality, the bridge between traditional art and contemporary art, and the bridge between knowledge and practice," he says, "How has humankind passed down information, experience and understanding over thousands of years? It has been through art. It is through the transference of knowledge that we have been able to evolve and learn from the past."
Like Sakya's saying, the exhibition is curated in such a way that you are able to see the multiple facets of this artist who is not limited to creating traditional paintings.
As you walk past the passageway, you can witness Chitrakar's modern way of expression where he narrates the present-day chaos in society through his paintings.
His passion for work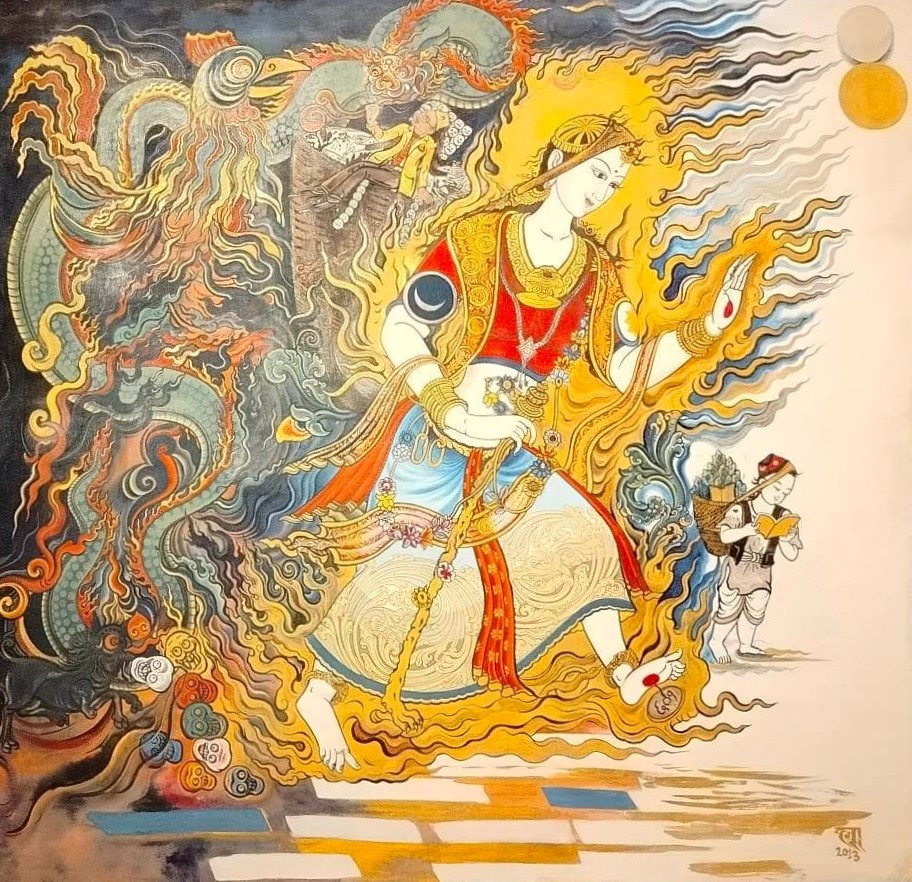 Lok Chitrakar got accustomed to painting as he inherited it from the Chitrakar clan. Since his childhood, he grew up playing around with colours and paintings. He remembers that Lord Ganesh was his initial sketch and he loved to create it.
At the age of 12, when he lost his father, he too had to carry the responsibility of his family. "My cousin (the son of father's elder brother) took me to work with a foreigner and that's when I realised I can earn from doing painting," he says, "If creating painting did not sustain me economically, I wouldn't be doing it till now."
Meanwhile, Chitrakar says he does not have any objection to new-generation artists using new forms of colours and techniques. But he is concerned that every Nepali should at least know what Nepali art is. "It is not necessary that everyone should be an artist or buy artworks," he says, "But as this is our identity, we all must know what our art is all about to preserve our heritage."