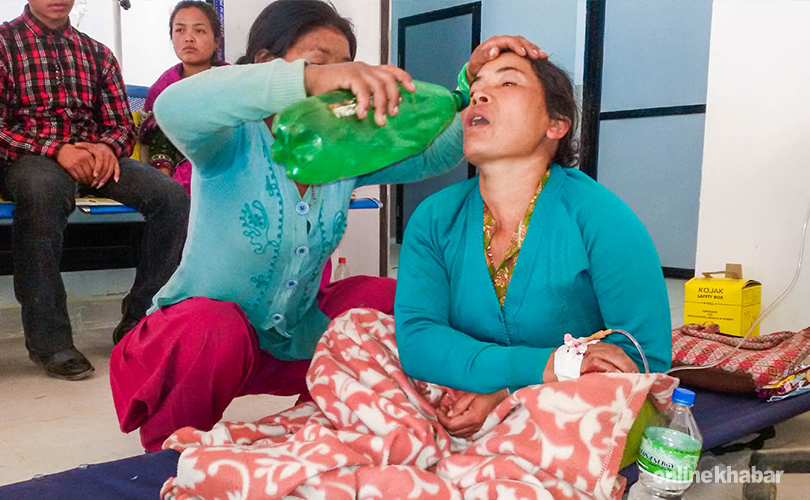 Bidur, April 28
An 'unknown' disease is spreading fast in ward numbers six and eight of Kahule VDC, Nuwakot district, and beyond. It has already claimed one villager and rendered 52 others ill. Police identified the dead as Megh Bahadur Tamng (38) of Kahule VDC-8.
At first, those people, who attended the birthday party of the son of Santa Bahadur Tamang of Kahule VDC-6 on Tuesday, got ill, locals said. Later, fellow villagers, who did not attend the party, also started falling ill.
Forty-one patients are receiving treatment at Trishuli-based Nuwakot District Hospital, whereas 11 are under treatment at Bidur-based City Hospital. Twenty out of the 52 patients are critical, Nuwakot district police office informed.
Bhuwan Raj KC, in-charge at the district hospital's emergency ward, said patients are showing symptoms like headache, dizziness, vomiting and loose motion. He says all this is happening due to food poisoning.
More and more people are showing these symptoms in ward numbers 1, 2, 6, 7 and 8 of Kahule.
The afflicted first tried herbal treatment. As it did not work, fellow villagers started rushing them to district headquarters Bidur from Wednesday evening. Dhanasingh Tamang of Kahule-8 says an increasing number of people from Kahule are arriving to Bidur for treatment. Even people from nearby villages are turning in for health check after the spread of the mysterious disease in the vicinity.
Surya Bahadur Tamang of Kahule-8 suspects that contaminated water is to blame.