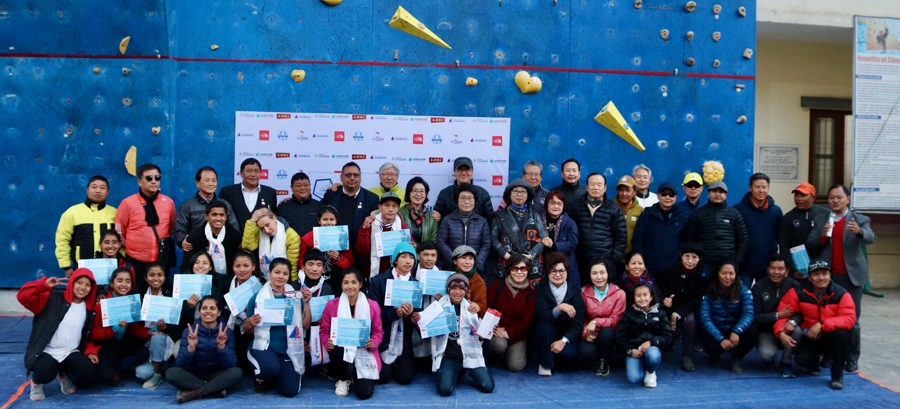 Kathmandu, February 3
Nepal Mountaineering Association (NMA) in association with Park Young Seok Exploration and Culture Foundation organised the seventh edition of the Park Young Seok Climbing Competition- 2020 in Kathmandu.
The event was organised on February 1 and 2 at  Pasang Lhamu Sports Climbing Centre, Dhumbarahi in the memory of Late Park Young Seok.
The organisers say the event was targeted to promote sports climbing in Nepal among young people. The event welcomed young athletes, professional athletes and amateur climbers to participate in the event.
Top three winners of the men's and women's lead climbing competitions received Rs 30,000, Rs 20,000 and Rs 10,000 respectively along with gift hampers, medals and certificates. For the amateur athletes in the top rope discipline, the prizes were Rs 10,000, Rs 5,000 and Rs 2,500 respectively in the men's and women's category.
Pas Tenjen Sherpa finished first in the men's top rope final competition whereas Suresh Tamang and Ujwal Bansi finished second and third respectively. In the women's top rope category, Devika Pandey, Kabita Lama and Laxmi Pandey finished first, second and third respectively.
In the men's lead competition, Bijay Sunar, Bhim Bahadur Tamang and Tintin Rai won the top three positions respectively. Likewise in the women's lead competition, Alexandra Przybysz, Pancha Maya Tamang and Swastika Chaudhary have been announced the winners.