Kathmandu valley's chief district officers on September 1 lifted the prohibitory orders paving way for almost all businesses to run smoothly. Since then, clubs have opened along with restaurants and other major crowded areas. But, one place is yet to open – movie halls.
The CDOs gave permission to open halls, but they had one condition – a hall could open only if they operated with 50 per cent occupancy. But, a task force prepared by the Federation of Nepal Film Entrepreneurs on September 6 said that the operators would not be opening halls as the decision made by the government was unfavourable towards halls and multiplexes.
"The decision to open halls with only 50 per cent occupancy is impractical," says Ashok Sharma, the federation's general secretary. "We'll only open if we can have a full house. Talks are underway with the government."
Producers, directors and actors who worked in the films were hoping things would get better, but sadly, things are likely to remain the same for a while. Films that were shot two years ago are still not releasing as producers want assurance that they will get their investments back. Actors have resorted to doing music videos while OTT platforms are struggling for relevance in the country. This has left the Nepali film industry in a delicate spot as it aims to pull through after a tough one and a half years due to the Covid-19 pandemic.
To show or not to show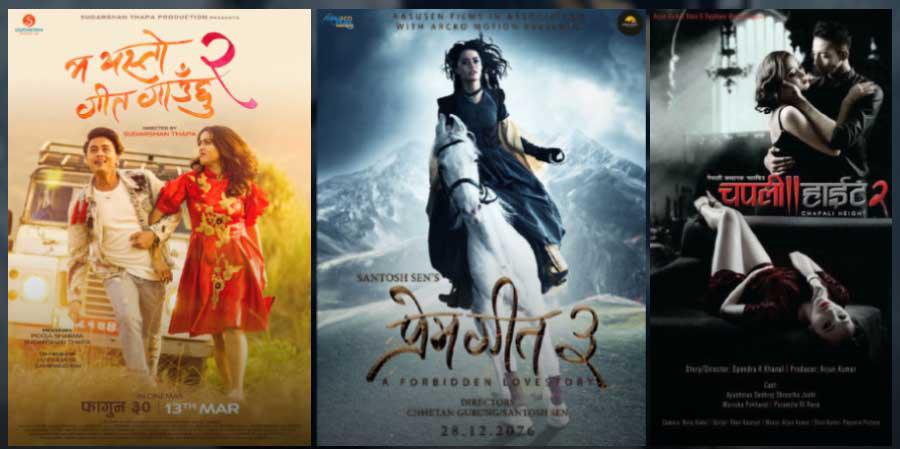 Sharma from the Federation of Nepal Film Entrepreneurs says that movie halls should be allowed to open because everything else has been allowed to open and is calling on the government to be practical.
"People can fly on a packed aircraft or travel on a packed bus. But, when it comes to movie halls, we have to maintain a 50 per cent occupancy. How is this practical?" questions Sharma. "The government needs to understand that Covid-19 does not spread through cinema halls alone. I don't understand why this decision is being made at the district level when it was the central government that asked us to shut down in the first place."
The people who have suffered the most due to this are the producers who say that tens of millions of rupees have been stuck due to the pandemic. Sudarshan Thapa was ready to release Ma Yesto Geet Gauchhu 2 when the pandemic hit Nepal. He had planned to release it before the pandemic, but due to the release of Baaghi 3, he postponed it.
That was around March 2020 when Covid-19 was still not taken as seriously. But, by the end of March, things were different. People started to avoid halls as even a Bollywood film like Baaghi 3 did not get an audience. Realising that things would not change anytime soon, Thapa decided to put this movie on hold.
"I'd done all the publicity work for the movie and was ready to release it but couldn't as people stopped going to movie halls due to fear of contracting the virus. I want to release it, but I've spent a lot to make this movie and want some form of return," says Thapa.
Thapa says he has spent in excess of Rs 20 million. If he releases it now, he knows he will not be able to meet breakeven. "If I lose Rs 20 million, I'll be on the streets," says Thapa.
But Chapali Heights 3 producer Arjun Kumar, however, feels he might have to release his movie which has already been put on hold for nearly 18 months.
"Let's see how things go on from here. If the number of cases doesn't increase and if the government doesn't impose any form of lockdown, I'll announce a release date which might be around Tihar," says Kumar.
Wait and see
There are various other movies in the Nepali film industry that have finished shooting and are waiting for release. Prem Geet 3, Ae Mero Hajur 4, Pardeshi 2 and Lappan Chhappan 2 are a few movies that are waiting to be released. There is a sense among filmmakers and producers that many are looking for a safe landing. 
Thapa says he will only release his film if distributors and film halls pay him how much he invested in the film. "I'm not looking for profit. I just want my investment back," says Thapa, who says halls need to take a risk and start showing shows.
Actor and director Kiran Kc, whose movie Lakka Jawan is also awaiting release, is also looking for a safe landing. "I won't say no to that," he says.
But that said, he says he will wait a few more months and stall the release for a few more months to assess the situation.
"We want to see what happens. If halls do open and when they do, [we will see] how many people go watch shows at the halls. There are a lot of factors that need to go right if we are to release this," says KC, who adds that he is not going to panic-release his film.
Hall operators' concern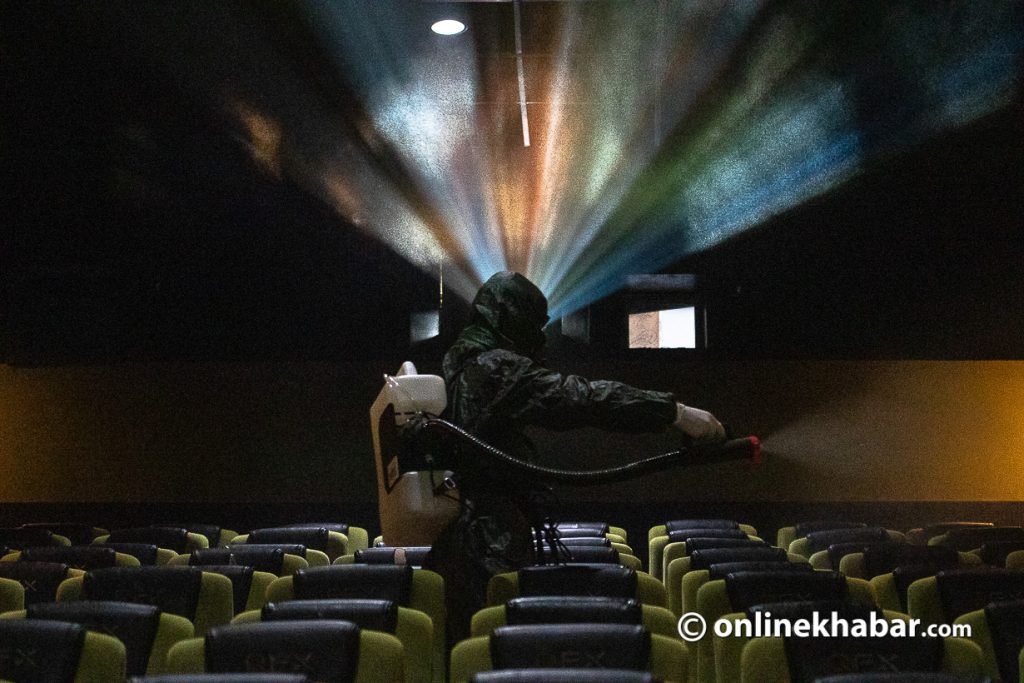 The chairperson of the Federation of Nepal Film Entrepreneurs, Madhu Sudan Pradhan, says a problem has arisen in the Nepali film industry because there are no alternatives to film halls. OTT platforms are there, but they are still irrelevant in Nepal's scene.
"Halls did open back in December, but they didn't have anything new to show. As a result, people didn't go," says Pradhan. In this situation, he says there are a lot of movies that are awaiting release but adds that almost all of them are looking for a safe landing. But, at a time when the hall operators' back has been broken by the pandemic, offering safe landing to film producers is not possible, says Pradhan."Everyone has to be on the same page if we are to open up completely," says Pradhan.
Roshan Adiga, the CEO of QFX Cinemas, says his cinema will only open if there are films. He says that hall operators have asked for two things – let them operate in 100 per cent occupancy and create a calendar to ensure a new film is released every few weeks.
"These terms are quite reasonable I think. It is only practical that we have a few movies lined up. It can be Nepali, Hindi or English. We can only operate at a profit when we can have new movies because we tried showing old movies in December and that was quite a bust," says Adiga.
He says Apple Entertainment is talking about bringing a few Hollywood movies like Fast 9 and James Bond while there have been no talks about any Bollywood films.
"Opening halls will depend on films and Nepali producers. Hopeful, we can come to an agreement soon," he said.
Irrelevant OTT in Nepal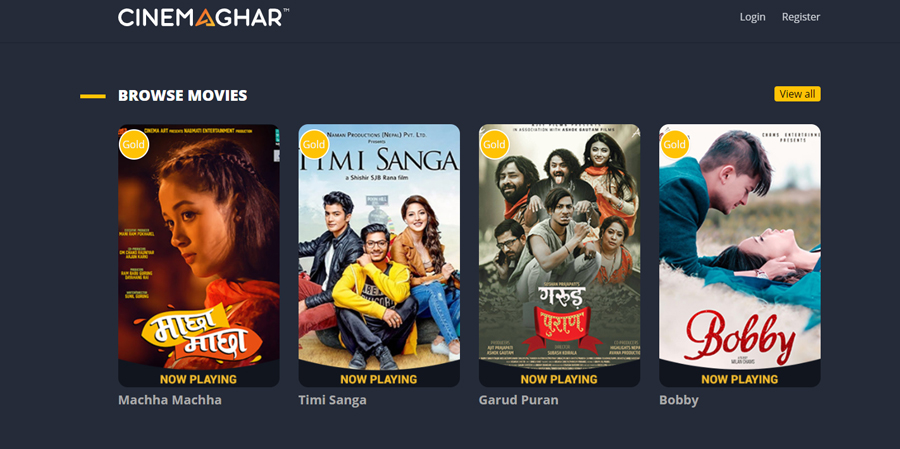 Similarly, Khagendra Lamichhane, who owns Cinema Ghar, an OTT platform, says he cannot spend tens of millions on the films right now. Even though he says that his app has seen a lot of users in the past year, it is still not the number that he had expected.
"With halls not in operation, it was likely that more people would use the application, but I was wrong. I guess we need to have new films if we are to increase it, but right now, we just can't afford to pay producers the money that they want," says Lamichhane.
Unlike in India, OTT platforms have not become a substitute for movie halls in Nepal. For that to happen, they will need to show a lot of patience as Lamichhane feels it will be a few years before they will be able to afford to buy these films.
Even companies like Highlights Nepal that have been buying the rights of movies to upload them on their YouTube channel have been refraining from doing so due to financial issues. But filmmakers say that even though the movie does get a lot of views on YouTube, it just is not practical to release the new projects there as they earn next to nothing from it.