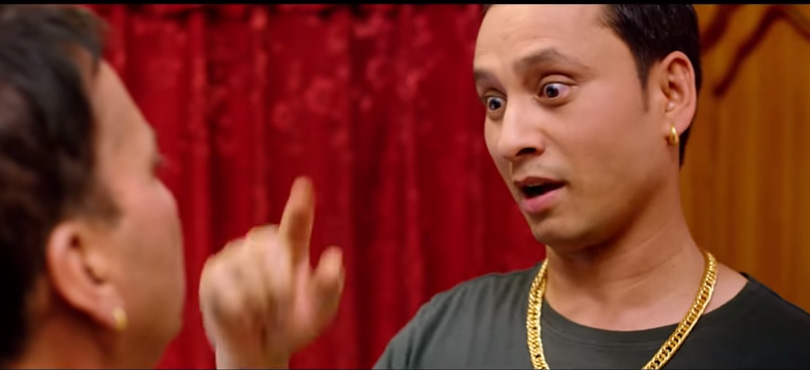 Theatre artist Khagendra Lamichhane rose to fame with the 2016 blockbuster Pashupati Prasad. Now, two years after his most successful feat, he is back to square one as both his storytelling and acting in the recently released Jai Bhole lack the vigour and focus his fans expect from him. Senior artist Ashok Sharma's attempt to come back to the industry with a story of this 'creative' writer has failed.
Divided focus
The storyline carries two parallel themes: Jai (Khagendra Lamichhane)'s love for Nisha (Swastima Khadka) and Bhole (Saugat Malla)'s dream of establishing a folk music school in the village.
In general, most fictions and films include multiple themes. Skilled artists make strong connections between them so that the themes look inseparable from each other and the entire story. Such a connection is absent in Jai Bhole—Jai's love story is capable of existence even in the absence of Bhole's dream, and vice versa.
The writer and the director have tried to assert that the movie is about both the heroes and their own stories (notice the movie title). They move both the stories forward with almost equal stress till the end.
However, its impact on the audience is adverse. The viewers get confused about what the priority is. For half of them, the movie turns out to be a comic love story of Jai; for the other half, it advocates for a cultural conservation agenda of Bhole.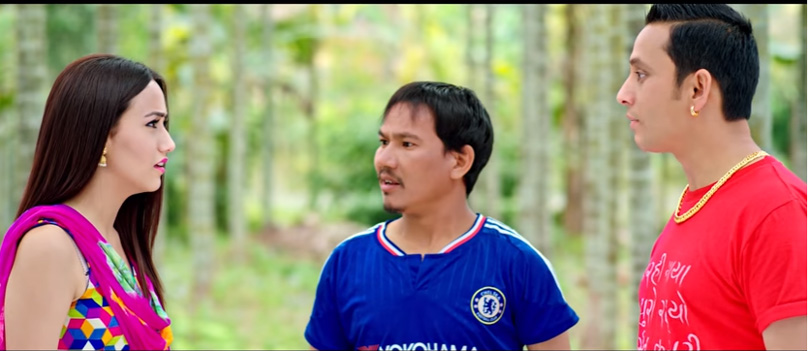 Problematic characterisation
Theoretically, art is a reflection of reality, but it is selective of exceptional phenomena. Notwithstanding genres and forms, all artworks base themselves on people and issues which are easily noticeable among other similar entities. Even stories of 'common people' are about the people who have special qualities to establish themselves as representatives of the 'common people'. Characters of fictions and films have some specialties over others, and these are the elements that attract the audience. However, one of the two 'protagonists' of the movie, Jai, who is highlighted over the other, has none of such features.
Jai being physically weak is not a problem. Physical heroism is an outdated idea in the modern world. Many successful fictions and films have featured antiheroes, who fail to conform to traditional requirements of a hero, as protagonists. But still, these people have something heroic in them, for example powerful emotions or political agendas, which appeal to the audience.
Our antihero lacks this quality as well. Being an arrogant son of a rich businessman, he seems to be in 'deep' love with Nisha. However, he fails to articulate the depth to the audience. That is why, the audience laugh at his inability and foolishness when he cries in sorrow. He holds an artificial personality, and it does not touch the audience's heart.
This is not a proper way that a comedy should make the audience laugh. It should have been a bit natural, and a bit artistic.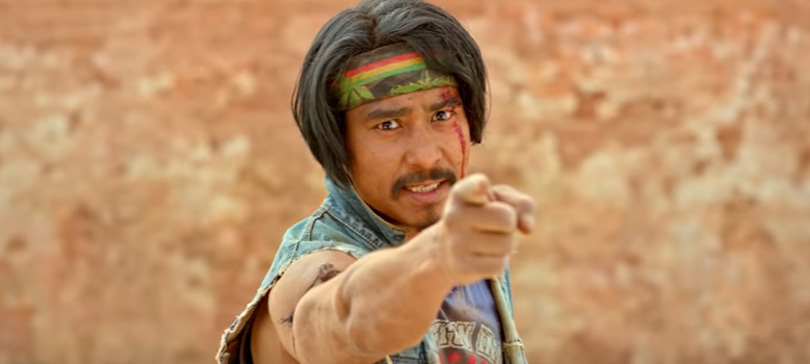 Perhaps Bhole has some depth of emotions. But, the movie limits his role, and keeps him in the secondary priority. His story is not completely happy as he dies before his dream comes true.
The villain, Shamsher (Salon Basnet), is naturally villainous. But, his characterisation is also dull. Nisha also does not have any impressive quality. Few characters, including Jai's friend Bruce Lee (Buddhi Tamang) and unnamed brick kiln staffer (Surbir Pandit) make the audience laugh, but their presentation is not impressive. There are problems, either in characterisation or in efficiency of the actors.
Jai's dad (Rajaram Paudel) is slightly better than others.
Impressive local flavour
Despite the weaknesses, the movie is excellent in terms of the making and cinematography. One of the most noticeable strengths of the movie probably is its reflection of localness. The movie is mostly set in two districts of eastern Nepal, Jhapa and Ilam. The shots clearly give an idea about the places to members of the audience even if they have never visited the region. The movie features, from multiple viewpoints, tea gardens of Ilam and betel nut gardens of Jhapa, thatched houses of Ilam and concrete buildings of Jhapa. People are seen riding on bicycles, which is popular among Terai locals.
The localness is further reflected on the accent of key characters. Lamichhane, Khadka and Sharma have worked hard to speak in the local style. It, however, falters in other characters.
Another positive aspect of the movie is its beginning. It sparks a curiosity in the audience on problems in Jai-Nisha relationship and why Bhole opposes it. The audience members continue to watch the movie in search of answers of these two questions.
Nonetheless, the first half is boring in overall as it is filled with unnecessary fights. The second half slightly improves.
Verdict
The production team scheduled the movie's release to coincide with the Dashain vacation apparently with a hope of encouraging footfalls. But, Jai Bhole is not an impressive production in terms of its story, which is at the heart of any movie. With another 'blockbuster' sequel of the same genre running in the theatres of the city, Jai Bhole is likely to lose the unannounced battle.
—
Jai Bhole
Runtime: 105 minutes
Genre: Comedy
Scriptwriter: Khagendra Lamichhane
Director: Ashok Sharma
Cast: Khagendra Lamichhane, Saugat Malla, Swastima Khadka, Salon Basnet, Ashok Sharma, Rajaram Paudel, Surbir Pandit
2/5
---
Published on October 17th, Wednesday, 2018 10:42 AM
---
Download Onlinekhabar App. Android click here & IOS click here . Keep in touch with us on Facebook, Twitter & YouTube.