Ramesh Tamang was playing volleyball in a small clearing above his house in Haku village, Rasuwa when the earth started to shake. At first, he wasn't sure what was happening. He looked in horror as the clearing split in two.
Then he heard a terrifying sound from above him.
The entire hill was falling.
"The landslide crashed down the hill, missing us, but taking out my house and an adjoining plot of land, my tea house and more than half of our village. Thankfully, no one from my family was hurt," says Ramesh, remembering the earthquake of April 2015.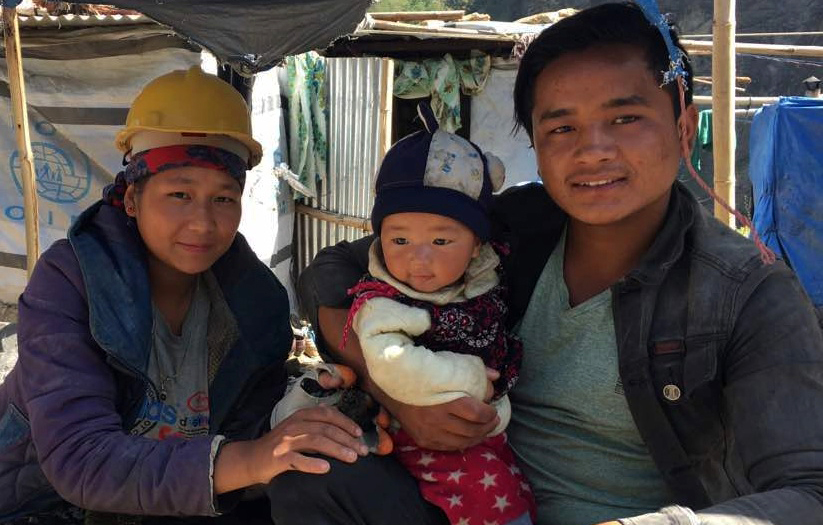 The first few days after the earthquake are a blur for Ramesh. He salvaged food items from the debris of his tea house to feed his family. "I distributed the rest in the village. It lasted two days. After that, we went hungry for a week," he says.
His family, like many in Haku, was relocated to the Internally Displaced People (IDP) camp in Dhunchhe, Rasuwa.
"Our daughter Mahima was born here in the camp. She is seven months old," says Karshyang, 23, Ramesh's wife, as she looks at her two-year-old son play in front of the tarpaulin shelter that they have called home for the last two years.
Both Ramesh and Karshyang have worked as migrant labourers; Ramesh as a security guard in Malaysia and Karshyang as a domestic maid in Kuwait.
"I came back because I wasn't making much. What I earned was barely enough to pay back my loans," says Ramesh. He works building houses now."If we could continue to find good work, we'd be happy to stay in Nepal," say both in unison.
Karshyang had limited work opportunities near her camp. Along with other people in the camp, she was working to produce stone aggregate, an essential construction material. An INGO, Practical Action, stepped in to provide safety and protective gear such as glasses, gloves and hard hats to a group of women working here.
It has also provided tools like hammers and rings. As a result, their productivity and wages have gone up.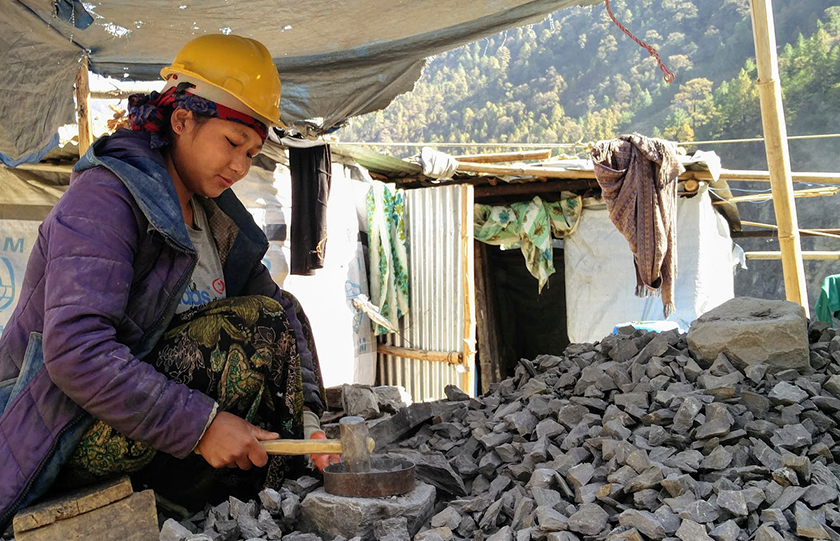 "We took turns to use available hammers before, so work was slow. Now we produce more and earn more," says Karshyang. The programme has also helped connect the IDP camp's aggregate to markets that need it. In the process, Karshyang's income has gone up from Rs 150 (~$1.5) to NPR 500 ($5) per day.
The programme is supported by UK aid, which is also funding other crucial post-earthquake reconstruction efforts here. Although Karshyang's job might seem challenging, the reality is more positive. With limited employment in Dhunche, Karshyangis now able to save money for her children's education and to build a home.
Demand for aggregate is increasing as house reconstruction is picking up pace. She works her choice of hours, manages her own time and can take regular breaks to care for her children.
The Tamangs want to move back to Haku, but two years on, the horror of watching their home destroyed is still fresh in their memories.
Reconstruction efforts are looking to make parts of Hakusafe for resettlement so that some families can move back in and reboot their lives. But for now, Karshyang and Ramesh are putting their life back on track, one day at a time.
All photos by author. Opening image: Landslide triggered by the quake in Haku.