Kathmandu, January 18
The KP Sharma Oli has an ambitious plan to renovate Ranipokhari, a historic pond located at the heart of the Capital City. The plan has already begun, with President Bidhya Devi Bhandari laying the foundation for the nationwide post-quake reconstruction plan at the Bal Gopal Temple located at the centre of the pond, which suffered damage in the April 25 earthquake, on Saturday.
The government is spending a whopping Rs 110 million for the renovation of the pond. The plan entails taking out the pond's water (no one knows how deep the pond is) and enabling people to see how deep the pond is and what secrets it holds. Chief of Kathmandu Metropolis, Rudra Singh Tamang, said no one, not even the country's only metropolis, knows how deep the pond is. We have heard, though, that the pond is up to eight feet deep.
Ranipokhari reconstruction and beautification, according to Tamang, will cost Rs 110 million.  "The plan is ready. Reconstruction and beautification will cost around Rs 110 million."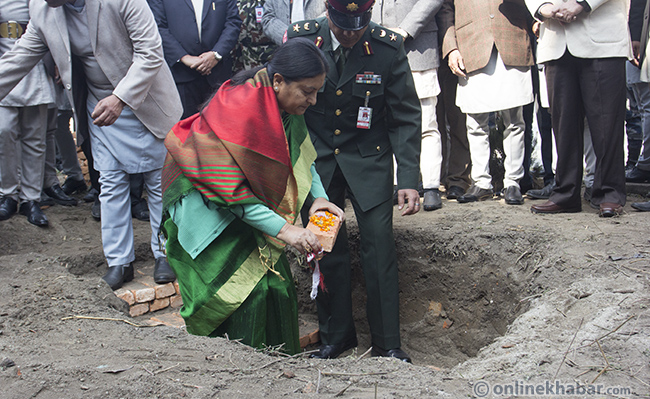 We will invite the tender for the project after a go-ahead from Minister for Local Development Kamal Thapa. "By this Friday, we will invite the tender," Tamang said. 'A' grade contractors can vie for the contract. We will select the bidder whose bid is the lowest while also taking into account the bidders technical capabilities, he said.
Ranipokhari cleanup, according to Tamang, has not happened since its construction in 1665 AD. "In course of reconstruction, we will also clean up the pond that King Pratap Malla built." The pond is said to contain water from different pilgrimages.
The metropolis plans to clean up the Ranipokhari in a few weeks, Tamang said. We will take out water, clean up the pond and add fresh water, Tamang said.
The pond cannot retain water, no matter how much water you pour into it, according to Tamang. This must be because the pond leaks, he said, adding that the metropolis wants to see where the pond leaks.