On Thursday, May 13, the Ministry of Health and Population released a statement that stated 214 people had died due to Covid-19 in the past 24 hours. While the statement was being issued, various political parties and politicians were busy.
They were not busy planning how to save Nepal and its people dying from Covid-19 but with what they were going to do about forming a majority government. Prime Minister KP Sharma Oli, who even though has been in the know about the state of things, chose to spend time trying to make amends with his party leader Madhav Kumar Nepal.
Similarly, Nepali Congress leader Sher Bahadur Deuba and Maoist leader Pushpa Kamal Dahal were also in talks if forming a coalition to topple the Oli-led government was possible.
As hundreds of people were dying every day, Nepali leaders had a different agenda – politics. This is not limited to one day. The government has not seemed proactive to deal with the virus even though it had plenty of time to do so.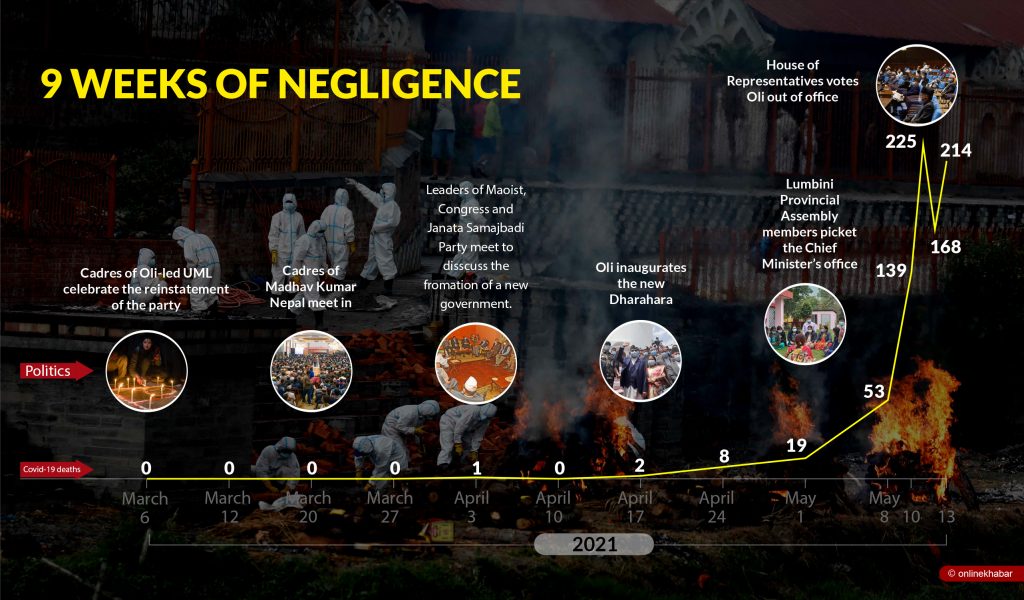 Between March 6 and May 13, a total of 1,456 people in Nepal died of Covid-19. We take a look at what happened during these nine weeks and what the government and major political parties in the country did or did not do to curb the effects of Covid-19 in the country.
Snubbing experts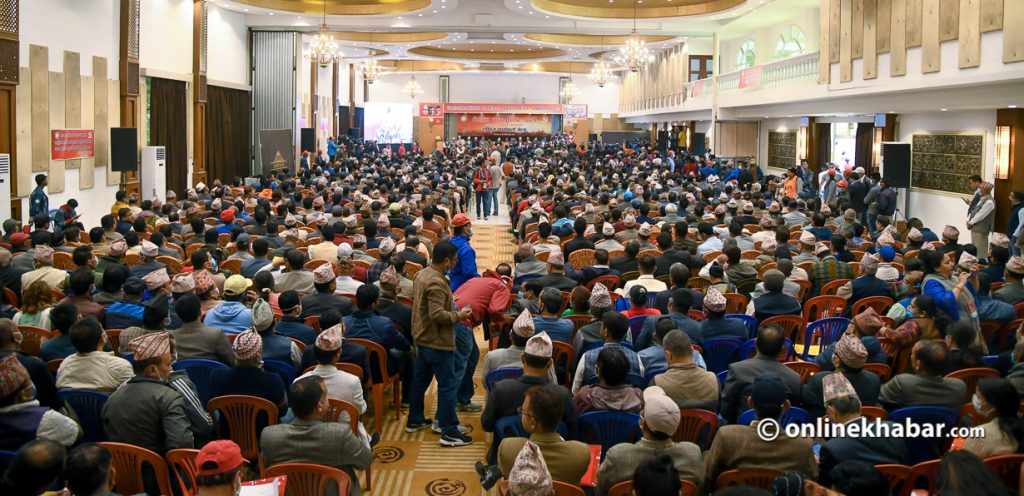 On March 6, no one in Nepal died because of Covid-19. Out of 3,535 tests, only 47 people had contracted the virus. To put it in percentage, only 1.19 per cent of the tests came out positive.
This was when India was slowly being hit by the second wave. Nepal's government, knowing that its health system could not handle it, should have tried hard to ensure that when Covid-19 hit Nepal, it would be ready.
But, Oli's mind was somewhere else. In a time when he should have asked his ministers to concentrate on Covid-19, his attention was on how to save himself from being kicked out as Nepal's prime minister. The opposition parties did no better. Instead of pushing the government to be prepared for Covid-19, they were busy plotting ways to topple the Oli-led government.
The same evening, Oli had told members of the parliament that he would not seek a vote of confidence in the House of Representatives.
On February 23, the Supreme Court reinstated the parliament that Oli had dissolved on December 20 last year. Since then, the erstwhile Nepal Communist Party and its leaders–Madhav Kumar Nepal and Pushpa Kamal Dahal wanted to kick Oli out of his office.
The NCP formed out of the merger between the CPN-UML and the CPN-Maoist Centre in 2018 was on the verge of split as cadres within the party were choosing sides. A similar situation was brewing in the Nepali Congress and Janata Samajbadi Party whose leaders and cadres were split about Oli staying in power.
None of the political parties had Covid-19 on their agenda as they were fighting internal battles.
Public health experts were shocked watching a political battle brewing amidst a pandemic. Dr Sharad Onta had warned the government that it and other political parties were shooting themselves in the foot by not paying attention to the pandemic.
"We need to ensure that we put our attention towards fighting the virus because if we don't and continue with this political tension, a lot of people are going to die," Dr Onta had said.
Infectious disease expert Dr Anup Subedee had also warned, saying that the citizens of the country had to pay for the government's lack of proactiveness.
"These are sensitive times. The government cannot be this irresponsible because people are sick and tired of them and their politics. The virus is real and unless we prepare ourselves, it's going to do a lot of damage," he had said.
But, the government paid no attention to the warnings as it continued to disregard the virus. On March 7, the Supreme Court rejected the 2018 formation of the NCP and it took politics to the road. Even before this, both sides of the NCP, in a bid to show off their power, were hosting various rallies and protests across the country.
Oli, on March 8, hosted a meeting of a 1,501-member general convention organising committee of his party at his residence in Baluwatar.
With the NCP splitting, the equation of the parliament also changed. The Maoist-Centre became the third party in the House of Representatives while the Nepal-led faction of the UML that opposed Oli started to stage protest programmes in various parts of the country. Politics, once again, took centre stage while a pandemic was slowly snowballing.
The slow comeback of the virus–and the politicking
The number of people dying from Covid-19 was again zero as 2,512 people were tested on March 12. Out of those tested, only 48 people had Covid-19. The positive rate that day stood at 1.91 per cent. But, there were signs that the virus was making a comeback in Nepal.
But, people were hardly paying attention to it due to the political turmoil. On the same day, Oli relieved all people associated with Nepal of their duties as Ram Bahadur Thapa, who previously was associated with Dahal's Maoist Centre, joined the Oli-led UML along with 23 others. This created further tension in the UML camp led by Nepal.
To condemn these actions by Oli, the Nepal-led UML faction decided to stage a protest in different parts of the country on March 17 and 18.
The House of Representatives which started on March 7 became a playground for the political parties wanting to prove a point.
The Oli-led government tried tabling the controversial ordinance on the Constitutional Council in the House of Representatives, but Nepali Congress obstructed the meeting while the Maoist Centre and the UML's Nepal camp boycotted it.
None of the forthcoming House meetings resulted in anything as it was constantly obstructed or boycotted by various parties. Even though multiple meetings were held, none talked about Covid-19 and its impact on Nepal. The session was then ended by Oli without even consulting with the House Speaker as political tension kept on brewing in the country.
Also read:
Additional warnings, additional ignorance
On March 20, an additional 79 people tested positive for the coronavirus in 2,637 tests. The positive rate increased to three per cent. This was a warning to Nepal's political leaders that the virus is making a comeback. But, no one cared.
All Oli cared about was ensuring that his reign as Nepal's prime minister continued. Nepal, Dahal and Deuba spent the time conspiring against Oli to topple him and his government.
Nepal-led UML camp started to host various meetings and gatherings.
On March 20, Oli called another meeting of the general convention organising committee of the party and asked Nepal and his group to explain their actions. To counter this, the Nepal-led group called a meeting of its own, criticising Oli. Other political parties, not knowing what to do, watched the turmoil take place in the NCP.
A week later, on March 27, another 85 people tested positive out of 2,745. While the positive rate increased slightly, with no casualties, everyone seemed laid-back and were confident that Covid-19 was behind them.
But, public health experts were not so confident as they were predicting a second wave to hit Nepal. Virologist Sudip Khadka had said that it was calm before the storm.
"The government should be making sure people follow Covid-19 protocols but instead is breaking all protocols. This will cause a lot of problems when the second wave hits Nepal," he had said.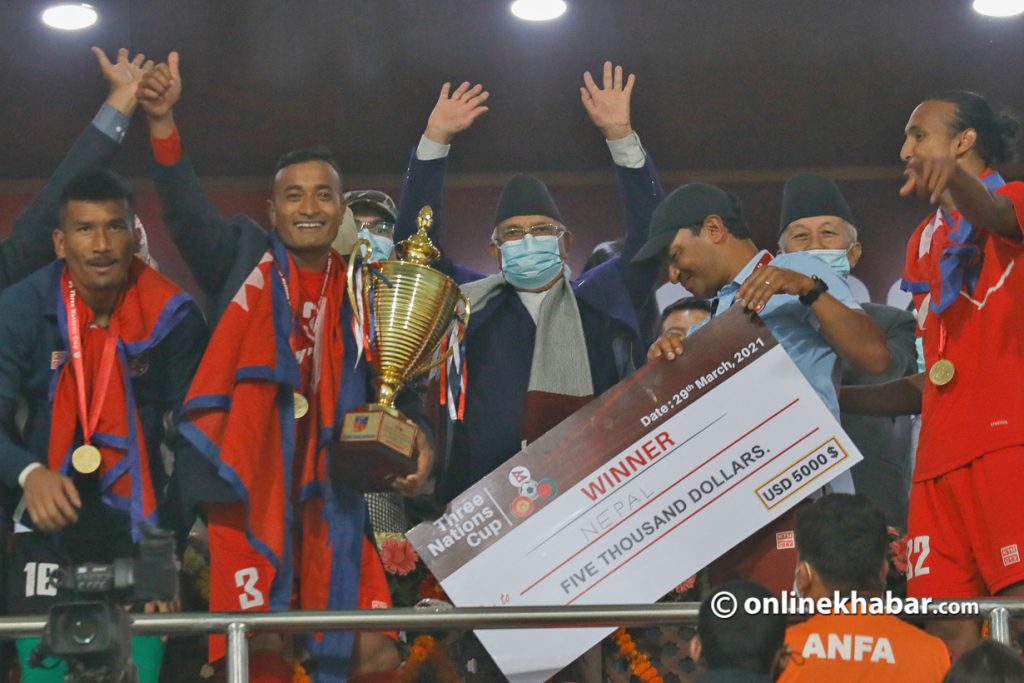 Even though cases were on the rise, Oli was seen celebrating with Nepal's football team at the Dasharath Stadium. That was a cause for concern for public health experts as they felt that doing that while the entire country was watching invited disaster as people would surely stop taking Covid-19 seriously.
As that was going on, meetings were being held on a regular basis between the Maoists, Nepali Congress and Janata Samajbadi Party. None of these meetings had Covid-19 on its agenda as all these meetings only talked about how to move forward politically.
Crisis coming closer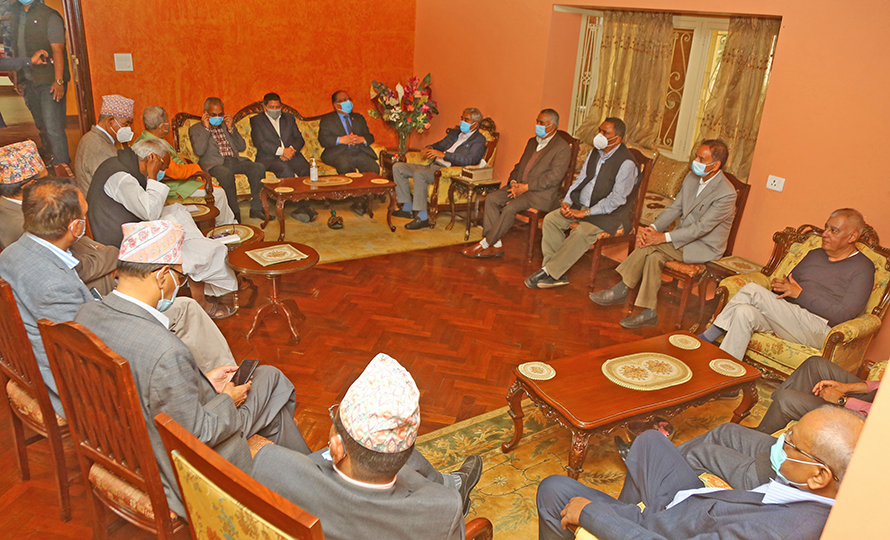 By April, cases in India were on the rise. Its effect started to be seen in Nepal. On April 3, out of 2,727 tests, 128 tested positive while one death was reported. The positive rate had increased to 4.69 per cent.
But, political parties chose to turn a blind eye to it as the Nepali Congress was planning to form a government under its stewardship and was calling for Oli to resign.
On April 8, a meeting consisting of senior leaders from the Nepali Congress, Maoist Centre and Janata Samajbadi Party was held to discuss the same.
The internal politics within the UML started to get even more complicated as it was divided into two factions led by Oli and Nepal.
While this was going on, the Supreme Court ordered the government to not stop the annual Biska Jatra in Bhaktapur. Initially, the local authorities wanted to stop it citing the fear of the spread of Covid-19, but the people of Bhaktapur condemned it and said they would host it.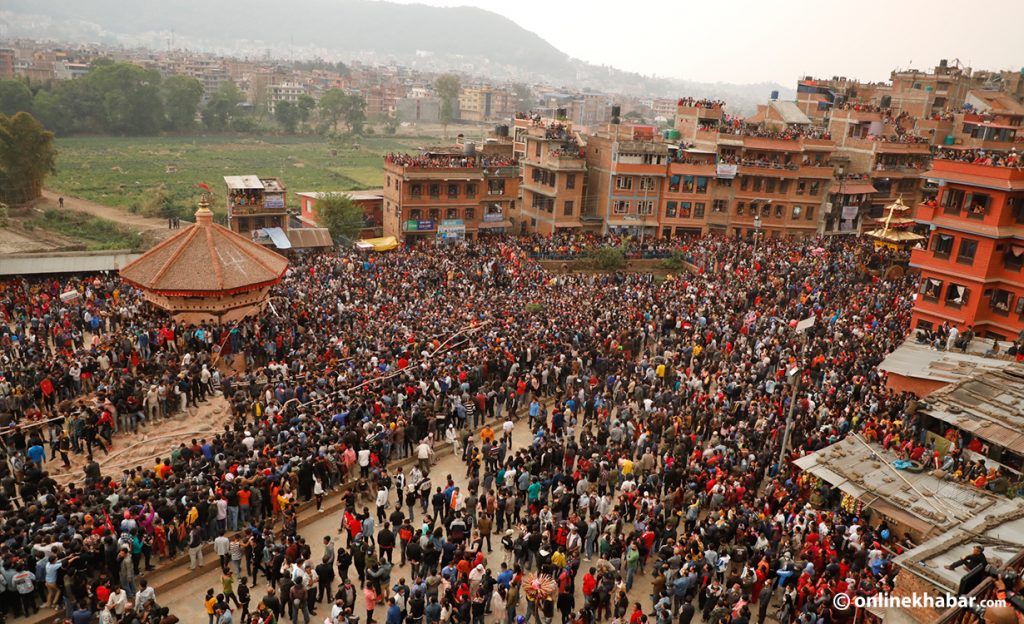 Warning bells started getting louder as 337 out of 3,532 tested positive on April 10 as the positivity rate increased to 9.54 per cent.
Despite the Ministry of Health and Population warning people telling them to stay vigilant and careful because a second wave was incoming, Oli and other political leaders were doing as they pleased.
Epidemiologists were warning that the rise in the number of cases would in turn lead to a rise in deaths.
"On an average, the death toll increases two weeks after the cases increase," Dr Khada had said.
But, no one listened to him.
The Ministry of Health and Population sent a proposal to the Covid-19 Crisis Management Centre (CCMC) to shut down schools.
"When we took that proposal to the CCMC, they ridiculed us stating we were trying to spread fear amongst the public," says one member of the ministry who took the proposal to the CCMC.
Soon, Kathmandu's hospitals started getting serious Covid-19 cases. Doctors from the capital's government hospitals were warning everyone that if the trend continued, Nepal would face a similar problem India was facing due to the rise in Covid-19 cases.
"If the number of cases continues to rise at the same rate and with people not following Covid-19 protocols, Nepal's health system could not cope with the virus and we will be helpless," Dr Anup Bastola from the Shukraraj Tropical and Infectious Disease Hospital, Teku, had warned.
As the CCMC did not take the Health Ministry's warning seriously, the ministry appealed to the citizens, especially those residing in 14 districts identified to be at the highest level of risk, to avoid crowds to keep themselves safe from Covid-19.
But, the appeal was laughed at by Education Minister Krishna Gopal Shrestha publicly.
By this time, the second wave of Covid-19 had already started in Nepal. But politicians of the country were busy defying party whips, changing sides and taking actions against each other. By the end of April, 18 provincial assembly members and two national assembly members had been relieved of their duties.
Problems with the premier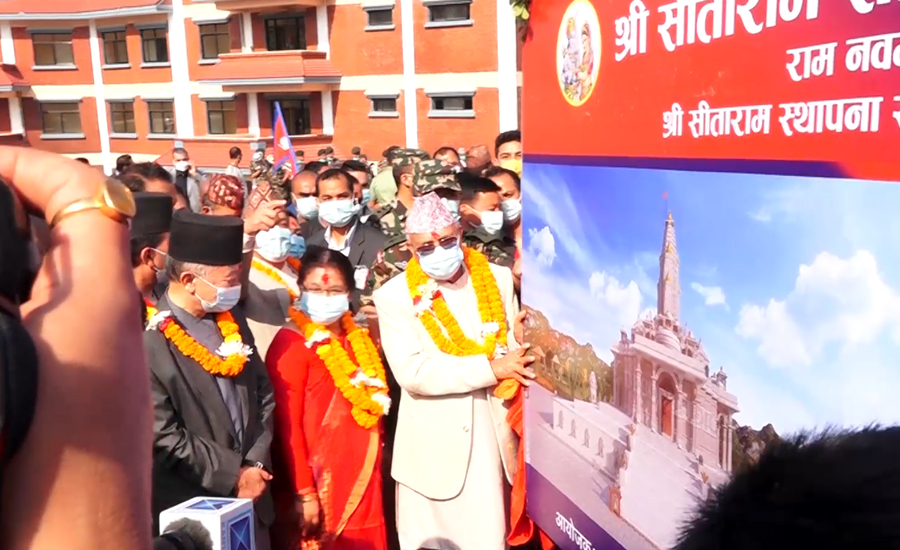 The positive rate by April 17 had increased to 14.4 per cent as 768 out of 5,333 tested positive with five people losing their lives to Covid-19.
The Health Ministry's proposal was only accepted on April 17 as Health Minister Hridayesh Tripathi argued that the country should have been put under lockdown three weeks prior.
But, Oli did not bat an eye. With the pandemic raging, he bid farewell to a religious group who were heading to Madi in Chitwan with idols of Ram, Sita, Laxman and Hanuman.
The group reached Chitwan on April 20 as the idols were placed in the temple in the presence of Tourism Minister Bhanu Bhakta Dhakal and Bagmati Chief Minister Dor Mani Paudel.
Disregarding all warnings, Oli himself inaugurated an incomplete Dharahara amidst a large crowd.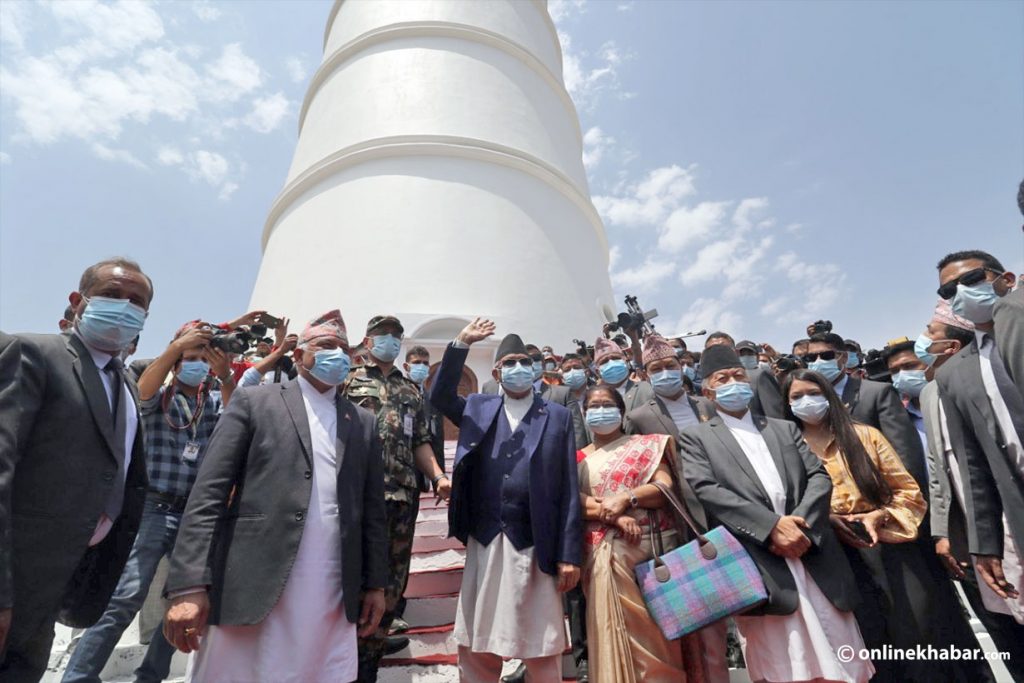 On April 19, he hosted a big convention and in front of the party leaders said he was taking action against 27 members of the House of Representatives from the Nepal-led faction.
In another meeting, Oli declared that the party's general convention would be held in November and said that he would be taking action against Nepal and his aides himself.
As cases were rising, public health experts and doctors were calling for people to follow Covid-19 protocols in the same manner they had in April 2020. But, with the government not following, people continued to do as they pleased.
"We aren't following safety protocols even though cases are on the rise. No one assessed or tried to understand why it was happening. At this rate, the death rate and the infected rate will increase significantly," Dr Khadka had said.
Inaction and alarming numbers
The positive rate on April 24 had gone up to 33.03 per cent. Out of the 7,525 tests, 2,486 had tested positive and 14 had died.
Hospitals in the valley by then had started to fill up with Covid-19 patients. The Health Ministry had warned hospitals to prepare for the worse.
The ministry, in a notice, had asked the hospitals to send the progress reports about various wards the ministry had asked them to construct. It had given the hospitals three days to send photographs of the wards, also threatening it would hold the money if they did not show adequate progress.
The ministry in October 2020 had allotted a budget to construct high-dependency unit (HDU) wards at Bir Hospital, Patan Hospital, TU Teaching Hospital, APF Hospital, Maternity Hospital and other government hospitals in various provinces.
"I see that we are criticised a lot, but what people don't see we've been warning everyone. No one listened: not the government, not hospitals and not even the public," says the ministry's co-spokesperson Sameer Kumar Adhikari, who adds everyone became careless.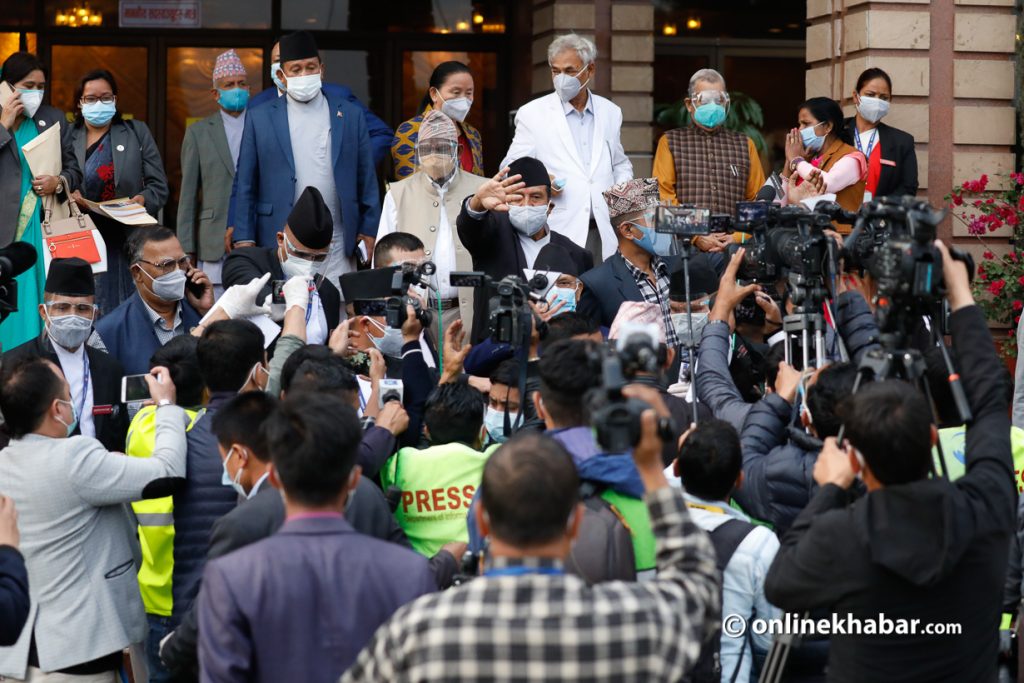 As the virus started to spread across the country, more people started to die. On May 1, Covid-19 claimed 19 people as 5,763 people tested positive for the virus. The positive rate on that day had increased to 38.49 per cent.
But, even then the political parties kept on focussing on politics. The internal dispute at Janata Samajbadi Party continued while Oli decided to test his luck and face a vote of confidence. The vote was due to take place at the House of Representatives on May 10.
In the Lumbini province, things took a dramatic turn as Shankar Pokhrel once again became the province's chief minister as a few members from the UML resigned from the Provincial Assembly.
The positive rate on May 8 had increased to a whopping 45.98 per cent. Out of 18,304 tests, 8,418 people had tested positive as Nepal reports 53 deaths due to Covid-19.
Despite Covid-19 being at its peak, the vote of no confidence took place and Oli was removed as prime minister. Politics refused to take a back seat as people continued to suffer due to lack of beds and oxygen in hospitals.
On May 8, Oli had told CNN that the situation was 'under control'. But, the next three days saw the death toll tripled.
In the meantime, the political game continues with Oli trying his best to woo the disgruntled Madhav Kumar Nepal-led faction so as to retain the premiership. After taking the oath for the next term, Oli said Nepal didn't have a crisis for oxygen and bed as dozens were dying for the want of life-saving gas. Observers believe there are enough grounds to fear the situation will not change for the next few weeks also.