The Covid-19 pandemic is spreading like a wildfire in Nepal, breaking the already fragile and under-resourced health system. How dire the situation is can be seen from the death numbers of the past three days. On Sunday, 88 people succumbed to Covid-19. On Monday, that number increased to 139 and on Tuesday, 225 people died of the deadly virus.
The number has trebled in the past three days and is expected to keep on rising as hospitals have stopped admitting patients. Some have stopped as they do not have any more beds while many have stopped citing lack of oxygen for new patients.
Despite the warning and red flags from health experts, little to nothing was done which has resulted in the situation getting out of hand.
Underlying reasons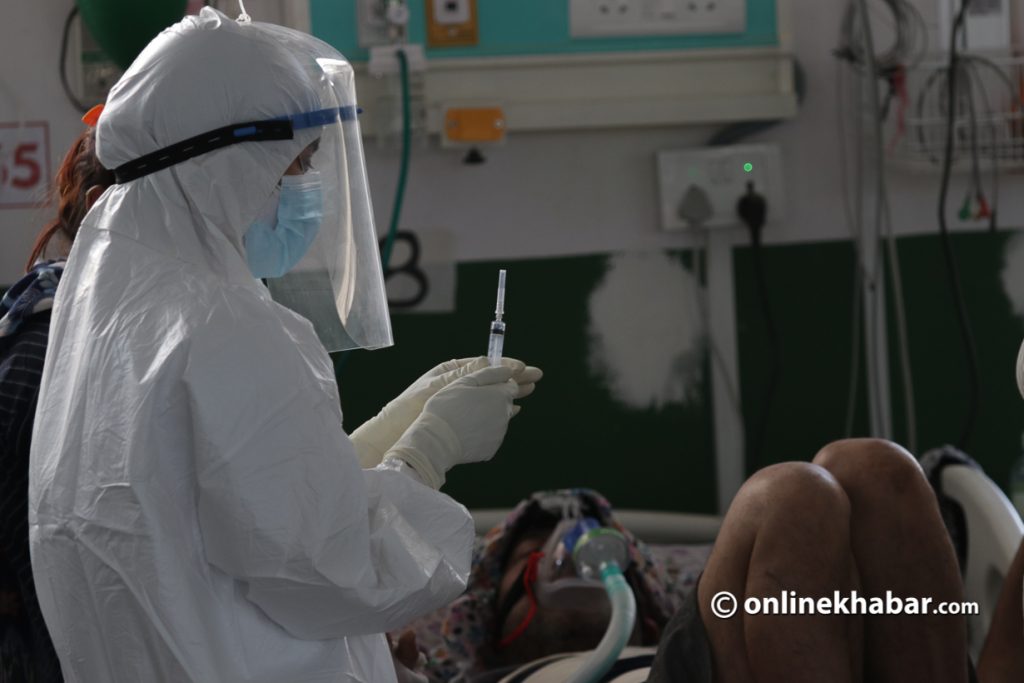 Ten days ago, 28 people had died of the virus infection as many hospitals across the country stopped admitting new Covid-19 patients as they no longer had empty beds. The situation started to get grimmer when hospitals started to run out of oxygen as 53 people died due to the virus seven days ago.
As hospitals ran out of beds and oxygen, the number of people dying increased rapidly. Health experts and doctors say this is the major reason.
"People are dying due to the lack of oxygen and beds. There is nothing we as doctors can do about it as we're trying our best," says Dr Bimal Pandey, Patan Hospital's Covid-19 focal person. "Looking at the state of things in Nepal, the number will definitely rise."
Doctors say many are dying because they are not getting treatment on time as they come to the hospital when it is already too late. Some, even though reach the hospital on time, are not getting treatment due to the lack of resources at the hospitals.
Dr Anup Bastola from the Shukraraj Tropical and Infectious Disease Hospital in Teku says most people's lungs are already damaged when they are brought into the hospital. He says that these people, whose lungs have been damaged by the virus, are tough to save.
"Most come when it's too late. They self-diagnose and fail to take medicines which could help fight the virus," says Dr Bastola. "The already delicate situation gets worse when hospitals can't provide beds on time."
His views are echoed by Dr Santa Kumar Das from the TU Teaching Hospital. Dr Das says that most people die because they do not get treatment on time. But, in recent days, many have died due to oxygen shortage.
"We're bracing ourselves for a disaster. We get so many patients that even though we try our best, we fail to save their lives," says Dr Das.
On Tuesday, 18 people died to Covid-19 in Banke. Out of the 18, six died at Bheri Hospital. One of the reasons for the deaths, according to Dr Rajan Pandey of Bheri Hospital, is that ordinary people do not have access to proper health care.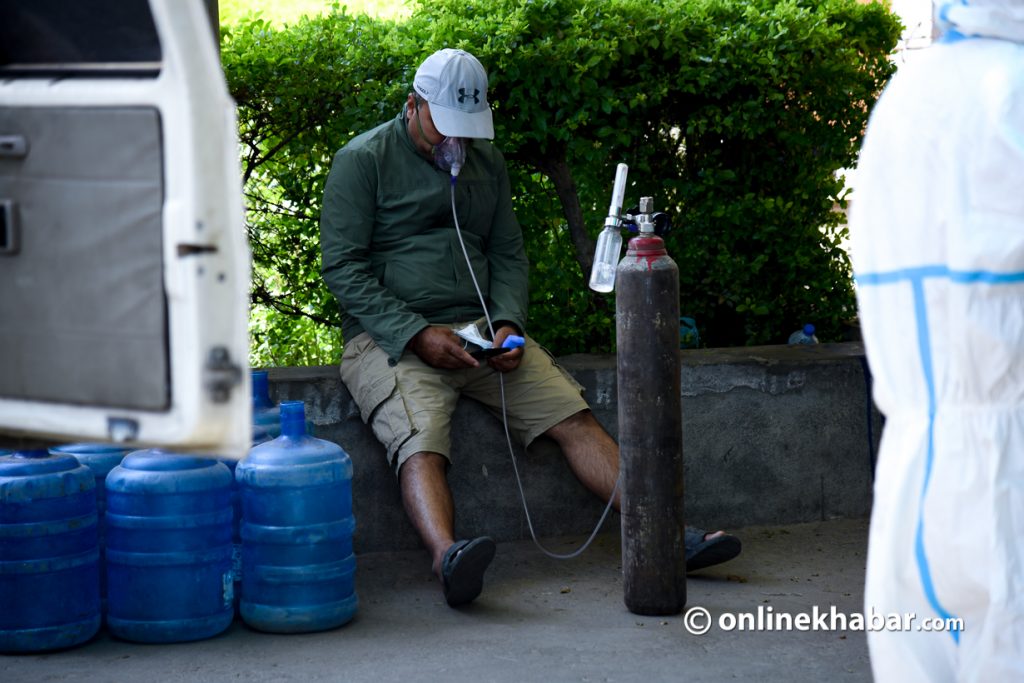 He says that rise in death is due to the government hospitals filling up and private hospitals being too expensive.
"We've been rationing oxygen. The situation is so bad that we're not even getting the medicine required to save their lives," says Dr Pandey. "Add lack of health workers at the hospital and you have a recipe for disaster."
He says that two people have been dying at Bheri Hospital every day while waiting to be transferred into the ICU. He says that the hospital could do a better job, but due to the lack of doctors and nurses, it has not been able to and feel helpless.
"The government should be doing a lot more. Mobilise both the private and government hospitals in a better manner. Failing to do that will be detrimental as this will continue to get worse," says Dr Pandey.
As the pandemic is raging, the lack of oxygen is becoming a major problem in the country. This has resulted in hospitals refusing to admit more patients. Some hospitals have even asked the patients' relatives to manage oxygen themselves.
Amish Pathak, the chief operating officer at KIST Medical College, says the lack of oxygen is one of the major reasons for the spike in deaths.
"We've had to ask people to go elsewhere because we have no oxygen to give them," says Pathak, who adds he often gets news of these patients dying on the way to another hospital.
Even big hospitals like HAMS have stopped admitting new patients. The hospital's executive director Dr Jyotindra Sharma says the facility has only been admitting patients in need of high-flow oxygen.
"More and more people are going to die as hospitals are flooded with serious patients. The health sector needs help," says Dr Sharma.
According to the Health Ministry, over 89,000 people are isolating themselves at home. Public health expert Dr Sharad Onta says that this is another reason for the increase in the death toll.
"The people at home do their best to take care of themselves. But, the virus is such that it will affect some people very badly," says Dr Onta. "Most of them are brought to the hospital when it's too late and they die."
Dr Pandey from Bheri Hospital is sure that the number of deaths is more than what the government says it is. The reason he says is people in villages have been dying after suffering from high fever.
"The numbers are of people who die at hospitals. From what I've heard, the number of people who've died due to viral fever in villages is similar," says Dr Pandey.
Paying the price for past mistakes: Govt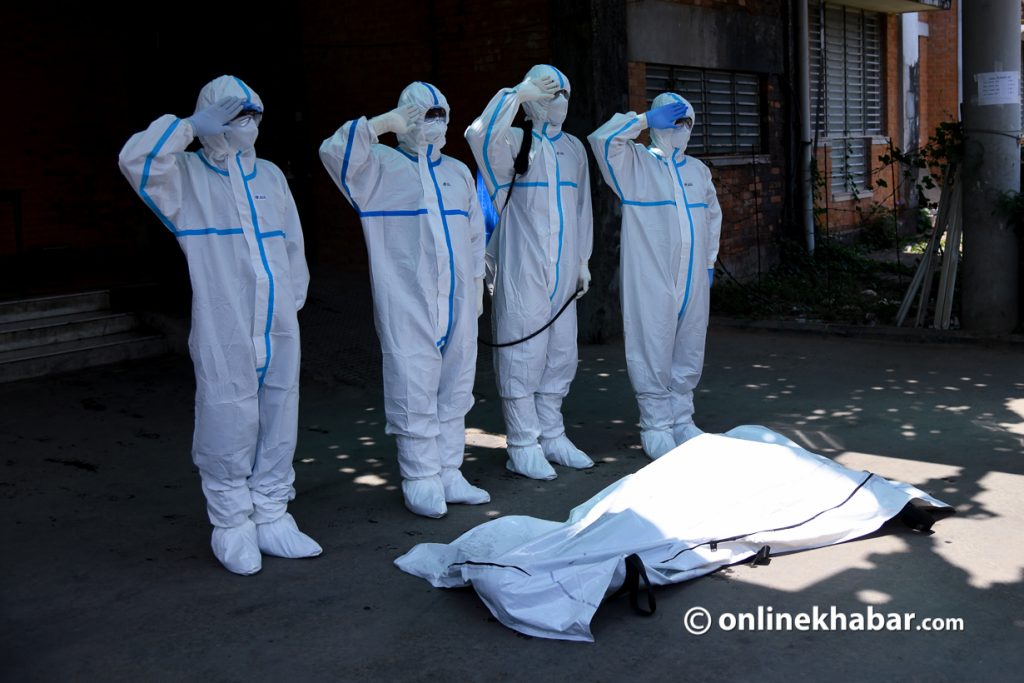 Secretary at the Health Ministry Laxman Aryal says the situation has gotten out of hand as the country failed to heed warnings and did not follow the necessary safety protocols.
"We relied solely on hospitals and that was wrong when we should have also paid attention to other small things including physical distancing," he says. "That's resulted in our health system being overwhelmed."
The ministry's deputy spokesperson Dr Sameer Adhikari says that the number of cases in the country is four times more than what the hospitals can handle.
"I feel bad saying this, but we feel hopeless," says Dr Adhikari. "Every day, people are calling us for oxygen and beds, but there's nothing we can do about it."
An officer at the ministry says the rise in deaths is due to the government's negligence. Asking not to be named, he says the government ignored warnings offered by the Health Ministry as it failed to manage enough health workers at hospitals across the country.
Another reason he cites is the lack of coordination between government agencies at different provinces before the start of the second wave.
"Had the government been proactive a month ago, things would have been a bit better," he says. "We at the ministry had warned them two months ago telling them to be prepared and enforce protocols suggested by us. But, nothing happened and now we are in a dire state."
In a bid to control things, the Ministry of Health and Population has released a statement calling on donors and various aid agencies to help during these testing times.