Deepak Lama of Kavrepalanchok is happier and more excited than ever these days. Popularly known as Tony in the Nepal b-boying scene, he thinks he is heralding a new era in the scene in the next few years as he will take it to the global level.
In 2020, the International Olympic Committee (IOC) added breaking, more commonly known as b-boying and breakdancing, to the games. It means the b-boying artists will be gracing the Paris 2024 Olympics for the first time in history.
Along with introducing the new sport, the IOC, under the recommendation of the Nepal Olympic Committee, has provided a scholarship to Tony along with nine other sportspeople from Nepal for the next global event.
Under the scholarship, Tony will get financial support of USD 750 per month, advanced training and other facilities, which will help him to enhance and hone his skills so as to ultimately benefit the Nepal b-boying sector.
Happy hopes
"The achievement by Tony has made the entire Nepal b-boying community happy and proud," says Nabin Tamang aka Smiley, Tony's contemporary in Astroboyz, a b-boying crew based in Kathmandu. "It has also inspired the younger generation."
The scholarship will be effective from September.
When 23-year-old Tony first heard about the scholarship, he was shocked. He says he could not believe it.
This achievement has equally made Tony's family happy. He has started getting support from the family although the situation was different in the past eight years since he joined the Nepal b-boying scene.
"They say this is the best thing that ever happened to me," says Tony.
Tony, who avidly follows American b-boying crew Monster B-Boys, shares his dream of performing in the Olympics. "Now, I will be more focused and prepare myself for the upcoming Olympics."
There is a reason why he and his family are equally happy. Belonging to a humble family, Lama had been earning for his family so far. Now, with the scholarship, he says, "I don't have to worry about the side gigs to generate income as the scholarship amount will cover my whole expenses. I have more time to devote to perfecting my head spin, flares, jackhammer, hand hops and others."
Tony believes that the scholarship will make not only him but the entire Nepal b-boying sector more professional.
As an early teen, Tony used to do gymnastics in an open space near his temporary residence at Ghalate, Bhaktapur. He also played taekwondo and wushu for some time. Later, his brother Biren Tamang told him about b-boying and introduced him to some artists in the Nepal b-boying scene.
The dance form fascinated him. Its power moves, steps, and versatility inspired him. Then, the rest, as they say, is history.
The Nepal b-boying scene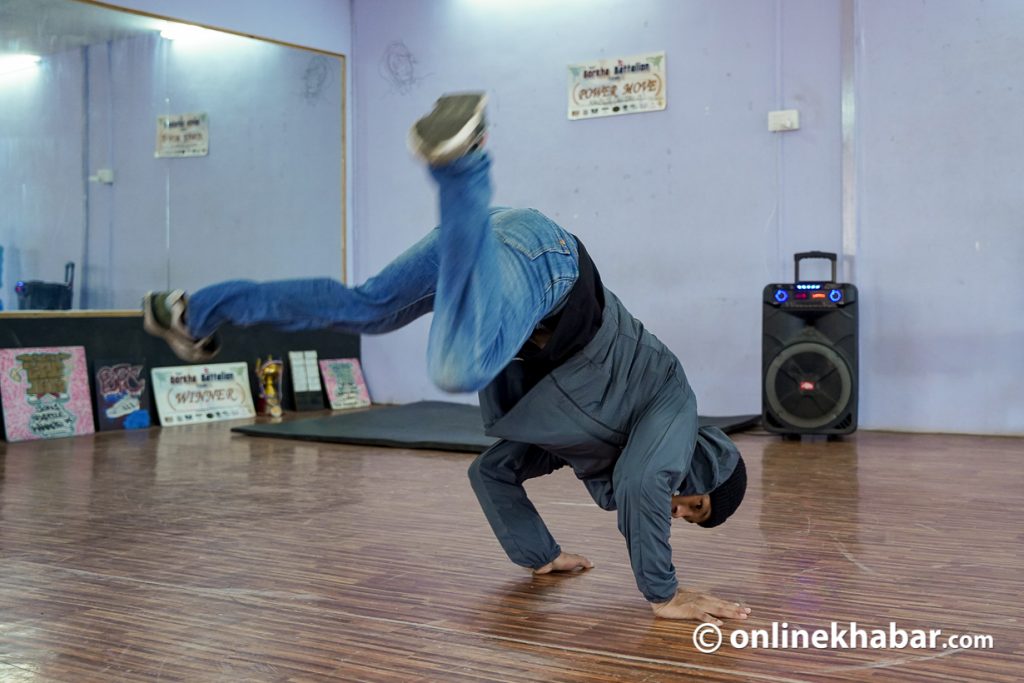 The history of b-boying in Nepal is dated back to the late 2000s when b-boying battles started taking place around the country. But, in the past one and a half decades, it is growing significantly. Some b-boying artists from Nepal have even done many international tours in countries like China, Taiwan, Japan, Thailand and others.
"The Nepal b-boying scene of Nepal is thriving remarkably," says Nishant Gauchan, a first-generation b-boying artist in Nepal. His group, Everest Crew, is the first one to represent Nepal on an international b-boying stage.
According to him, there are many talented artists and crews in Nepal who have even secured different positions in international championships. Tony has also performed in an international festival that was held in Nepal. Likewise, he has also done a Nepal tour.
The b-boying scene has even dispersed outside the valley in places like Dharan, Pokhara, and Chitwan. Similarly, the number of girls is also increasing in the Nepal b-boying scene, according to Tony.
He hopes many other Nepalis will be able to get similar scholarships in the upcoming days. Tony suggests all aspiring b-boys and b-girls should be dedicated and focused.
In Nepali society, skating and b-boying are thought of as something done by drug users. However, Tony now believes that enrolment in the Olympics will form a positive image of b-boying here.