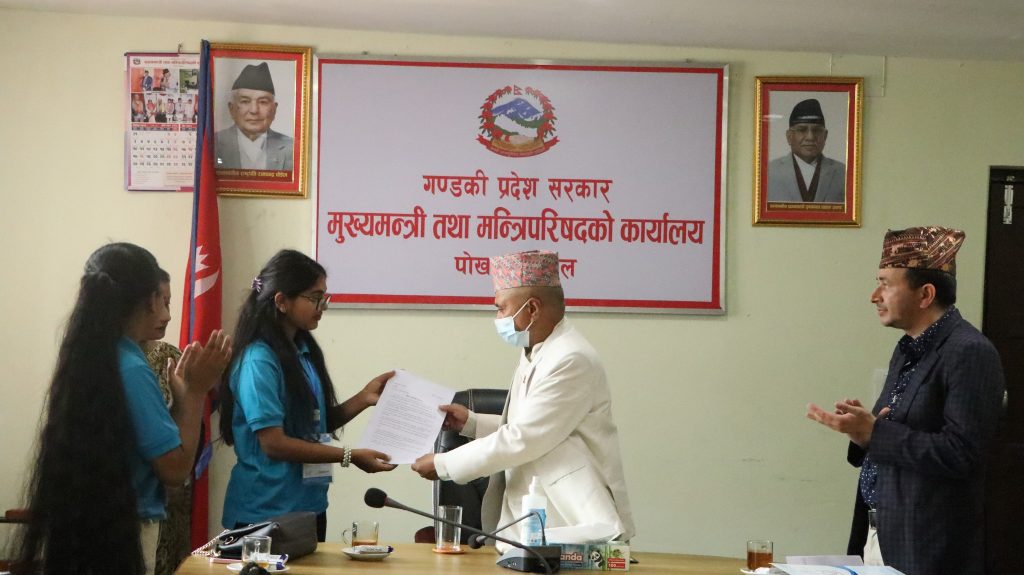 Kathmandu, April 19
On an exposure visit from April 17 to 19, adolescent girls from Nawalpur stayed in Pokhara, the Gandaki provincial capital, during which they met Chief Minister Khaga Raj Adhikari among other leaders.
Peer educators highlighted several pressing issues facing girls in the province, including violence and abuse against them, child marriage, and menstrual hygiene management in schools. They submitted a 25-point memorandum calling for increased investment in physical infrastructure, the implementation of the provincial government's Act Relating to Children, and the formation of committees to address issues related to women and children.
The girls also emphasised the need for a child and girl-friendly environment and the provision of quality pads and toilets for menstrual hygiene management. They called for a separate budget for children, a helpline to support their needs, and action to end child marriage.
In addition, the delegation advocated for free school education that includes practical and moral subjects and prioritises girls' participation in sports.
During a meeting with the girls, Chief Minister Adhikari expressed his commitment to addressing the concerns raised by the activists and forwarded their memorandum to the relevant authorities for necessary action.  Meanwhile, other ministers appreciated the role they are playing in advocating for girls' rights and advancing gender equality in the Gandaki province and assured them that they were serious and will take necessary action.
The activists are working in partnership with Jagriti Child and Youth Concern Nepal to promote the rights and well-being of adolescent girls in the province.