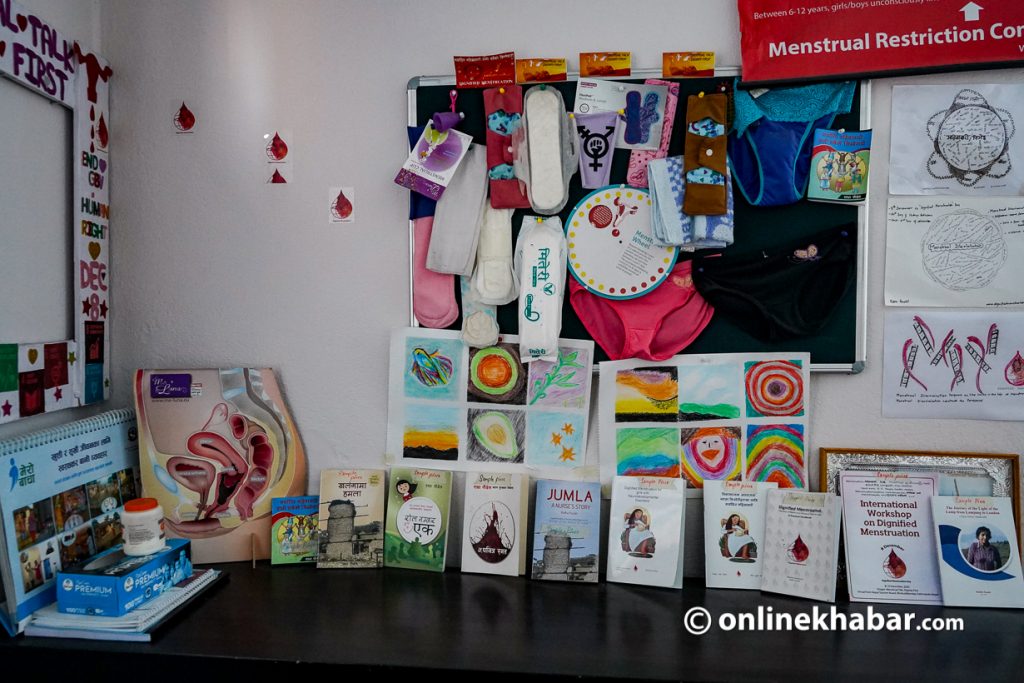 In 2017, the Ministry of Water Supply established a committee to write a policy on dignified menstruation and held training sessions for it. In 2019, Dignified Menstruation was launched by Radha Paudel Foundation (RPF) and Global South Coalition for Dignified Menstruation (GSCDM).
On the same day, the Government of Nepal's Ministry of Women, Children, and Senior Citizens endorsed December 8 as Dignified Menstruation Day (DM Day). Partners of GSCDM in about 50 countries are engaged in promoting this campaign globally.
It is the primary initiation of changing Nepal's narratives as a Dignified Menstruation country. This year, the 4th International Dignified Menstruation Day is being celebrated under the slogan "Dialogue on Dignified Menstruation for Ending Child Marriage".
Commitment to the Sustainable Development Goals
According to UNICEF, child marriage is widely recognised as a violation of human rights and a hindrance to national development. In fact, evidence suggests that the practice of child marriage is closely associated with lower educational attainment, early pregnancies, intimate partner violence, maternal and child mortality, increased rates of sexually transmitted infections, intergenerational poverty, and the disempowerment of married girls.
In committing to the Sustainable Development Goals (SDGs), the international community has vowed to end the practice of child marriage by 2030. A UNICEF study found that one in three married girls in Nepal had been subjected to sexual violence by their husbands, while one in six reported physical violence.
However, we still do not truly understand what is to blame for all of this. Menstrual discrimination has not been addressed in any of the 93 years of interventions to eliminate child marriage, even though it is the primary cause worldwide. Local/rural settings in low- and middle-income nations, including those in South Asian countries, are where the issue is most pressing.
Actors who advocate against child marriage only consider the following problems: illiteracy or low levels of education; poverty; harmful customs like female genital mutilation (FGM); family honour traditions; trafficking and displacement; unequal social and gender norms; and disasters like wars and pandemics like COVID-19. We discuss all of these, but we never identify why they occur. This is due to a lack of knowledge regarding dignified menstruation and discrimination during menstruation.
Discrimination between the gender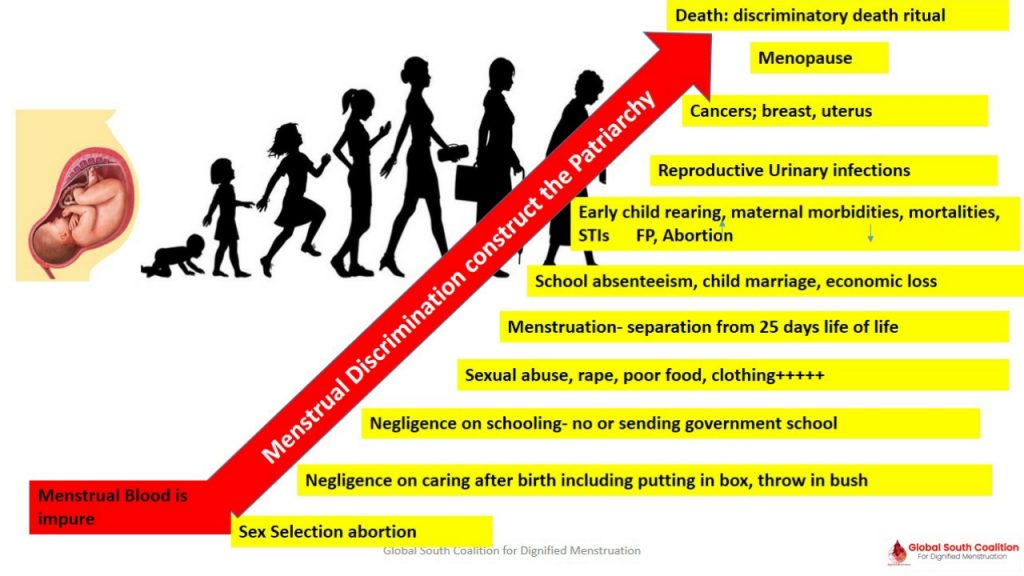 Menstruation is just a normal physical-biological phenomenon that occurs in women. Still, it has been characterised as a dirty, cursed, or so-called lady's problem by various cultures, religions, political movements, and campaigns, consciously or unconsciously.
The agenda of dignified menstruation goes beyond simple hygiene. When a girl is born in a home between the ages of five and eight, she observes the various menstruation rituals that her parents engage in. She attends to many constraints being placed on her mother and sisters.
She sees a store employee handing out menstruation pads wrapped in paper. This conveys to the young daughter that menstruation is a time or circumstance in which we should isolate ourselves and stick to specific rules.
Between ages eight and 12, she experiences severe disappointment and discouragement. She discovers that a classmate her age is valued and elevated simply because of his gender.
Still, she has been engaging in numerous menstruation practices that have directly violated several constitutional rights due to the exact bodily biological change. When a daughter in Nepal begins menstruation and develops sexual and reproductive health, the family believes that the girl is now an adult who must be protected from society to avoid harm.
Unlike her brother and male classmates, she must follow strict rules simply because she has reached reproductive maturity. How can we imagine a girl fighting against harmful touching and harassment in the school and community if she is not given a proper atmosphere at home to reject destructive habits, including menstrual practices? How can we expect her to leave the marriage proposal when raised in a setting where society constantly infringed on her constitutional rights?
Its effect and dignified menstruation
According to Global South Coalition for Dignified Menstruation (GSCDM), menstrual discrimination plays the role of cause and effect of many forms of sexual and gender-based violence (SGBV) against girls, including child marriage.
Symptomatically, girls are faced for at least two months in a year (5 days a month, 60 days a year) due to exclusionary perceptions and practices reinforcing menstrual discrimination at home, school, and community. Systemically, girls are led to believe by their families and society that they are lower, inferior, and powerless than boys.
Eventually, girls believe they are less worthy and are coerced or trapped into voluntary, forced early, or child marriage. Menstruation was discussed regarding sanitation and management, but we neglected to emphasise that the topic is more about dignity than just sanitation. We could not comprehend that menstruation is not only related to concerns about maintaining better health, cleanliness, or the availability of menstrual pads.
Also, the topics of safe abortion, marriage, and contraception are always brought up while discussing SRHR; however, we never discuss dignified menstruation. Dignified menstruation discusses the social power structure in the context of gender-based violence. It tries to make clear that the main problem here is the discrimination that we experience monthly around the globe, regardless of religion or caste.
The solution to this problem is Dialogue. Dialogue. Dialogue. Dignified Menstruation and our fundamental rights should be discussed in every home and school. It fosters the development of women who can make decisions in the long run and assists daughters in developing their self-confidence.
Young daughters should be educated and made aware of our campaigns and movement as early as age five or six when they are just beginning to understand their surroundings. In their workplaces, policies, and programmes, the three pillars of government—public, private, and cooperative—should support dignified menstruation.