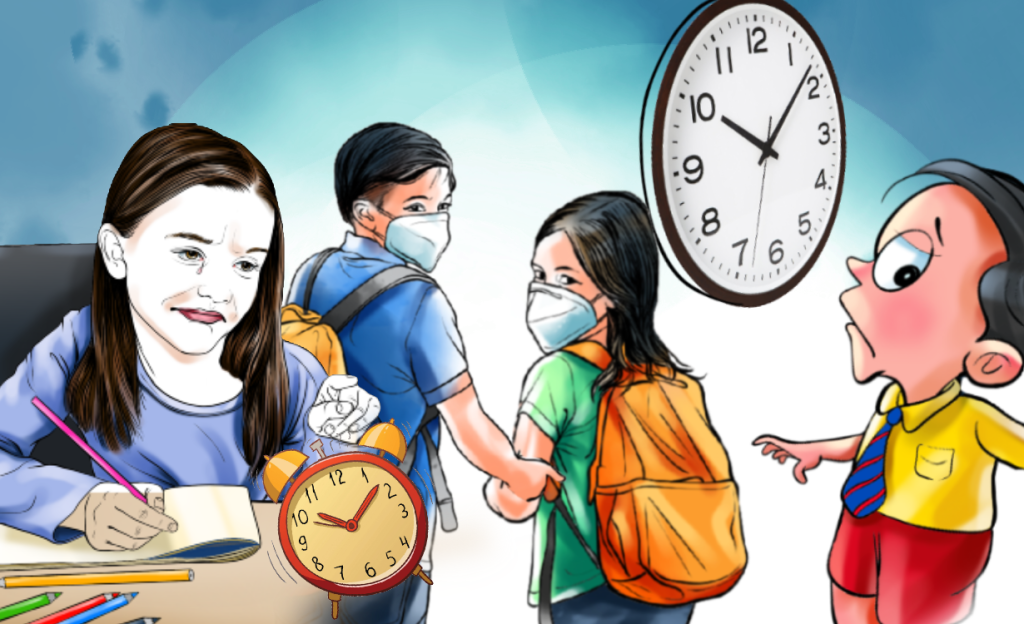 Most urban children in Nepal are deprived of proper food and rest due to their hectic school schedules. They have to be ready for school even before they are awake. Then, they sit obediently in the classroom for hours and after returning home in the evening, it is time for completing homework. They cannot enjoy their food properly and they do not get rest until they go to bed at night.
They run their day as fast as a clock is.
Moreover, they do not get free time to socialise with friends, enjoy with family and have fun. They cannot enjoy themselves even during the festival as they are bothered by homework.
Educationist Bidya Nath Koirala comments that the urban children's childhood has been taken away due to the parents' expectations and school management's selfishness. "Parents expect their children should study a lot at a young age, learn a lot and understand them as well," says Koirala, "That's why there is a tendency to make them study without letting them eat or play."
On the one hand, society has promoted the practice of enrolling children at a young age, conducting classes in the early morning, arranging meals and snacks in the school canteen, and offering transportation services for their business. On the other hand, parents are under social pressure to teach their children in the same way. Then, the innocent children are bearing the brunt of all these activities.
Child Psychiatrist Arun Kunwar says that today's urban children are becoming alienated from their natural lifestyle due to school routines and the pressure of studying, and it will have a detrimental impact on their personality.
Busier than previous generations
"The urban children's daily life is becoming very busy today. From 6 in the morning to 6 in the evening, they are under stress due to school and homework, which is the cause of stress in children as it usually makes them lonely and antisocial," says Kunwar.
He says that children develop habits such as getting angry and irritated quickly, being unable to express their feelings, panicking and can even faint due to the burden of studying and expecting impractical results from them.
Nawaraj Baskota, principal of Kavya School in Kathmandu, admits urban children today are more vulnerable to stress than the previous generation.
"Children these days are forcibly woken up in the morning and sent to school. They spend their whole day studying at school. Then, as they reach home in the evening they have the burden of completing their homework. Due to school, homework, parents' wishes and education policy, children are depressed these days. They should be freed from this kind of depression," explains Baskota.
Spending more time at school does not mean children will learn a lot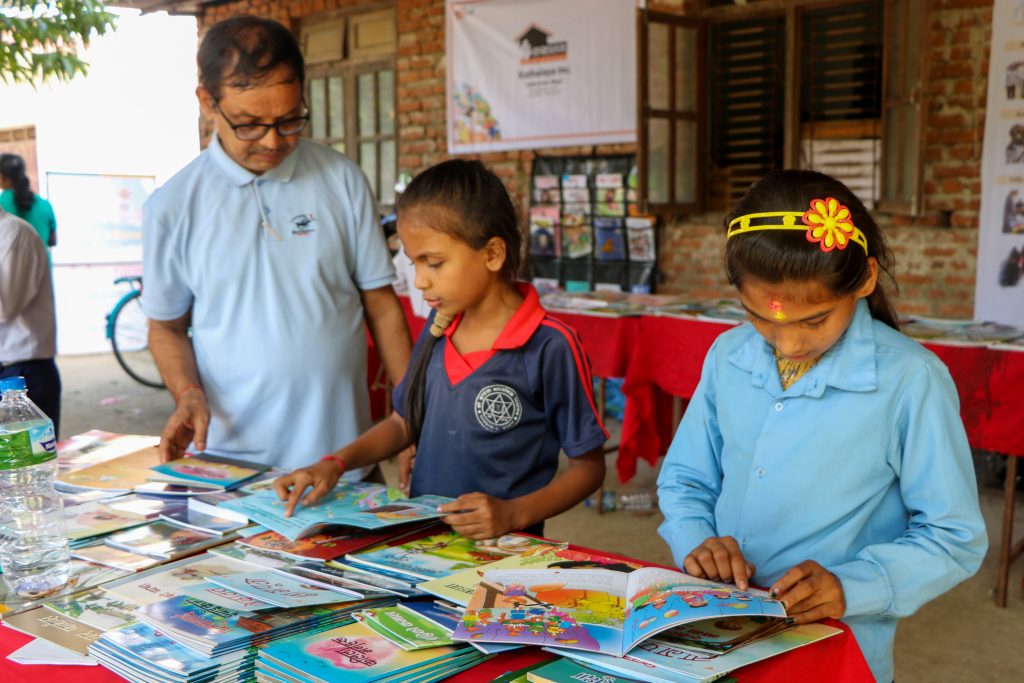 Educationist Koirala says that there is a general rule that children should not be taught for more than 15 minutes at a time. He argues, "They do not have patience and they have to move, play and have fun. It is a myth that the more they are taught, they will have more knowledge."
According to the intellectual ability and psychology of the children, it has been decided how much time they should be taught, how much time they should be disciplined and how much time they should be allowed to play and have fun. But, Nepal's school system has not been developed according to child psychology.
As per Koirala's recommendation, children should be kept in the classroom from 9 am to 1:30 pm, but in Nepal, urban children are kept in school for more than seven hours. If the teachers change the teaching style rather than the behaviour of children in the school, the children's learning will be effective and long-term, says Koirala.
An unhealthy lifestyle leads to suffering
Urban children's daily lives are chaotic today. They do not have any schedule for sleeping, waking up, eating, defecating or playing. Their personal time has shrunk.
According to doctors, young children need at least 10 hours of sound sleep. But, they are not getting enough sleep due to their early school schedule. Then, most urban children do not get to eat fresh home-cooked meals. They are either forced to eat even when they are not hungry or they have to carry their tiffin. Meanwhile, some of them do not eat at home and depend on the school canteen.
In the name of getting an education, their physical activities have decreased, which, according to the doctors, is making them sick and prone to unhealthy lifestyles affecting their overall health system.
"If the children eat food in a hurry or they are forced to eat when they are reluctant and if they are given more food as they have to stay without food for long, there are high chances that the children's digestive system becomes weak. Along with that, they might be affected by other health hazards. Children need a balanced diet and proper sleep for being healthy," says Dr Joyti Ratna Dhakhwa, a paediatrician at Kanti Children's Hospital, Kathmandu.
He points out that packaged food in urban children's diets should be removed. "Children should not be allowed to eat packaged food just because they do not prefer home-cooked food. Packaged food further reduces their interest in food and this will cause other problems in the future."
Further, inadequate sleep, another problem among urban children in Nepal, causes problems in their physical and mental development. "For the overall development and healthy body of children, they should sleep on time and in sufficient quantity," he says.
Likewise, psychiatrist Arun Kunwar says children should be allowed to play, jump and have fun at school and at home if they are to grow healthy. He says, "In such activities, their brain becomes eager to learn new things, which helps them reduce stress and gives them a refreshing feeling."
According to Kunwar, urban children today are being diverted from the natural lifestyle. "Children should be taught in school. But for that, educational institutions should adopt a learning style that is according to the interest and desires of children, which will eventually benefit them in the future."
---
This story was translated from the original Nepali version and edited for clarity and length.