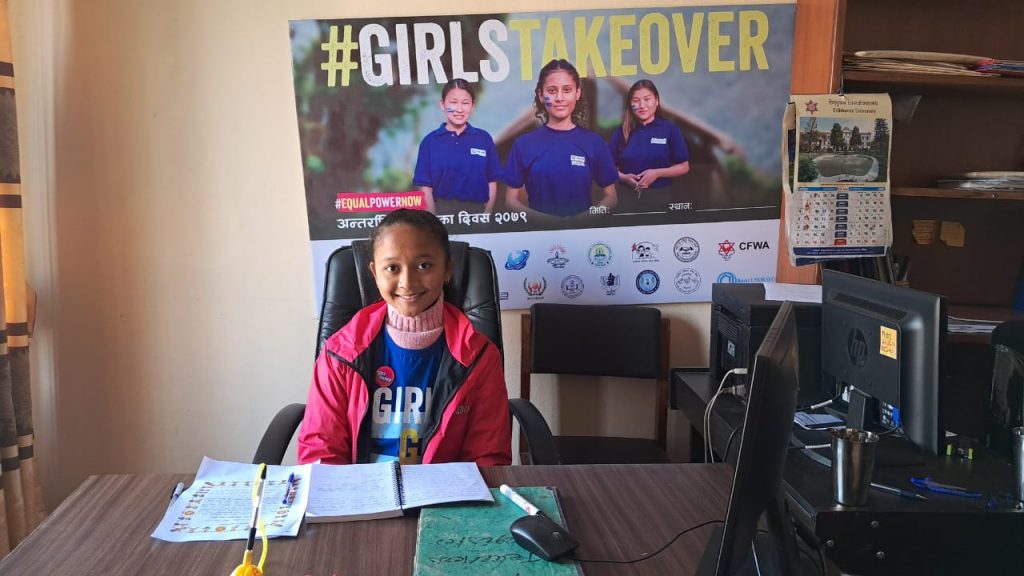 Kathmandu, December 9
Kanchan Bhandari, 15, from Baghaiyatal rural municipality in Bardia district, becomes the department head of Tribhuvan University's Department of Gender Studies for a day.
As part of the #GirlsTakeOver campaign, Bindu Pokharel, head of the Department of Gender Studies handed over the leadership to Bhandari on Friday.
Plan International and Hami DajuVai have been organising a 'Girls Take Over' program on the international day of the girl child.
"Campaigns like Girls Take Over will encourage girls and teenagers to pursue leadership roles. Even if it is only for a day, she will get to feel the responsibilities directly. I hope it inspires her and other girls too," said Pokharel after handing over her position to Bhandari.
Bhandari, who led the Department of Gender Studies for a day said she was very happy to be in the position and that she understood the responsibilities that she would have to fulfil sitting on the chair even if it was just for a day.
Along with assuming the position, the teenager also discussed many issues related to teenagers and girls including gender-inclusive education, gender discrimination, and child marriage.
Bhandari handed over the nine-point memorandum prepared by girls from different districts to Pokharel.
Apart from this, 100 girls have taken over 100 positions in various organisations in nine districts across the country
"Girls Take Over is a great opportunity that gives organisations an opportunity to get information about the challenges faced by girls and teenagers by placing them in a decisive role. It changes the perspective of decision-makers, leaders and agents of change on the common issue of girls and adolescents," says Ram Kishan, director of Plan International Nepal.