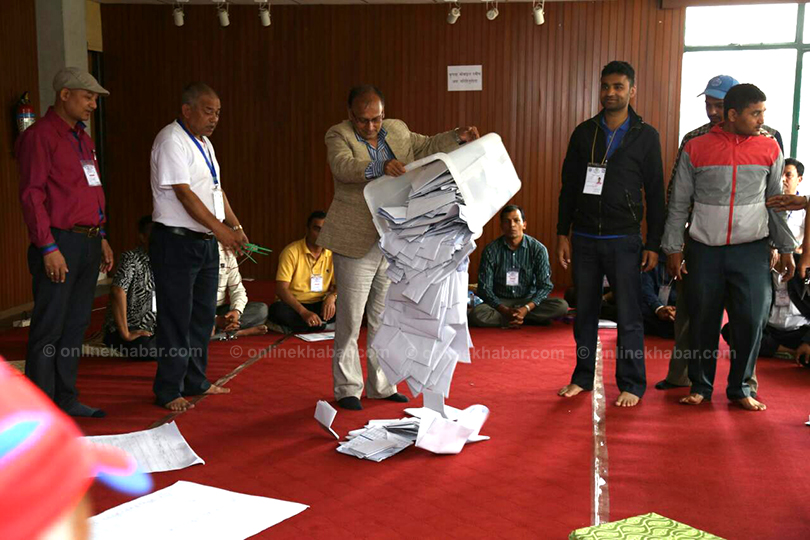 Kathmandu, May 16
Final results of local level elections held on Sunday have been published in 23 local levels.
Among them, the Nepali Congress has won the mayoral position in nine places whereas the CPN-UML has won in seven places.
The CPN-Maoist Centre has won the leadership in six places.
An independent candidate has won in one place.
Nepali Congress
Kushe Rural Municipality, Jajarkot
Bungdikali Rural Municipalilty, Nawalparasi
Tamankhola Rural Municipality, Baglung
Nasong Rural Municipality, Manang
Narphu Rural Municipality, Manang
Barhagaun Muktikshetra Rural Municipality, Mustang
Thasang Rural Municipality, Mustang
Lomanthan Rural Municipality, Mustang
Dungeshwor Rural Municipality, Dailekh
CPN-UML
She-Phoksundo Rural Municipality, Dolpa
Thuli Bheri Municipality, Dolpa
Kaike Rural Municipality, Dolpa
Shivalaya Rural Municipality, Jajarkot
Chame Rural Municipality, Manang
Nesyang Rural Municipality, Manang
Gharpajhong Rural Municipality, Manang
CPN-Maoist Centre
Mudkechula Rural Municipality, Dolpa
Jagadulla Rural Municipality, Dolpa
Guthchaur Rural Municipality, Jumla
Hima Rural Municipality, Jumla
Sanni Triveni Rural Municipality, Kalikot
Sani Bheri Rural Municipality, Rukum
Independent
Raju Bista – Dalome Rural Municipality, Mustang